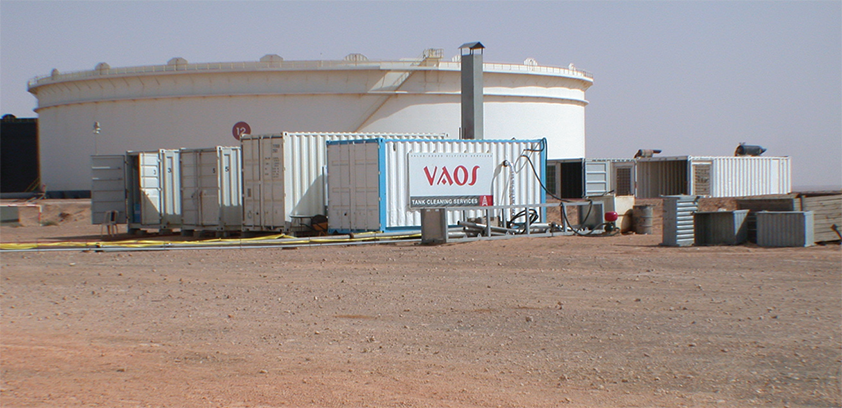 A long-term commitment
"The origin of VAOS dates back to 1983," explains Christian Wintersteiger, managing director of VAOS Limited.
"For the first 14 years of its existence VAOS was a subsidiary of Voest Alpine, the largest Austrian industrial group of its time, and was set up specifically to serve the booming oil and gas industry in Libya. In 1997, VAOS went through a management buyout and ever since has been a privately owned, independent company, committed to expanding its activities substantially throughout the Libyan market.
"Maintenance and construction have always been the core business areas of the company, however VAOS first began diversifying its operations ten years ago, moving into drilling and automated tank cleaning. More recently the company has begun creating smaller service segments in the areas of tubular inspection and has even entered the field of natural gas power generation, installing six gas turbines in the past three years."
As Christian states, over the past decade VAOS has made a concerted effort to become a one-stop-shop, providing a range of services to its Libyan clients: "On top of the aforementioned services the company is also able to offer fire-fighting systems for tank farms, construction of new and refurbishment of aged storage tanks, insulation works, industrial pipe work, industrial painting and civil works. A lot of the company's competencies have been built up in-house, for example with Libya being a difficult location to find reliable subcontractors, VAOS builds up its multi-skilled workforce under its own roof.
"In much the same way, VAOS works to strengthen itself and improve on the quality of its output by handling and maintaining all of its own construction equipment and machinery, all the while building up a pool of resources to make it a truly self-sufficient organisation. In this region it is very hard to find available machinery that is certified for use in the Libyan oil and gas industry, therefore it is of particular importance that VAOS has access to a pool of equipment that it can use to carry out of its different trades and disciplines."
One of the unique capabilities possessed by VAOS that marks it out as a leading player is its adoption of Ornco's automated storage tank cleaning technology, making it the only company to do so in Libya and the surrounding region: "VAOS adopted Oreco's technology approximately nine years ago and has since carried out numerous operations on storage tanks of various sizes and designs, including the country's largest tank, able to hold the equivalent of one million barrels of oil and with a diameter of 100 metres," Christian continues.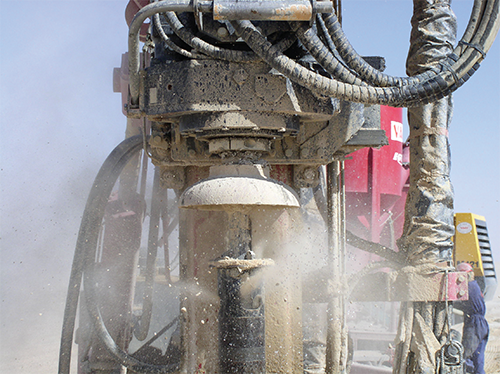 Using Oreco's automated system, VAOS has been able to achieve a sustained average crude oil recovery rate of 98 per cent, with its most recent tank-cleaning job in December 2010 taking this rate a step higher to a remarkable 99 per cent of recovered crude oil out of sludge. As Christian goes on to highlight, this massive recovery of hydrocarbons and at the same time reduction of waste is not the only benefit provided by Orenco's system: "When using a closed loop system such as Oreco's, the tank being cleaned does not have to be shut down, unlike during a manual cleaning process when it has to be taken out of service completely. This advantage provides the tank owner with the opportunity to request the cleaning process be halted if the tank is urgently required. Once available, the automated cleaning system simply needs to be switched back on and the cleaning process can continue. It is a safe, no man entry technology that reduces the duration of a cleaning job to less than half the time of conventional (manual) cleaning."
As anyone with even a small knowledge of current affairs will know, Libya has spent the last several months in the grip of political unrest, a serious event that has understandably impacted upon the work carried out by VAOS: "The situation as it stands today in Libya has undoubtedly had a big negative impact on the company, forcing it to abandon some of its locations due to the conflict," Christian says. "Nevertheless, VAOS has endeavoured to maintain some of its maintenance crews in the country, providing its clients with the services they require to continue operations.
"While VAOS is doing everything it can to maintain its current level of activity within Libya, it is now also looking at the possibility of running in several other markets, taking its automated tank cleaning services and other core competencies to countries like Saudi Arabia, Oman and even Eastern European locations such as the Ukraine."
Despite these plans to establish the brand in countries further afield, Libya will remain at the heart of everything the company undertakes, as Christian concludes: "VAOS has been a permanent fixture in Libya for 28 years now, becoming well established as the country's largest oil and gas service provider. When this crisis comes to an end, regardless of the political outcome, the oil and gas industry is likely to play an even more important role in supporting Libya's future and VAOS wants to be deeply involved in getting it back on its feet, generating new revenue for the region. Libya has been a very good market for VAOS over the years and the company is absolutely committed to maintaining its position within the country."
VAOS Ltd.
Services: Multidiscipline service provider