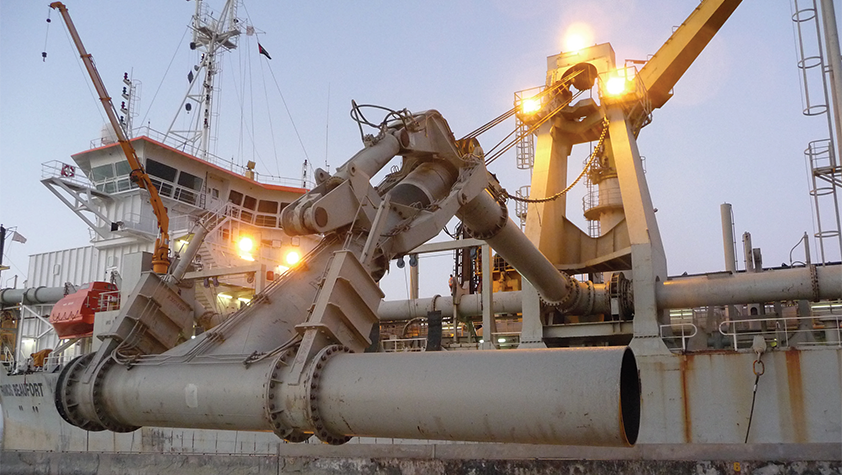 Desire for growth
Vapo Hydraulics was founded in 1974 by André Dewancker to manufacture cylinders for agricultural applications.
It remained a relatively small company until 1997 when it was taken over by Patrick Schacht and Marc Vangheluwe; the two expanded business and staff numbers whilst beginning to target the offshore and oil and gas sectors. The last 15 years have seen offshore customers become an increasingly significant portion of business, and production shift from standardised products toward bespoke cylinders and hydraulic power packs for special applications. Today it no longer works with the agricultural sector, instead working mostly as a subcontractor for a range of machine and equipment manufacturers within the offshore and oil and gas sectors.
Vapo Hydraulics carries out every stage of the manufacturing process, from initial design and 3D drawings right through to production and delivery. Cylinders and power packs are not sold directly to the end user but to an equipment or vessel builder such as Ampelmann and Jan De Nul, which utilise the unit within their own products before onward delivery to their own customers. Vapo Hydraulics therefore forms an essential part of the supply chain and is relied upon to offer high quality products with reliable turnaround times. Alongside its manufacturing business, the company undertakes maintenance and repair work; this too demands reliability and swiftness. Its servicing can be provided anywhere in the world on a 24/7 basis. The plant itself is ISO 9001 accredited and also certified by Lloyd's Register.
Bespoke cylinders are fast becoming Vapo Hydraulics' speciality, and the company is known for its skill in creating even very advanced units. Quality and account manager Steven Vangeersdaele highlights this with what the company considers one of its most complex products to date: "We recently completed a very nice project for Ampelmann, a compensating cylinder with a lot of special tricks. It is a double-acting custom-made unit with a 3.2 inspection certification from Lloyd's Register. The cylinder works as a double acting cylinder, but to compensate weight we made around the cylinder a nitrogen gas chamber of 280l. This nitrogen can help the piston side with a pressure of 100bar nitrogen. Furthermore, every cylinder has its own triple redundant transducer, its own redundant manifold with servovalves, cartridge valves and nitrogen valves. It is one of the most complex cylinders we have made in years."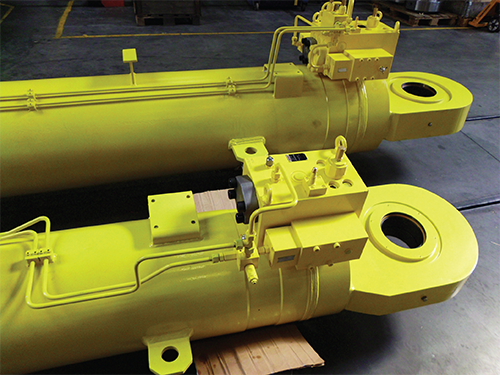 Ampelmann and Jan de Nul are just two of Vapo Hydraulics' many international customers. "Ten years ago our market was located mostly in Belgium but today the Netherlands is a big portion of our business, particularly with companies in the Rotterdam region. Germany and France are also becoming an important source of business for us, pushing our clientele a little wider. We are now looking for clients worldwide, and are hoping to gain more customers within offshore oil and gas due to the stability it offers. There is a wide range of jobs to be carried out within oil and gas – new products, repair and maintenance, special applications – and because of that many more opportunities even during a crisis. Within a couple of years we hope to be working entirely within the offshore sector."
Increasing diversity of application throughout the oil and gas industry means that tailor-made solutions have become Vapo Hydraulics' core business during the past decade. At present business consists of an equal split between cylinders and power packs but demand for the former is quickly increasing. Large 500 to 600 bar cylinders, units with internal measuring systems, and highly certified products are the trends in today's market and Vapo Hydraulics stands out in this sector because of its ability to deliver the fully qualified product at a competitive price and with fast turnaround. Investments into new machinery have been made throughout the last two years in order to meet these expectations.
"For now our cylinder business is growing and I expect within a few years that 80 per cent of our business will be in this area," Steven says. "Big hydraulic, special application, and custom-built cylinders will all become standard for Vapo Hydraulics and we will continue investing in faster, bigger machinery to ensure we manufacture with precision. There are also expectations that we will need to expand the lengths that we can make up. Currently we can produce cylinders up to ten metres but 15 and even 20 metres might be necessary in the coming years. With regards to the future of Vapo Hydraulics: it is currently owned by my father-in-law but I expect he will retire within the next four to five years, at which point my wife Stefanie and I will take on the company. We have a desire to continue pushing its growth, and we will strive to achieve that."
Vapo Hydraulics
Products: Cylinders and hydraulic power packs