A renewed strategy with renewable energy in focus
Beginning operations more than 100 years ago with the restructuring of the Trollhättan canal in Sweden, Vattenfall has since grown to become one of Europe's biggest producers and retailers of electricity and heat. A reasonably traditional energy utility until 2015, the company then went onto establish a new strategy to divest lignite assets and instead focus on renewable energy. With its main markets located in Denmark, Finland, the Netherlands, Germany, the UK and Sweden, the 20,000-strong company is committed to delivering alternative, cleaner ways of powering and heating homes, industries and cities.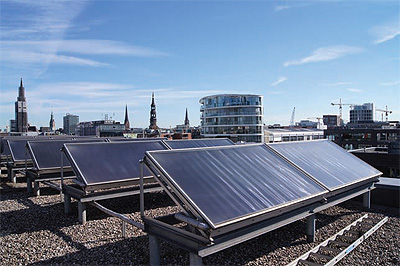 Vattenfall produces heat and electricity from energy sources such as wind, hydro, biomass, solar, nuclear, coal and gas and believes the continuous and reliable delivery of energy to society requires a variety of energy sources. Working to speed up and enable a climatesmart life, the company's strategic objective is to be climate-neutral by 2050 and by 2030 in Nordic countries – a commitment that requires a stepwise phase-out of fossil fuels. To fulfil its purpose, to 'power climate smarter living', the company's strategy has been arched around four strategic objectives: leading towards sustainable consumption, sustainable production, high performing operations and empowered and engaged people. Against this backdrop, Vattenfall accelerated the implementation of its strategy in 2016 and took concrete actions to ensure these objectives become reality.
Discussing the company's move into the renewable energy market is Gunnar Groebler, Senior Vice President, Business Area Wind at Vattenfall: "The strategy that began in 2015 will continue into the early 2020's as we have undergone a major change and aim to continue growing as we push towards being fossil free in one generation. This is something we have stated and strive towards in all areas of the business and something we work very hard with. Our transition is not only visible to the outside world, but also believed by people as something we take seriously, which is a big achievement for us."
Since previously being featured in September 2016, the 100 per cent Swedish state-owned organisation has continued to be active in many aspects of the renewable sector, as Gunnar Groebler comments: "We are on track with our focus on renewable energy and have two projects under contract currently – the Horns Rev 3 windfarm and the Aberdeen Offshore windfarm, otherwise known as the European Offshore Wind Deployment Centre (EOWDC). For Horns Rev 3 we have made a final executive decision and are in the product delivery phase. We are in the process of manufacturing the components and are going to sail out with the first components for installation in the final quarter of 2017.
"Meanwhile, the Aberdeen Offshore windfarm is enabling us to use turbines available on the market with new features; for example, for the first time we are using suction bucket foundations on an entire wind farm instead of monopiles. This offers more flexibility on foundation piles in different soil conditions to bridge higher water depth than you could with a monopile." While this development underlines the vision of EOWDC, the centre is still in its construction phase, with first power generating in the summer of 2018 and operations set to last for two decades.
Vattenfall invested more than £300 million to build EOWDC, which is Scotland's largest offshore wind test and demonstration facility, in July 2016, making it the 100 per cent owner of Aberdeen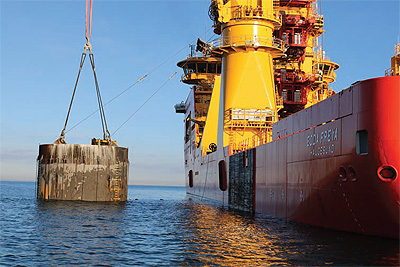 Offshore Wind Farm Limited. Working with its partner, the Aberdeen Renewable Energy Group, the company has developed EOWDC with the goal of growing its wind power capacity throughout Europe and the UK and boosting the industry's drive for competitive, renewable power. Once complete, EOWDC will produce 309 GWh annually, have an installed capacity of 92.4 MW and will annually displace 132,977 tonnes of CO2; it will also produce enough electricity every year to meet the equivalent annual demand of almost 80,000 homes and remove the equivalent of more than 730,000 cars from UK roads throughout its lifetime.
Another major development for the company was the inauguration of Sandbanks, a windfarm of 72 turbines that are generating 288 MW and supplying 400,000 households. Despite being complete, the windfarm has room for an extra 64 turbines, of which 24 have already been approved. Gunnar Groebler elaborates on the inauguration of this project: "We had a BBQ party to celebrate, with grills fired up by offshore electricity; it was a big achievement for us and is proof that the change in strategy for us is becoming visible."
Further strengthening its transition towards renewable energy, the company made the decision to progress into solar energy and batteries in April 2017. In terms of batteries, Vattenfall and BMW Group signed a contract for the delivery of up to 1000 lithium-ion batteries in 2017, with Vattenfall purchasing new batteries from the BMW plant in Dingolfing and using them in storage projects, with the largest storage capacity being built at the company's wind farm Pen y Cymoedd in South Wales. "Yes, we also seek to expand into batteries more, having won part of a tender that National Grid put up in 2016. For this project we will be building a 22 MW battery alongside the Pen y Cymoedd windfarm in South Wales. This storage facility will help support the stability of the countrywide power grid in the UK."
When it comes to solar power, Vattenfall is looking for opportunities in three core areas: the development of large scale solar photovoltaic (PV) farms, particularly where it has the opportunity to use existing infrastructure to help reduce costs; the facilitation of decentralised energy generation at the point of consumption for both private and business customers, and the offering of market access services and power purchase agreements to small scale solar PV generators who are looking to market their excess generation.
Operating in an expanding energy framework, the pioneering company is keen to continue proving itself in the energy sector and has a strong ambition to reshape its overall production portfolio and progress into a market that has significant growth rates anticipated. Looking ahead, Gunnar Groebler concludes: "We have a clear strategy going forward to grow the solar business, both in terms of the business sales side and business to consumer side with a more complex offering of solar panels combined with batteries behind the meter; both offerings will thus be much stronger than we have seen so far.
"We have taken and will continue to take important steps in realising our strategy. So I am happy to see that our projects are in line with our main ambitions of driving down the cost of electricity as well as providing climate smart and cost efficient energy to Europe. But we are far away ready, we will need to continue our strong growth in renewables and improve our customers' experiences."
Vattenfall
Services: Producer and retailer of electricity and heat