New purpose, same reliability
The last few years have been a period of a considerable strategy refocus for Vattenfall. Formed over 100 years ago, the Swedish state-owned company is one of Europe's largest generators of electricity, serving nearly 6.5 millionelectricity customers across Sweden, Finland, the Netherlands, Germany, and theUK. Assuming the role of the responsible industry leader it is, Vattenfall has placed sustainability at the core of its ongoing and future activities, to achieve its goal of enabling a life free from fossil fuels within one generation. "We had to change our attitude towards climate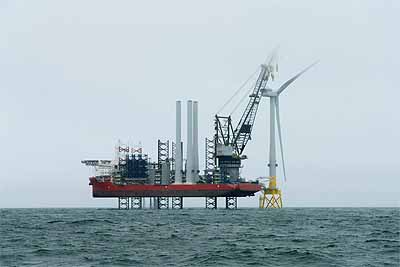 change and see what we can do about it," Gunnar Groebler, Senior Vice President and Head of Business Area Wind, remarks. "We have intensified our efforts both on the renewable energy side and the decentralised energy solutions side, as we are looking to ramp up our activities in these areas and add to the overall energy mix."
Having already made strides in the offshore and onshore wind power generation for a number of years, Vattenfall added solar energy to its mix in 2017, and the company is currently involved in a variety of pioneering projects, where it is developing novel solutions across Europe, particularly within its traditional markets, but also including France in its target areas. "There is a need for renewable capacity in France and we regard offshore wind energy as a great asset to the country's future electricity generation mix. We are now pre-qualified to bid for the Dunkirk offshore project and we are waiting for the final tender documents to submit our bid later this year," Gunnar reveals. "What is interesting about this project, is the slightly different approach the French state has taken in designing the tender framework. The country's authorities have invited the prequalified parties prior to issuing the final bid document, so we were able to demonstrate the experience we have gained working with regulatory bodies in other countries and the authorities taken those experiences into account for the tender design. It is a great example of taking lessons learned into account to optimise the tender accordingly," he explains.
Back to its home country, one of Vattenfall's major highlights of 2018 so far, has been the beginning of construction of one of Sweden's largest onshore wind farms – Blakliden/Fäbodberget. The 353 MW wind farm cluster will have a total of 84 turbines and is expected to be commissioned in 2021/2022, when it will be able to produce enough energy to supply 220,000 Swedish homes with electricity.
That Vattenfall is strengthening its position in the UK, is evident from the company's implementation of two key projects in Wales and Scotland. In May 2018, Vattenfall built and installed their largest co-located battery in the UK, which will store renewable wind power from its Pen y Cymoedd onshore wind farm in South Wales. "We won a tender from National Grid and for the next four years, we are going to primarily provide grid stabilisation services," Gunnar announces. "After that period, we will have a fullymerchant battery, which will allow us to optimise the system. It is a great experience for us and incredibly encouraging to see that not only we can build batteries, but we can build them on time and on budget, and then technically integrate them into a challenging environment of an existing wind farm or any other asset. As we run other batteries in the Netherlands and in Germany, we are starting to discover what is the optimal model to operate those batteries within an existing power production setup, which should enable us to deliver more valuable electricity products to the market," he enthuses.
Valued partners
Only days before we spoke with Gunnar, the European Offshore Wind Deployment Centre (EOWDC) in Aberdeen generated its first power. The offshore wind farm was developed by Vattenfall with the support of a reliable network of suppliers, among which was J. Murphy & Sons, who delivered part of the onshore work. The multi-disciplined engineering and construction company was picked by Vattenfall for its proven abilities and experience, highlighted by the work it had previously delivered for the Swedish company on the Kentish Flats offshore wind farm. For the Aberdeen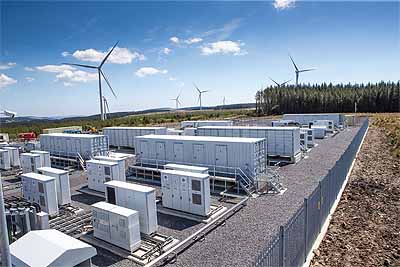 project, J. Murphy & Sons was tasked with the preconstruction design, onshore cabling and the construction of a substation, as well as connecting the wind farm to the national grid.
The farm now has all of its 11 turbines installed, two of which are the world's most powerful commercially installed wind turbine. "It is a flagship project for us not just because we are now operating the biggest available turbine type with an installed capacity of 8.8 MW, but because for the first time, we have used suction bucket jacket foundation technology across the entire wind farm," Gunnar points out. "We also exported the first power to the National Grid via innovative 66 kV cabling, which marked another first, as never before cabling of this capacity had been installed on a commercial offshore wind project in Scotland. The combination of all of these innovations makes the site a very interesting test and development centre for us, where we can learn and then deploy technologies that can later be incorporated into other wind farms.
"In fact, the suction bucket foundation technology is an excellent example of our R&D division's progress," he continues. "We are constantly trying to improve the balance of the plants, in order to make them more efficient in terms of both costs and technology used. Foundation design is one of the areas we focus on, and having tested the suction bucket technology in Aberdeen, we are positive that it would allow us to be more flexible in the future."
Fundamental change
Gunnar draws our attention to another remarkable project, which could foreshadow a significant shift in how future schemes are arranged. Vattenfall won a tender to build the 700-750 MW Hollandse Kust Zuid offshore wind farm, for which only non-subsidised bids were accepted. "We knew from the start that it was going to be fully-merchant and our proposal was evaluated against a number of risk factors around building and operating such a project. We are certainly very proud to be the first company to deliver a nonsubsidised offshore project to the market.
"In the renewables area, a lot of initiatives are still government-supported, but this is going to change in the near future," Gunnar analyses. "The Hollandse Kust Zuid projects opens up a new area for the offshore wind industry that will result in a fundamental change of thinking of how renewables should be deployed. We will have to look at the development of the electricity market more than we have done before, and match our production with the needs of that market. In short, we have to come up with new solutions, in order to stabilise revenues and remain profitable. This is one of the major challenges for the industry in the next three to five years, but I truly believe that we cannot depend on heavy state subsidies in the long run and we will have to find fair mechanisms to replace these."
Developing potential
Vattenfall has also recognised e-mobility as a burgeoning market sector that can provide attractive business opportunities for the company. It is part of the organisation's aim to diversify its proposition and offer more decentralised energy solutions to the market. "We look at it both from the perspective of us providing hassle-free charging services to the end user, the owner or driver of an electric car, as well as towards the businesses that want to offer charging solutions towards their employees or visitors. Secondly, we see a possibility if not to own, at least to operate a public charging infrastructure, which will evolve from a regional to a national, and even an international network. We are already operating one of the largest public charging networks in Europe. Our aim is to develop the potential we have spotted, starting from the countries we are active in, but also to grow fast in other countries. For example, we have just recently launched our first e-mobility branch in the UK," Gunnar discusses.
Internally, Vattenfall has set out to change its model of interaction with itssupply chain, and the streamlining of the new practices promises to be an area of development in the future. Gunnar details: "We are trying to move much closer to our suppliers, in the sense of attempting to understand their own development pipeline and the kind of technology they are looking into, so that we can help them focus on what is actually important.
"It is also quite significant for us to find a way to utilise digital tools as effectively as possible, in order to improve our own processes," he adds. "For instance, we are interested in applying various digital technologies, such as predictive maintenance tools, to further improve the availability of the wind turbines, as these will allow us to harvest the data coming from the turbines and predict certain maintenance tasks in advance. Needless to say, this will save costs and enable us to schedule maintenance in convenient times."
Exciting growth
As an established name across the European energy industry, it is perfectly intelligible that Vattenfall's aspirations centre around deepening the company's presence on the continent in the years to come, since Europe remains the most fertile land for the introduction and development of renewable energy. "If you look at offshore, 90 per cent of the market of spinning assets is still in Europe," says Gunnar. "With the costs of wind power coming down, a lot of European governments are reviewing their renewable energy targets, which continues to create new opportunities for us here. The picture is not much different in the onshore sector, as we are looking to remain active in the geographical areas where we have already established business. With solar energy, we see a trend of this type of renewable energy moving north. It used to be more widespread in counties like Spain, Italy, and the south of France a couple of years ago, but its popularity is now growing in the UK, and even the southern part of Sweden."
It is an era of exciting and intensive growth of the renewable energy industry in Europe, as countries all over the continent have collectively recognised the need for more sustainable solutions to ensure a healthier economic and environmental future in the region. Vattenfall's proactivity and clear vision to reduce the use of fossil fuels has put the company at the forefront of the most recent innovative and game-changing developments within the industry, and the next few years guarantee to keep it under the spotlight, as it pursues its ambitious objective to 'Power Climate Smarter Living'.
Vattenfall
Services: Electricity generation, distribution and sales