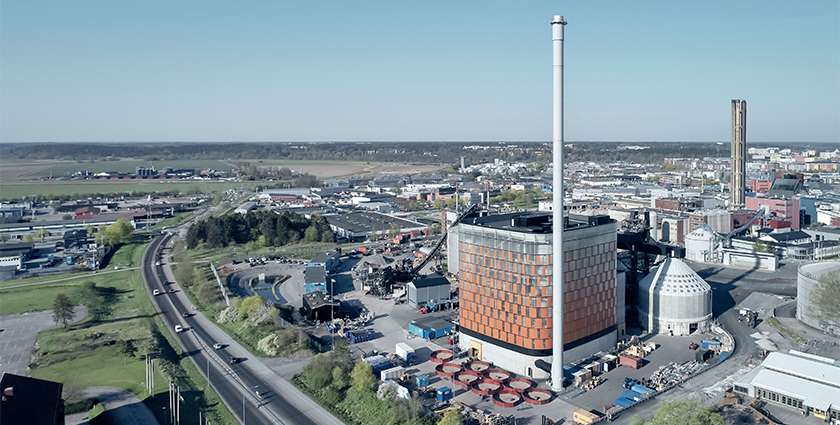 Seizing the future
For more than a century, Vattenfall's power has driven cities and industries – now the company has set itself a new challenge: to make fossil-free living possible within a generation
The state-owned Swedish energy company Vattenfall has shifted its focus in recent times. Once reliant on lignite and hard coal in its continental operations, the company has divested operations of the former and has already shut down several assets of the latter. In doing so, Vattenfall has reduced its emissions to around ten million tons.
Undoubtedly, there's still a fairly long way to go – especially if, as Mattias Lindqvist, Project Director at Vattenfall, points out, the company expects to make fossil-free living a reality within one generation. Fortunately, however, the commitment to action is there; to live fossil free tomorrow, the company has set about striving beyond convention today.
Vattenfall has committed to Net Zero by 2040 for its full value chain and has set a 50 percent emission reduction target for its suppliers of goods and services. Moreover, Vattenfall aims to collaborate with partners to facilitate the decarbonization of the energy industry and parallel sectors. The knock-on effect of this means that, for its key markets in Europe (Sweden, Denmark, Germany, the Netherlands, the UK, and so on), customers will also be able to adopt clean, recycled, and fossil-free ways of heating their homes.
"As a company, we've set a clear target," explains Mattias. "We want to make our ambition of fossil-free living a truly sustainable one. We want all our customers to be able to join us on this journey, and consequently we've started a fuel transformation program. We've transformed too in our Uppsala operations: our fuel sources have changed from peat to pellets to biomass in our plants, and we've changed regular oil to bio-oil for our oil-fired units. In addition, we use other heating sources such as e-boilers (power-to-heat), geothermal, and waste energy.
"That's a fundamental part of our long-term strategy," he adds. "From our perspective, though, it's not just a climate decision; it's a business one, too. In that sense, we're sure that renewable and recycled energy is the future of business. Yet, as a business, we want to be profitable and long-lasting in the energy sector. Sustainable energy production is our route towards this."
To enact that vision, Vattenfall is making key investments in renewable energy. Recently, operations began at Carpe Futurum, a new biofuel heat plant in Uppsala, Sweden. The facility will slash carbon dioxide emissions by 200,000 tons per year, when compared to previous figures from peat-powered generation and has an impressive heat capacity of 110 megawatts – enough to supply 76,000 households in Vattenfall's Uppsala heating district.
Carpe Futurum marks a significant milestone in Vattenfall's overall journey to phase out fossil fuels from its operations and allows families to join the company on its sustainable mission. For Uppsala, moreover, it represents a huge leap towards the city's anticipated future of being fossil-free by 2030 and climate-positive by 2050.
"The driving force behind the project was our transition away from peat," says Mattias. "We were firing peat in our units and, quite simply, we needed to stop in order to live up to our purpose and our commitments. Old facilities of ours have seen a lot of fuel transformations – from oil to coal to peat – but the last step, drawing energy from biomass, was untenable. Therefore, we needed a new asset to supply renewable and sustainable energy to our customers."
That asset has been aptly named Carpe Futurum (seize the future), recalling the company's ambition to phase out fossil fuels in Sweden by 2025. Indeed, the Uppsala-based plant is fired with bark, wood chips, and recycled biomass in various combinations.
"The first year of the project was taken up by construction ground works," remembers Mattias. "We had one initial supplier carrying out all the excavation, foundation, and concrete works. A year later, we switched contractors to a full EPC supplier – they delivered all the process equipment needed for the build, took care of the fuel coming in, and managed all the ashes and waste products going out. The EPC contractor started installations early 2020, and quickly moved on to a commissioning period, which began in August of last year. Following on from that, it was time for fuel handling: Carpe Futurum's fuel pocket was filled, and the fuel was transported to the two storage silos, and then on to the boiler.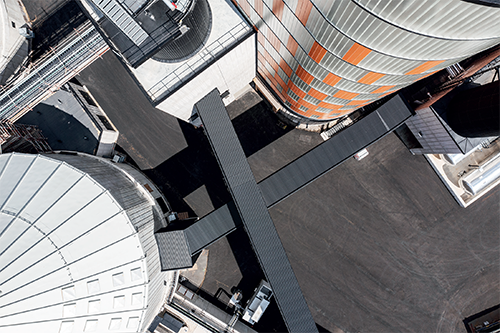 "Looking at the project as a whole, the main benefit we can take away is that it's a biomass plant," he continues. "This means we will generate heat from recycled biomass – for example, forest residue or construction and sawmill waste – and, by tapping into these waste streams, our plant will become more sustainable. Since low power consumption and high efficiency are fundamental to the project, we've installed a large flue-gas condenser to capture the energy we cannot take out in the boiler. The flue gases leaving the stack have a temperature around 40 degrees Celsius, meaning we really get the most out of the fuel we put in."
Despite the pandemic, Carpe Futurum followed its original schedule and was completed with more than 850,000 man-hours put into the project. During that time, the plant had zero LTIs (Lost Time Injuries). Ironically, as Mattias informs us, the schedule of the project meant that it actually started and ended with the arrival and recession of the pandemic. "It was incredible how the timings worked out," he admits. "We were very happy that we managed to complete the project given the circumstances. Our suppliers were really committed; we owe a lot to them. In all the time it took for us to finish the facility, only one supplier of boiler parts took slightly longer than intended because of Covid-19. Otherwise, we managed without any spread of the virus; tests were abundant, and rules were followed closely, with extra precautions being taken around deliveries and newcomers to the site.
"There were other challenges, though, that didn't link to the pandemic," he recalls. "For instance, the first challenge was to maintain heat operation while construction services were onsite. It proved very difficult for our fuel department to keep those plants running while we were building. When it came to construction, the relative lack of space across the site meant that deliveries of equipment were taxing, and often it was hard to fit the amount of people we required into smaller spaces.
"From Vattenfall's perspective, the success of Carpe Futurum would ultimately come down to the people working on it," continues Mattias. "In the end, we're a project organization, and executing projects like this one requires collaboration and teamwork. Our people enabled us to achieve the plant we wished for. In terms of construction, we maintained a very good relationship with our EPC contractor, ensuring that problems were solved before they could hinder or halt progress. That was a common goal across the project: keep progress coming and always overcome challenges.
"People and local communities will also benefit from the plant – 170,000 residents in our Uppsala network, to be exact. The plant has a nice architecture, too. It really made a positive impact on the city skyline."
Ultimately, however, Carpe Futurum represents just one piece of the overall puzzle that Vattenfall is intent on solving: the pathway to a fossil-free future. To seize it, the Swedish energy and heat supplier is also investigating the viability of electrofuel for sustainable transportation.
"We're now planning a very interesting project called HySkies. With our partners in the project: SAS, Shell and LanzaTech we are planning for a facility for electrofuel production and deliver it as a sustainable fuel alternative to the aviation industry," explains Mattias. "We will collect carbon dioxide from our waste-to-energy plants, using recycled fuels, at our site in Uppsala, liquify it, and then transport it to a new refinery, which is actually yet to be built. At that refinery, the carbon dioxide will be mixed with hydrogen in the refinery to create ethanol. Once refined, we will have created a sustainable fuel that not only support the aviation industry's green transition but will also facilitate our own. In this way, a fossil-free future really is only a generation away."
Vattenfall
group.vattenfall.com
Services: Energy generation and supply