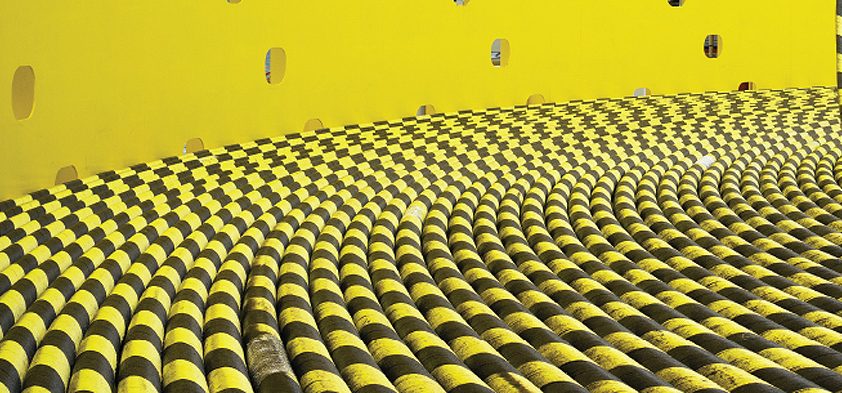 Simultaneous opportunities
With roots dating back to the late 2000s, VBMS specialises in subsea power cable and SURF installation. The company was founded as a subsidiary of Visser & Smit Hanab during 2007, and originally named VSMC (Visser & Smit Marine Contracting). With a strong base of power cable laying experience the company quickly became highly successful and in 2013 the company reached a significant milestone when Royal Boskalis Westminster N.V. acquired a 50 per cent stake in the business. This allowed VSMC to further leverage its existing resources with those of Boskalis to allow the company to fulfil larger contracts while drawing on the expertise of two highly successful companies. During 2014 VSMC was rebranded as VBMS and today the company is the leading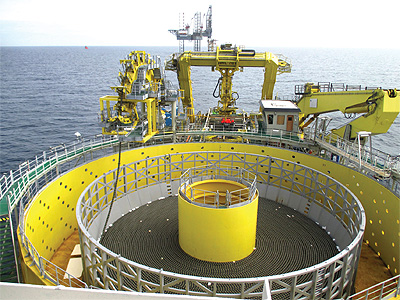 European subsea power cable installation company, offering total subsea power installation solutions for offshore grids, onshore and in shallow and deep water.
Today VBMS specialises in subsea power cable installation and since its inception, the scope of VBMS operations has grown to further include activities such as 'balance of plant' maintenance for the renewable industry, SURF installation for the oil and gas sector and the installation of cable interconnectors.
During its early history, VBMS was primarily involved with the installation of export and electrical power cables. During its second year in operation the company acquired its first cable laying vessel, while today VBMS operates four fully owned cable overlay spread vessels (COV). As part of its total solutions offering VBMS has developed a unique technology that enables the company to simultaneously lay and bury power cables and umbilicals, rather than having to complete these operations on two separate occasions. This offers the client significant benefits in terms of reduced cost, risk and installation time.
"Traditionally, companies contracted to lay cable would lay cable on the surface of the seabed and subcontract a separate company to bury the cables. In time the development of larger cables to deal with the higher capacities required to transport energy from A to B was increasingly tied to the need to lay greater lengths of cable.
"We observed that the lengths of cable we were laying were getting longer, reaching between 40km to 80km for example, or crossing directly from the Netherlands to the UK," explains Commercial Business Director – Oil & Gas, Leo van Vliet. "Laying cable on the seabed leaves cable exposed and also requires the use of a guard vessel to be employed every 5km. This is less safe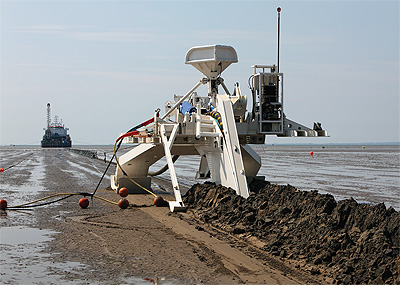 and in terms of cost, the offshore wind market is very competitive meaning that it is important to reduce cost as much as possible. By installing and burying power cable or umbilical in a single simultaneous operation, it is possible to increase safety and reduce cost. So for example, if a vessel lays 4km of cable a day that 4km of cable will also be buried. Although the first few projects were difficult, this is now a proven technology and we have installed around 600km of power cable and umbilical, which is quite an achievement."
Indeed, during August 2015 it was announced that VBMS had been contracted by E.ON for the installation of Rampion export cabling off the Sussex coast. The company will undertake the installation of two 16 kilometre-long export cables for the Rampion Offshore Wind Farm. These 150kV HVAC cables will transport power ashore from the 400 MW wind farm to the onshore cable in Brooklands Pleasure Park in Worthing, South East England. VBMS will deploy its proven DP2 cable-laying vessel Stemat Spirit during the operation, which is set to be executed in Q3 2016. The simultaneous laying and burial of cables is a critical aspect in the scope of the project and VBMS has recently added a new plough to its existing spread, which provides a high-performance trenching solution for large diameter cables. The Stemat Spirit has previously demonstrated its capacity in this type of project during the Humber Gateway OWF export cable installation for E.ON in 2013.
VBMS has demonstrated the strength and capacity of its cable and umbilical laying installation method in both the renewable and oil and gas sectors, however the company is also able to deliver interconnector, nearshore and repair services as required. "Over the last few years many companies within the oil and gas industry have expanded more into the offshore wind market, while we are doing just the opposite. We started in this market almost two years ago when we installed our first umbilical for Wintershall and in 2015 we installed the second umbilical for the company. We have also installed power cables for Statoil. These projects were undertaken using our simultaneous laying and burial technology, which is a real achievement because this is not a widely recognised technique within the oil and gas market – even the largest operators in this market still use two vessels to lay cable, while we can do it with only one," Leo concludes. "The market is very challenging at present, however especially mid-size operators are increasingly looking for alternative, cheaper solutions meaning that they are willing to adapt to new technologies. In one way, yes it is a very difficult market, but equally the market is more open for us and we want to achieve several projects to further demonstrate our capability in the oil and gas market."
VBMS
Services: Subsea power cable and SURF installation