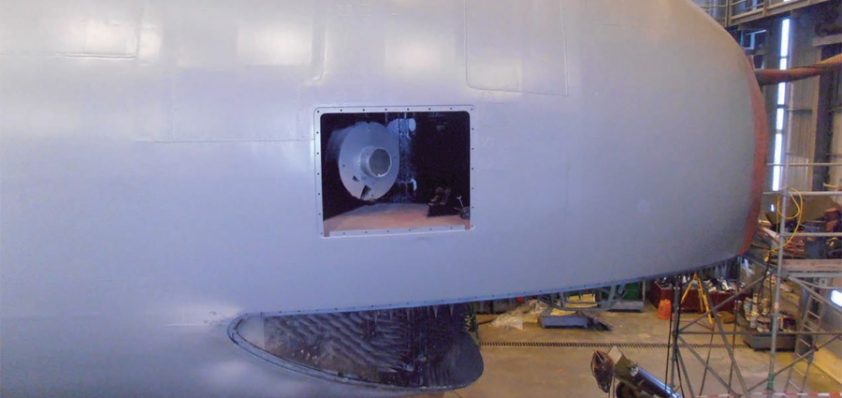 Maintaining quality
Founded in 1975, VENKO Group has developed a reputation for excellence in delivering superior independent coating solutions to clients within a range of industries.
Active in providing services for outdoor applications such as high-tension pylons and substations since its inception, the company has since expanded its presence in the railway, construction, and oil and gas industries. To accommodate its broad client base, VENKO has split its services into three divisions, VENKO Outdoor, VENKO Indoor and VENKO Offshore.
Previously featured in European Oil & Gas Magazine in April 2014, the group has continued its success story with a number of awarded contracts from blue chip clients, as Tom Herok, business unit manager of VENKO Offshore points out: "Following our first three-month contract for one Perenco platform in early 2014, we have been awarded our second contract for another platform with Perenco in the UK. Once again, this is for full maintenance including scaffolding and painting services. The decision to award us this contract was based on our quality, efficiency, project support, safety performance and a fixed price per square metre; these strengths made all the difference. VENKO Offshore was also recently awarded a confidential six-year contract with a blue chip client in the UK and is in the middle of executing a project for Total, which we were awarded end of last year."
Using experience gained from its current Shell contract, the division is working on the fabric maintenance of a 40,000 m2 platform by Total in the Netherlands, as Tom states: "This contract is in full operation at the moment and is going well. We have also been working with Centrica in the Netherlands; the company has platforms on both sides of the pond and wanted some work executed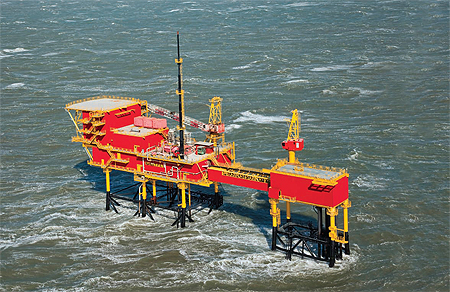 in the UK. Because we have offices in the Netherlands and the UK we can efficiently provide our customers with a high quality local service from both locations."
Proud to operate with a different philosophy to competitors, VENKO provides customers with cost-saving benefits with a fixed pricing structure that avoids unexpected costs, says Tom: "Our way of working involves a five-year guarantee at a fixed price per square metre for full platform projects or select items on the platform. This means value for money to customers and is a way of working that is slowly changing the views of a conservative market that is used to the standard hourly based contract. However, this is our usual day-to-day business; the biggest change for the company at the moment is the launch of a fabric maintenance jack-up barge, which will be a real game changer in the future for VENKO operations."
Working with Jack-UP Barge B.V., the self-elevating platform supplier, VENKO Offshore is soon to introduce an innovative, cost-effective, purpose built offshore fabric maintenance (FM) jack-up installation. Not only minimising generic barge issues such as a lack of suitable equipment for high intensity, which leads to an increase in operational costs through interface delays and issues, the fabric maintenance jack-up barge has been specifically designed and developed to meet the future needs of major mechanical work-scopes and fabric maintenance projects. "We are currently in contact with our clients to confirm their needs and get industry relevant input that will further optimise the design of the barge, which will thus maximise efficiency and other benefits for our customers. We want to ensure that by the time the barge is fully operational we will be able to serve the majority of the market, while delivering a cost-effective service in maintenance projects," highlights Tom.
Designed with ergonomic integrated systems, where all plant and equipment is housed internally to allow premium deck space for container storage, the FM jack-up barge also boasts an integrated hose management system, which will free the deck from trailing air hoses and cables. Moreover, the crane capacity will ensure VENKO Offshore is able to support increasingly demanding campaign requirements. For onboard clients and contractors, the jack-up has a spacious and well-equipped instruction room, approximately 150 beds and superior living standards with high specification amenities.
For surface protection operations, the company will use hybrid blasting systems, suitable for any site conditions, to significantly increase abrasive retrieval and site cleaning. Meanwhile, thanks to fixed equipment set-ups and connections, the FM barge is ready to use 'plug and play', which will result in major time reductions during interface. Due to be operational in the second half of 2016, the unit will be available for projects within the UK, Dutch and East Irish Sea sectors.
Keen to provide customers with a highly efficient, cost-effective solution, the company will have one point of contact for clients requiring fabric maintenance services. The one-stop-shop will be responsible for both the FM jack-up barge and the marine crew, which will ensure both barge and crew are available at the same time. "We often see a mismatch between the availability of the barge and the painting crew or fabric maintenance crew, so matching them up will result in minimum standby costs and a team that is used to both working together and working on that specific barge. This will lead to an increase in efficiency, which will lead to benefits to the client," says Tom.
VENKO Offshore BV
Services: Independent coating specialist