Ventspils Nafta Terminals (VNT)
Plans in the pipeline
It has been a productive 12 months since Ventspils Nafta Terminals (VNT), the largest and most technologically advanced crude oil and petroleum product transshipment company in the Baltic States, last spoke to European Oil and Gas Magazine in June 2012.
Determined to retain its leading position for storage and transshipment in the competitive Baltic region, the terminal is continuing with its five year restructuring programme.
Major changes to be implemented include the reconstruction of one of its rail tank car unloading stations and the installation of an oil product vapour recovery system, as managing director of VNT, Lars Pantzlaff highlights: "You have to do something different to separate yourself from the others, and one way of doing that is to increase niches that will really benefit VNT in the transshipment market. Our plan to progress really comes down to improving and expanding the services on offer. In terms of infrastructure, the railway deliveries are a huge part of our business, on top of the diesel pipeline connected to the terminal. We have three active railway unloading racks, big structures of around 300 metres in length, where we can unload on average 30 rail tank cars on each side. One of the three is going to be replaced by new by the end of 2014."
Part of Ventspils Nafta Group, the business has an extensive history dating back to 1957 when the leaders of the Soviet Union recognised the logistical advantages of Ventspils, such as its non-freezing fully operational port, and built a terminal for the export of crude oil. Operations began in 1961, sparking ongoing expansion, investments and developments. In 1974 the terminal established its key crude oil pipeline from the Russian fields and in 2003, following the regaining of independence from the Republic of Latvia, Ventspils Nafta Terminals was established as a privately run company.
Today, the terminal's main services include the transshipment of gas oil and gasoline received via pipeline and railway, as well as quality analysis of crude oil and petroleum at its laboratory to ensure product quality. Boasting 105 shore tanks that are connected to pipeline systems, VNT has a capacity for crude oil and petroleum storage of 1.2 million cubic metres. To guarantee safe and faultless storage and transportation operations within the terminal, a fully automated system was installed and a united control room was created.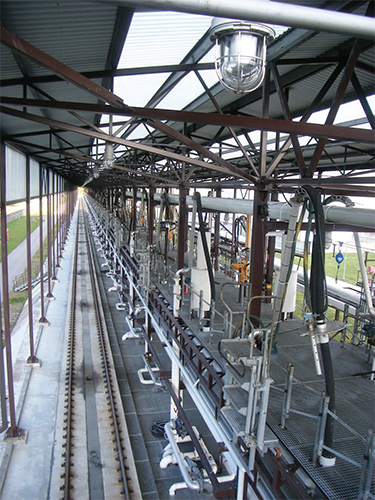 Despite global economic situations and regional product flows, an impressive 6.25 million tonnes of oil and oil products were transshipped by VNT in the first half of 2013, resulting in a net profit of 5.02 million lats. VNT handles a huge 72 per cent of all liquid cargo in Ventspils, 48 per cent of all liquid cargo in Latvia and is also the largest oil product terminal in the Baltic States, with 19 per cent of all cargo transshipped through Lithuanian, Latvian and Estonian ports. "All of our daily operations are safe, efficient and well controlled so our key focus is to develop our plans and reach a point where they can be executed. These developments are being processed internally by the fantastic people we have at VNT. These days plain old vanilla is not sustainable any more. You need a good efficient operation and excellent infrastructure, and the people that drive the process of getting there. Though our infrastructure is sound and in good condition, we need to work on it as it comes to age, but these investments will benefit the terminal significantly," says Lars.
VNT's excellent logistical infrastructure is superior to many other storage and handling facilities on the market and allows both VNT and its clients to be in close proximity to one another, ensuring close relationships with customers and increased efficiency in schedule planning. As a terminal that receives a variety of fuels, Lars is keen to progress and improve efficiency and flexibility with a new pump station and valve management: "It is important to add value by increasing flexibility through product segregation and having the capabilities to handle different products. We are also looking at our ability to load and unload rail tank cars; we never send full rail tank cars back to CIS countries, but we want to have the versatility to do that in the future."
The implementation of introducing reverse transshipment services and the development of related infrastructure began in November 2011 in co-operation with the Investment and Development Agency of Latvia. This project involved the acquisition of operational equipment for the loading of crude oil from tankers into rail tank cars, and a connected scrubber for related vapor recovery.
Other major modernisation projects include the capability of performing blending operations (blending different grades of products for particular markets); the company has also installed a butanisation system (mixing motor gasoline with liquid butane). "If you build a new terminal these days you will cater for in-tank blending and creating added value for customers," explains Lars. "Our infrastructure, built more than 50 years ago, was not built for this purpose so we are now taking tank pit by tank pit to research a pipeline infrastructure that will enable us to blend from one tank to another tank group. This is a huge development for us because in todays market product blending is everything." Described as 'the pipeline spiderweb', the new pipeline infrastructure will connect with most parts of the company's operation, from tanks to pump stations, allowing it to transfer the oil product without jeopardising quality.
Looking to the future, Lars anticipates the continued investments and developments within the terminal will ensure sustained profitable growth. "We would like to keep our market share; it is difficult to compare ourselves with Russian ports at this point, but we can compare our operations and profitability with Latvian, Estonian and Lithuanian terminals and ports. Our plan is to not only be the largest terminal in the region, but also the most flexible," he concludes
Ventspils Nafta Terminals (VNT)
Services: Production and shipment of crude oil and petroleum