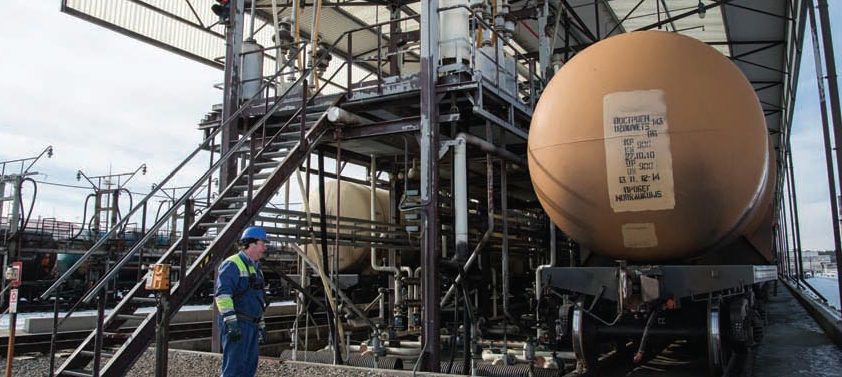 Ventspils nafta terminals (VNT)
In safe hands
Ventspils nafta terminals (VNT) is the largest and the most technologically advanced crude oil and petroleum product transhipment company in the Baltic States.
Having operated for more than five decades in the ice-free port of Ventspils the company receives and stores petroleum products from Russia and other CIS countries and loads them onto tankers for international destinations, thus ensuring safe, efficient and reliable operations on an international level.
The company achieved record throughput in 2012, but 2013 was more challenging, as managing director of VNT Lars Pantzlaff noted: "The fall can be explained with global processes – the US becoming a net exporter, the favourable trading conditions in the market of the Black Sea and other factors that are out of VNT control."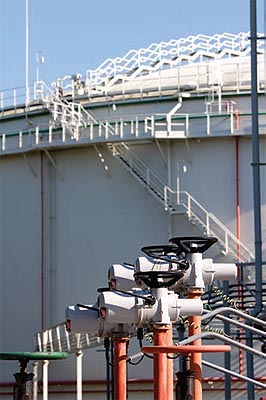 In response to these conditions, VNT invested in its terminal infrastructure and processes to continue building a solid foundation for the future performance of the company. The development strategy implemented to date has been successful and Lars believes that investments into development of the working environment and into employees are key to the success of any company. These efforts will continue to be in focus in 2014, together with paying attention to environmental protection activities. Setting up a vapour recovery system in the jetty area is defined as a priority, while one rail tank car loading rack are already equipped with petroleum product vapour recovery system for the possibility of loading crude oil into rail tank cars.
In fact, green initiatives are always at the top of the agenda for VNT – each year the business invests around 700,000 euros into green measures. It has developed an environmental management system, which analyses operations of the company and potential risks associated with it, and ensures regular environmental monitoring in its territories. In 2013 Sustainability Index experts positively evaluated this carefully developed environmental management system, and in May 2013 VNT was ranked in the Silver category in the Latvian Sustainability Index, receiving the highest evaluation for its responsible attitude to the environmental aspects.
"We are aware that we operate with petroleum products, which are dangerous to the environment; therefore environmental aspects are critical to us when thinking about the company's continuity and its responsible management," emphasised Lars.
The VNT environmental policy defines three major strategic directions – careful analysis of all potential risks to avoid crisis situations; purposeful reduction of the company's resource consumption, as well as investment in the environmental recovery, removing the consequences of pollution created in Soviet times.
This dedication means VNT is one of the 'greenest' terminals in the world. "While other terminals are associated with steel and concrete, VNT is characterised by its green environment. The total area of the terminal is more than 100 hectares, a half of which is a green area," added Lars.
The responsible attitude of VNT to environmental resources has been reflected in reduced power consumption per one transhipped tonne in recent years. By introducing a document electronic management system, paper consumption was reduced by 22 per cent. Furthermore, the company carries out waste sorting for 12 different types of waste.
Moreover, for more than ten years VNT has invested around 700,000 euros in order to eliminate the consequences of pollution created in the Soviet Era. During this period the largest historical pollution in the company's territory was removed – around 3000 m3 of petroleum products, which was accumulating in the form of nonaqueous phase liquids occurring above ground waters, under the railway racks.
It is clear that VNT is very dedicated to environmental protection, but in fact this focus is just one part of a number of modernisation projects that the organisation has introduced. As Lars explained, the company has recently developed new operational software called 'Gemini'. "We had been using our old system (KRAVA) for the past 20 years. Due to operational changes and to further increased information exchange efficiency, we have now upgraded to Gemini. The main challenge of this was to improve the management of railway deliveries, which are historically a large part of our business. The new software is now in use and we will switch off the old one completely in the middle of the year," he said.
He added: "We are also looking at creating the ability to load road trucks. We have the facilities but they have been in hibernation for ten years, and over that time we never considered this as being a part of our business. However, activities are now underway to update the facilities and to market this service as part of our offering."
It is apparent that VNT is incredibly dedicated to improving its facilities and processes – indeed, over the past five years 22 million Euro have been invested in the development of the company.
Lars concluded: "We are blessed with a generous site layout and as we have improved the business over recent years we have also consolidated the use of our infrastructure. As a result, certain parts have become obsolete; such as an old pump station and railway unloading rack. These areas serve as a great basis to facilitate new developments, and one of the larger projects we are working on recognises that railway deliveries are a large part of our business. So we have cleared one of these old areas and are are planning to implement a new rail tank car unloading rack in that spac
Ventspils nafta terminals (VNT)
Services: Oil and petroleum product transhipment