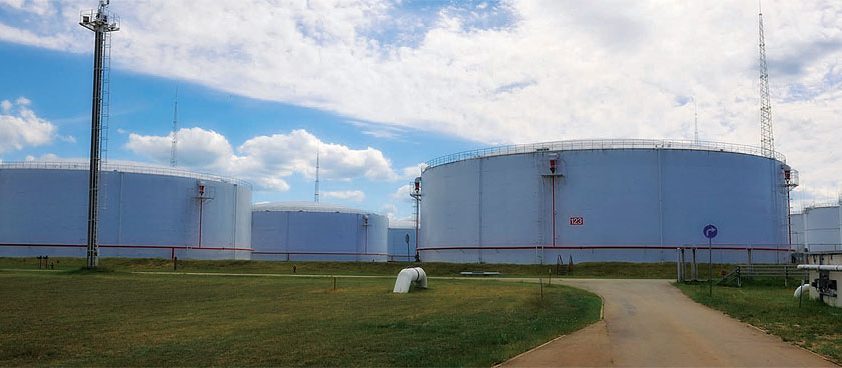 Ventspils Nafta Terminals
Dedicated to improvement
Ventspils Nafta Terminals is one of the leading, and most technologically advanced crude oil and petroleum products transit companies in the entire Baltic Sea region.
Based at the ice free port of Ventspils in Latvia, the company's main services include the transhipment of gas oil and gasoline delivered by pipeline and railway, and the extensive quality analysis of crude oil and petroleum products in its laboratory to assure product integrity.
The business has an extensive history dating back to 1955 when, upon recognising the importance of Ventspils as a key transportation point for various cargoes between the East and West of Europe, the government of the former Soviet Union decided to build an oil export facility at the site.
Operations commenced in September 1961 and since that time the terminal has continued to expand, notably in 1974 when it established its key crude oil pipeline from the Russian oil fields. With the fall of the Soviet Union in the 1990s, and the subsequent regaining of independence for the Republic of Latvia, Ventspils Nafta Terminals became a privately run company, and a series of significant upgrades have taken its storage capacity to its current level of nearly 1.2 million cubic metres.
The company's basic activity is the storage of petroleum products in tanks, and its ultimate transhipment to tankers for customers. Diesel petrol has been delivered directly by pipeline since 2007. One of Ventspils Nafta Terminals' key strengths is its excellent storage and handling capacity, with the park currently consisting of 105 shoretanks with a capacity for crude oil and petroleum product storage of 1,195,000 cubic metres, coupled with being connected to an excellent logistics infrastructure (pipeline, railways, ice free deepwater). This capability exceeds many competing storage and handling facilities in the market and places Ventspils Nafta Terminals in a leading position in the region by allowing it to work closely with clients to plan their crude oil and oil products storage/consignment schedules more effectively.
Speaking to European Oil and Gas Magazine around a year ago, Vilnis Riekstins, operations director at the business, elaborated on its operations: "The terminal operates with tanks that range from 5000 to 50,000 cubic metres in size. Our pipeline connections are linked to Byelorussian and Russian refineries, and the terminal operates with four loading berths for tankers, where simultaneous operations can be carried out on four vessels with various grades of petroleum products."
Since the business was last featured in this publication it has achieved considerable success, with 2011 seeing a significant increase in business. In fact, last year its transhipment volumes of petroleum products increased considerably, with the company transhipping 11.37 million tons of cargo, which is equivalent to 26 per cent more than in 2010. The vast majority of this increase was made up of diesel fuel, which contributed about 85 per cent in total, although the increase in volume showed a stable growth in all areas.
This growth comes in spite of the global economic situation not being positive and the demand for petroleum products fluctuating periodically. In order to minimise the effects of this the terminal has been working especially hard, as Lars Pantzlaff, general director, admitted on the company's website: "We have been able to ensure safe, efficient and successful operation," he explained. "In order to ensure continuity of all processes the terminal works 24 hours a day, seven days a week."
To maintain this kind of success the terminal remains committed to continuous programmes of improvement in various areas of the business, which Lars elaborated on when previously speaking with us: "In recent years the company has greatly adopted the idea that change is an inevitable occurrence in today's business environment, and that in order to remain at the heart of an ever-changing world it needs think ahead to be competitive. To achieve this it takes a concerted effort across the board in terms of making continuous infrastructure upgrades, investing in and establishing new services, investments in employee's professional development, and maintaining good business practices."
An excellent example of this is the considerable investment that the company made in transforming the relatively old terminal into a fully automated system. Just over a decade ago the large majority of the terminal's 2000 valves and its network of pumps were still manually operated by employees, so this conversion and upgrade represented a considerable undertaking. More recently the business has merged its three separate control rooms into one in order to provide better controls and work flow influences, continued its programme to install new loading arms, and has worked tirelessly to improve and optimise its operation processes and procedures by developing new added-value services and increasing workforce efficiency. In 2012 several projects, such as new pump stations to facilitate future operational flexibility, are well under way.
Looking to the future the business will continue to implement new or expand added-value services, such as blending (attracting new product types by mixing different petroleum products) and butanization (gaining content of gasoline required in particular world markets by mixing motor gasoline with liquid butane). Looking further ahead, Ventspils Nafta Terminals hopes to begin construction of a new pipeline corridor and vapour recovery system at the berths in order to stimulate further growth. For such a proactive business that remains dedicated to continuously improving its services, achieving this success should present little challenge.
Ventspils Nafta Terminals
Services: Crude oil services