Veolia Environmental Services
Environmentally friendly
With approximately 13,000 employees in the UK and an annual turnover of 1.4 billion pounds, Veolia Environmental Services is the waste division of Veolia Environment: "The division's business naturally subdivides between local authorities and municipal customers and industrial or commercial customers," explains Mark Stanley, commercial and industrial development director of Veolia Environmental Services.
"Within the industrial and commercial market it is heavily involved in the retail sector, the chemicals and oil and gas industries and in the field of refining, where its services are called upon to assist with environmental problems. Each of these industries has its own particular waste management challenges and Veolia Environmental Services' job is to try and tailor solutions to the scale of the company in question and to the nature of the problems they face," Mark continues.
The oil and gas sector is a particularly important market for the division, as Mark highlights: "In Aberdeen, Veolia Environmental Services is operating a business that supports production operations. Its quayside facility has the capability to receive hazardous and general production waste coming in from manned platforms. A specialist service is also on hand to clean the storage tanks of platform supply vessels. The division works with its partners to provide an integrated solution that covers the treatment of waste materials as well as the cleaning of vessels, which can then be used again and refilled with another product before being sent back out to sea.
"The division also does a lot of work associated with the storage of crude oil that comes ashore. As this oil is a mixture of materials including some inorganic deposits entrained within hydrocarbons its deposits tend to precipitate over time into the form of sludge. This leads to storage problems as it causes corrosion and saps capacity. What Veolia Environmental Services does is maintain these storage vessels, recovering valuable hydrocarbons using centrifuge technologies. It also does work monitoring and maintaining pipelines and providing emergency response services in the event of spillages."
Refining presents a number of environmental challenges and as Mark says, the role of Veolia Environmental Services as a waste management company is to provide help to refining businesses as efficiently as possible: "From a maintenance aspect the division helps with the cleaning process, removing fouling from reactors, heat exchangers, pipe work and storage vessels using various technologies. The challenge then is to environmentally manage the residue and this is achieved by having a management organisation working alongside the refinery operator who is on site at all times undertaking maintenance activities. The division is present on all but one of the UK refineries currently providing waste and industrial services."
A relatively new business avenue for Veolia Environmental Services is its work in decommissioning as Mark reveals: "During a decommissioning project the oil and gas companies are prohibited from leaving infrastructure or equipment out in the North Sea, so the division's job is to turn what is largely steel back into the utilities chain, decontaminating the structures, dismantling them and processing the metal into a form that can be reused. In essence it is the classic waste and resource management job. Decommissioning as an industry is still in its infancy and there is a lot of work that will need to be done over the next 20 plus years.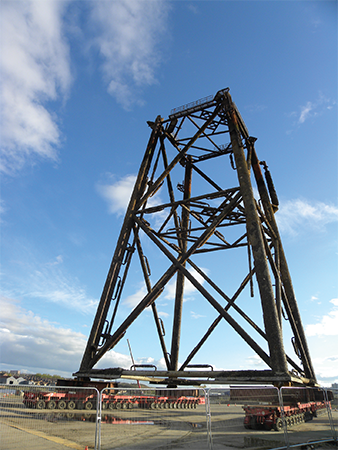 "The drivers of the decommissioning market are very closely linked to the price of oil, which is both a good and bad thing, in that the cost of operating assets in the North Sea get higher when the fields gets to the end of their operational life. So high oil prices make operations more viable and provide oil companies with the confidence to invest, and the reality is that they will have to invest in decommissioning as the prolonged life of North Sea fields draws closer to an end. Recently Veolia Environmental Services opened a site in North Tyneside where it is working with Shell handling the Inde gas field structures and bringing in approximately 10,000 tonnes of material from the North Sea."
Being a part of the Veolia group puts the division in a position to effectively provide integrated solutions covering water, energy and solid waste management. This obviously provides Veolia Environmental Services with a number of benefits, however as Mark enthuses, this isn't the only key strength of the division: "There is no other company on the market that has the same range of services or is as well positioned as a pure play environmental services company as Veolia Environmental Services. There are actually very few competitors outside of sector based organisations in this market and the division is backed up by a lot of history, a lot of experience and the best technology which the division owns and operates."
This technology is the source of continued investment to improve the services the division provides: "One example is the current work Veolia Environmental Services is doing in updating its non-entry tank cleaning systems to improve safety and decrease risk. Historically tank cleaning has been a manual task that is inherently risky so the division is investing in technology to fully remove human intervention. Other recent investments include work on developing a new system for removing fouling from process plants. This new decontamination technique reduces downtime, which is very important to the operators as being offline results in huge expenses. The system being developed will go in and circulate a decontamination chemical around the process to remove the fouling, making the cleaning and engineering process easier and quicker to perform."
As Mark says, the market over the past three years has seen highs and lows that have inevitably had a ripple effect on all businesses working in the oil and gas sector: "With oil prices falling in 2008 and 2009 and finally recovering at the back end of 2010, there has been a definite impact on what oil companies feel comfortable doing in terms of investment programmes. The economic downturn has also taken capacity out of refining making this particular sector difficult to operate in. While the last few years have been tougher, there is optimism within the division that opportunities do remain and that activity levels will rise in the short term."
Over the next decade Veolia Environmental Services see the energy and oil and gas sectors playing an increasingly fundamental part of its business, as Mark concludes: "The plan for the division is to increase its involvement in the upstream end of the market and over the next ten years investment will continue to expand the scope of supplying fully integrated environmental services. Dealing with environmental concerns will be an increasing challenge for operators and they are going to want to identify companies that they can work with in solving these problems. With that in mind everyone at Veolia Environmental Services is very optimistic for what lies ahead."
Veolia Environmental Services
Services: Waste management