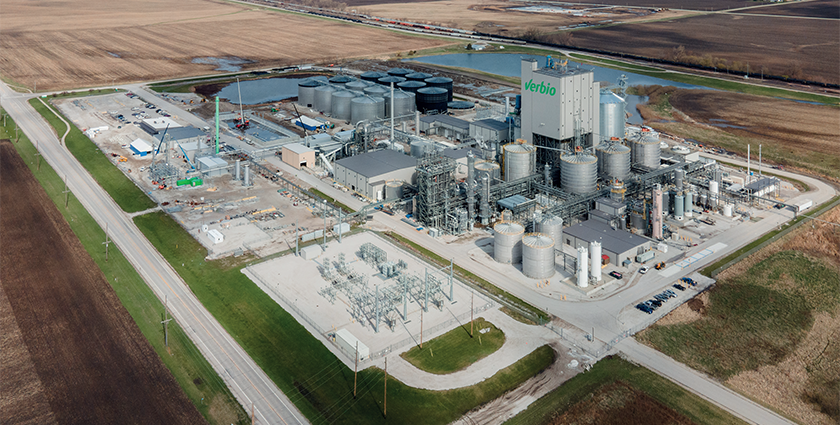 Game changer
Launched in 2018, VERBIO North America is bringing years of European experience to bear on its Iowa-based Nevada Biorefinery, a project that's set to shape the future energy mix in the US and Canada
VERBIO is no stranger to the biofuels industry. Based in Leipzig, Germany, the company has been a producer of biofuel products for over two decades, developing a range that spans biodiesel, bioethanol, and biomethane, along with feed, bio-fertilizers, and other high-value by-products for the nutrition, pharmaceutical, and cosmetics industries. With operations in Germany, Poland, Hungary, and India, and approximately 900 employees across its global footprint, the company is now established as a leader in the field.
In January 2018, VERBIO took the decision to add to that footprint, officially launching its US-based subsidiary. Headquartered in Livonia, Michigan, the vision for VERBIO North America Holdings Corp (VNAH) is the building, owning, operation, and financing of biofuel facilities across the US and Canada. With its foray into the region, VERBIO entered a competitive market. Today, the US is by far the world's leading producer of biofuel, while consumption is forecast to hit 95m metric tons of oil equivalent by the year 2030, driven in part by government mandates for secure, sustainable, and clean energy.
But VNAH isn't fazed. Instead, the technology leader is focused on doing what it does best: developing innovative processes that drive highly efficient production plants. One of those plants is the VERBIO Nevada Biorefinery. Located in Nevada, Iowa (USA), it's the first industrial-scale renewable natural gas (RNG) facility in North America using agricultural residues, primarily corn stover, as its feedstock. Greg Northrup, CEO and President of VNAH, explains the process behind both its acquisition, and its $115m development.
"Back in 2017, we were looking at sites conducive to the production of RNG, consistent with the Renewable Fuel Standard (RFS) Program passed by the US Congress in 2005, and subsequently amended in 2007," he says. "Then, the chance arose to purchase a former DuPont cellulosic facility, a sale that we concluded in late 2018."
VNAH immediately set to work on Phase I of the site's reconstruction, modifying its capabilities to incorporate the production of RNG. It's a process that took approximately two-and-a-half years, culminating with successful production from corn stover in December 2021, at a capacity of 7m ethanol gallons equivalent (EGE) per year. "We have been making renewable natural gas on site ever since," Greg remarks. "We built eight anaerobic digestion tanks, all at a capacity of roughly 2.6m gallons. Completing that was probably the primary challenge that we had to overcome in order to finally get up and running."
It's not all been smooth sailing for VNAH. Following the arrival of Covid- 19 in March of 2020, and the subsequent pandemic, the US now finds itself amidst a protracted skills and labor shortage. Nevertheless, Greg is effusive about the experience of doing business in Iowa. "In today's market, people are a critical asset," he argues. "At one point, I did have concerns about identifying and securing the expertise we knew that we'd need from our contractors, subcontractors, and employees, given the technical skills required to run these kinds of operations. So far, however, we've been extremely pleased with our ability to find talent."
At its heart, RNG is a term used to describe biogas that has been upgraded for use in place of fossil natural gas. To execute that upgrade, moisture is removed from the initial biogas, along with carbon dioxide and trace level contaminants (including siloxanes, volatile organic compounds, or VOCs, and hydrogen sulfide), before reductions in both the nitrogen and oxygen components. RNG, once upgraded, typically has a methane content of between 96-to-98 percent. As such, its use for the replacement of traditional diesel, gasoline, or fossil natural gas, has the potential to bring significant local air quality benefits.
The biogas used to produce RNG comes from a variety of sources, including municipal solid waste landfills, digesters at wastewater treatment plants, livestock farms, food production facilities, and organic waste management operations. The number of RNG projects in the US has expanded dramatically throughout the last decade, but in its reliance on agricultural residues, and its industrial scale, VNAH's Nevada Biorefinery remains an outlier.
As part of the project, VNAH is capitalizing on the incorporation of advanced technology, which has been under development for close to eight years at VERBIO Germany. The application of that technology on North American soil represents an exciting moment, as Greg is keen to reiterate. "We're very fortunate that our German parent company has really invested a lot in terms of our own internal proprietary technologies," he comments. "Thanks to them, we've been able to achieve the operational excellence for the asset that we wanted. We'll be looking to replicate that at multiple locations in the future."
By the end of summer 2022, VNAH hopes to hit full production capacity of approximately 7m gallons equivalent of RNG – and they won't stop there. Upon completion of Phase II in the first quarter of 2023, the company expects its assets to be producing 60m gallons of corn-based ethanol as part of its integrated biorefinery process, along with an additional 12–13m gallons of RNG from stillage – the waste by-product created through the production of ethanol.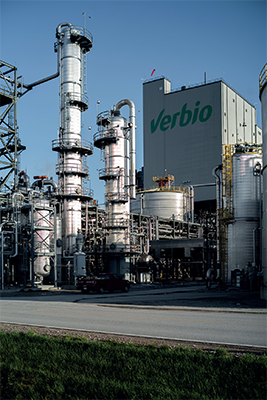 "Typically, if we were a standalone ethanol facility, that stillage would be turned into distillers dried grain, which in turn is sold as feed stock for livestock purposes," Greg indicates. "Instead, we utilize the stillage as an additional feed stock in the anaerobic digestion process."
It's with this in mind that Phase II of the project will see the construction of eight more anaerobic digestion tanks, doubling the number on site, and providing an additional source of RNG. "We're really optimizing the capital investment we've made, by guaranteeing a better return from the integrated feed stocks being used across the site," Greg confirms. It's a capability that he describes as "the real synergy" moving forward, as VNAH looks to further expand its US footprint, with plans to open multiple facilities within the next five years.
It's a tough goal, but VNAH is confident in its ability to deliver. "We've been approached by a number of others in the ethanol business area who are interested in what we're doing," Greg says. "This is a site with a complicated history. After its initial development, DuPont tried and failed to produce cellulose gas ethanol despite 12 years of construction. It's that lack of success that allowed us to buy the asset, which has turned out to be a wonderful thing so far.
"When we came to Iowa, we said to the community: 'Trust us, we're here to put this asset back to work'," he explains. "At the same time, we have German heritage, so it's understandable that we received a degree of skepticism when we started our work. If you look at the history of the renewable fuels sector, there have been a number of facilities planned or talked about – that's why it's key for us to be able to demonstrate actual performance."
It's apt timing from VNAH. Energy markets across the globe continue to reel following the Russian invasion of Ukraine, an event that has shone a spotlight on the need to move away from reliance on fossil fuels. "RNG has to be a massive component of our future energy mix," Greg insists. "There's a huge market available for us, if you think about the volume of agriculture residues produced by growers across the US, for whom it represents a whole new revenue stream.
"To support that advance, it's up to policy makers," he adds. "The target for the original legislation was 16bn gallons of renewable natural gas produced. Last year, we did 562m gallons, so only about four percent of that original target. So, there remains a big opportunity. The pieces are there, we just need to put them all together."
At the time of our conversation, VERBIO had just celebrated the formal opening of VNB – an event attended by the Governor of Iowa, Congressional representatives, and local community members. The challenge now is for the company to finish the build out of the site, with the goal of bringing the asset online in time for the first quarter of 2023. "It's great to talk about this stuff, but you have to walk your talk," Greg insists. "That's our number one priority, and we have to stay focused to make sure we meet our targets."
Before we concluded, Greg made sure to give credit and thanks to the individuals whose hard work is helping to realize VNAH's vision for the Nevada refinery. "To be able to produce the output we do, you have to have operational technology expertise," he concludes. "On that point, I couldn't be prouder of our engineers and production workers. We're producing renewable natural gas in a way that's profitable, and at the same time, we're addressing what is already a critical need as we look to drive a more sustainable future for the US."
VERBIO North America
https://www.verbio.us
Services: Biofuel production