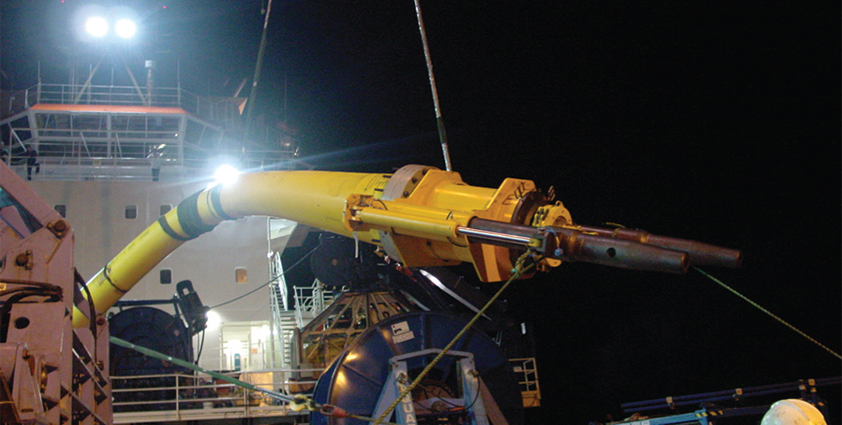 Making a connection
Currently celebrating its 30th anniversary, Verderg Connectors has a broad history commencing as an engineering consultancy that soon evolved into new product development, outsource manufacturing and ultimately supporting the deployment of its innovative technologies to the offshore energy industries.
It was originally founded in the 1970s by a team of specialists from Vickers' Oceanics manned submersibles business, which recognised advances in robotics and instrumentation were leading toward a future of remotely operated vehicles dominating the subsea industry. The engineering team created their own company known as FUEL (Furness Underwater Engineering Limited), which became one of the original subsea engineering consultancies in this emerging market.
FUEL continued developing advances in subsea technology. In 2002, it was bought by the American company INTEC Engineering to be a springboard for its European presence. Later that same year, the Dutch Heerema Group purchased INTEC. The portion of INTEC's business that was FUEL was subject to a management buy out in 2005 where it was renamed Verderg; 'Verd' a derivative of veridis meaning green and 'erg' which is a unit of energy. VerdErg's name, meaning 'green energy', is at the very core of the company's operational philosophy to reduce the carbon footprint of offshore energy companies. With such a wide-ranging history to its name the business has expertise in a varying range of areas, notably in the realms of field architecture, flexible lightweight connector systems, and subsea structures.
Peter Roberts, managing director of Verderg, outlines its key strengths: "Our major competitors are extremely large companies focused on the in-house numerically controlled fabrication of huge wellheads, Christmas trees and controls. We are differentiated by the fact that our business model is routed firmly in our origins as an engineering consultancy. We create value at the seminal stages of the project by understanding our client's value drivers. Frequently these are efficiencies that reduce installation vessel time and cost, and we tailor our service in association with the clients needs. Our standard service is a tailored product which is a fundamentally different for providing value for our customers."
Verderg typically works to serve two different types of client. The first group includes oil and gas operating companies such as BP, which is the company's main customer in the harsh environment of the west of Shetlands. Our second most common clients are either installation contractors or subsea hardwaremanufacturers that need specific connectors or structure solutions for their own subsea systems. The company prides itself on itscustomer service and ability to work very intimately with customers to make all our systems effective and reliable.
Ron Tucker, corporate development officer for the company, highlights some of Verderg's latest projects: "We are working together with Cameon on the BP Block 31 project offshore Angola where we are supplying a fully qualified connector system that will be delivered at the start of 2010. We recently completed with APL the delivery a new riser connection system for its submerged turret-loading buoy. APL selected our diverless subsea connectors to tie-in its buoys for Suez Energy's Neptune LNG import terminal offshore Boston. In this instance we provided a customised connection that was designed, qualified and delivered within twelve months from the start of the project. VerdErg's connectors business is very much in the growth market at the moment and we are certainly looking towards opportunities in new geographies such as Brazil and India, as well as in new markets such as tidal energy and thermally insulated subsea systems."
Historically the company has been known for its DMaC flexible connection system that continues to be a preferred bespoke design for operating in harsh environments. VerdErg's FTC system is a newer customisation tailored for deepwater environments over 3,000 m. It has simpler tooling than DMaC, which expanding connection capabilities to include insulated lines, rigid flow lines and towed bundles. The other product that is highly prevalent for the company at the moment is the RTC connection system. This unique riser connection system has versatility to be used for connecting flexible catenary risers, as well as riser towers to FPSOs. It has already been adopted by two projects this year. Attending to the deepwater markets is a primary objective of the company's highly engineered designs, the majority of its deepwater connectors are already able to reach water depths of over 3000 metres and they have the ability to be incorporated in the most advanced of installation systems.
Ron explains his vision for the future: "We really see the company taking its core competency of being able to design, develop, qualify, test and deploy real technology, all in one service, to the field of offshore energy. Over the coming years we will seek opportunities to discover other niche technologies that will benefit from this skill set and be most relevant and valuable to our clients. We want to take these technological advances, develop them, prove them and commercialise them so that in the future we can market ourselves as a technology incubator that stimulates innovation. Currently we are doing a lot in tidal energy and 4D seismic monitoring applications that are prototypical of our technology incubator strategy."
Verderg Connectors
Products: Subsea connectors