The right direction
Initially formed in 1989 as a result of a loose association between three like-minded companies based in the UK, France and the Netherlands respectively, VERIPOS began life providing precise satellite positioning services for the North Sea," explains managing director, Walter Steedman.
"After several years honing its craft, the company made the decision to expand by initiating a wider broadcast, using telecommunications satellites.
"Having expanded its operations into regions including the Mediterranean, the Gulf of Mexico, Brazil and Western Africa, the real catalyst for change came during 2002 and 2003 when its biggest competitor acquired its French and Dutch partners, shortly followed by the acquisition of the largest provider to create a near monopoly of the satellite positioning market. This actually presented a massive opportunity for a relatively small business like VERIPOS, and with the backing of its parent company board, it took itself global, launching a series of new services and products throughout the world."
Today, VERIPOS' operations are spread across three time zones, namely the Americas, Europe, Africa and the Middle East, and the Asia Pacific region, each of which sports a headquarters, branch offices and agents: "When it comes to the company's core business, the provision of precise satellite positioning, the most well known example of this is arguably Global Positioning System (GPS)," Walter continues. "What the general public will not be aware of is that GPS in Europe is really only accurate to around five metres, while in other parts of the world this can increase to up to ten metres. What VERIPOS specialises in is the ability to provide additional augmentation information to users of the services that improves the position solution, making it accurate to better that ten centimetres.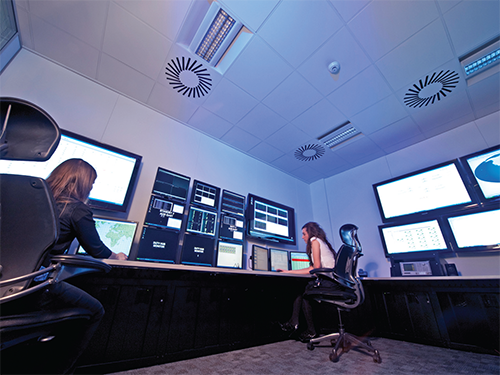 "This high level of accuracy is achieved, in part, through the use of the company's worldwide network of more than 80 reference stations. Here the company is able to take satellite measurements that are in turn sent back to control centres, where they are used to calculate corrections that are subsequently broadcast to the end users. The majority of our customers are from the oil and gas business and are working in numerous fields, from exploration seismic, to drilling, surveying, construction and dynamic positioning."
The unrivalled accuracy of its satellite positioning solutions aside, the key differentiator that Walter highlights as setting VERIPOS apart from its competitors is its passion for customer service: "The sole focus of VERIPOS is to provide its customers with the very best satellite positioning services. To compliment this it endeavours to provide quality customer support, operating a 24-hour a day helpline and having engineers and technical specialists on standby around the clock who can respond to all technical matters. In such a specialist sector of the industry, the reality is that all VERIPOS' competitors are using similar technologies, making it all the more important to be standard bearers when it comes to service and support."
Remaining dedicated to its customer base is just one way the company is able to stay at the forefront of its market. Equally as important is its ability to capitalise on industry developments and to adapt to an ever-changing world of technological advancements: "VERIPOS' revenue stream has most certainly been coming from a variety of different sources over the last several years, with new income increasingly coming from some of the oil and gas industry's major global hot spots," Walter states. "Brazil in particular is currently playing host to a huge level of activity, and with several massive projects being undertaken over the next ten years, demand for different services is greater than it has arguably ever been. Likewise, Australia and China represent areas of expected growth for the company, hence the reason it opened branch offices in these regions in 2011."
In terms of technological developments, the company has witnessed first-hand the evolution of the satellite positioning market in line with the growth of what are now four major systems that operate above the Earth. Complementing GPS today is the Russian GLONASS system, and in current development are Europe's Galileo and the Chinese Compass constellation: "VERIPOS' technology obviously has to be able to be compatible with each of these systems and as such the company is always working to improve the accuracy and reliability of its own solutions," Walter says. "At the heart of this work is its research, development and production department, which is responsible for the continuous development of the company's products and services."
Even when facing with such change, Walter's vision for the company is crystal clear: "VERIPOS quite simply wants to be seen as the market leader in its field. This doesn't necessarily mean it needs to be the biggest company of its kind, but it does want to be recognised as the best. With continued growth anticipated in all of its market sectors the company is excited to have several developments currently underway. Each of these expands upon its core offering of satellite positioning and will bring VERIPOS' customers the extra added value that they have come to expect from a company renowned for its quality customer service."
VERIPOS Ltd
Services: Precise satellite positioning