Well positioned
When their line of business depends upon precise point positioning and navigation at sea, operators need the best service available.
This is what Veripos aims to offer. Operating since 1989 Veripos is one of the early innovators in the field of precise positioning, and remains a market leader today through the innovative
application of technology, continuous product development, and operational excellence.
Having formerly operated as part of parent group Subsea7, in July 2012 Veripos became listed as an independent group of companies on the Oslo Børs. Since this time not only have the company's share prices doubled, but Veripos have also achieved record revenue and profit margins in what has been a landmark year for the business. As part of the spin-off process the company had to establish its own Veripos entities around the world. This includes markets like Brazil, where the company has actually had a presence since 2000 but always under a parent company.
With many of its clients operating globally Veripos has strategically positioned these entities to include headquarters in key areas like the US, Brazil and Singapore, and branch offices in Australia and China. The company also boasts a network of distributors and resellers that cater for more localised markets.
Veripos' greatest selling point though is its unbeatable service provision with the company capable of achieving satellite positioning accuracy levels of less than10cm for vessels working in some of the harshest environments on earth. This is partly made possible through Veripos' own network of over 80 Global Navigation Satellite System (GNSS) reference stations, which ensure maximum operational reliability. As such, the company finds its products widely used by professionals across the offshore sector including seismic exploration, survey and construction, DP marine, and DP drilling companies.
In terms of how Veripos delivers into each of these different areas, executive vice president of commercial Richard Turner explains: "The products we supply are fairly standard across all of the markets we operate in so what we tend to do is tailor that solution to a specific niche. For example a DP operator on a drill ship will have a different requirement from a navigator on a seismic vessel. Although you will see a lot of the same hardware in both cases the software addresses the different uses, and the set-up and training is also different."
Looking at recent project awards alone Veripos has won a three-year extension with its long-term client Allseas for the continuing provision of GNSS positioning services, and another contract with Mermaid Offshore. "The market is quite buoyant at the moment but the majority of our work at any one point is with our long-term customers," notes Richard. "We gain a lot of repeat business and this is really off the back of this tailored service and unique knowledge of the customers' business. It means we have a good idea of what they are trying to achieve and enables us to sit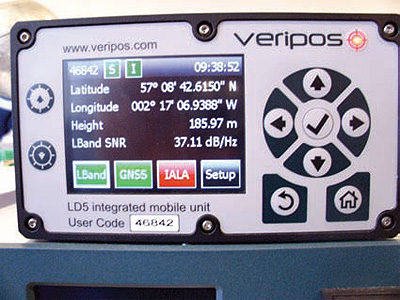 down with the client and come up with a solution to their particular needs."
A good example of this is the move to high latitude drilling. Veripos continuously works to ensure that it can deliver a truly global service, which is capable of supporting its clients wherever they may be working. "One area that we are seeing a lot more requests for is navigation through the higher latitudes, so areas like the Arctic," describes Richard. "The biggest issue in working in that region is being able to get the corrections delivered to the vessel because the satellites are based on the Equator, so the higher you go in latitude the lower the elevation of the satellite and the harder it is to get a strong signal. As such, we use a number of different methods to deliver the corrections, which has seen us successfully complete a number of jobs in the higher latitudes."
In taking on these kinds of challenges Veripos relies on its ability to capitalise on new technological developments and build them into effective solutions. The company also ensures that its products can make use of the advances in satellite positioning from the well-known Global Positioning System (GPS) to the Russian GLONASS system, and the other developments coming on-stream. In 2012 this work saw Veripos launch its new high accuracy GNSS positioning service Apex2, which utilises both the GPS and GLONASS constellations.
As well as meeting all offshore positioning and navigation applications, by being able to draw upon more satellites the Apex2 system offers greater stability to clients, and a solution that is more resilient to the problems caused by satellite masking and ionospheric scintillation. Another advantage is that the use of two satellite systems means faster convergence of the positioning solution.
Along similar lines the company also launched a product in conjunction with Sonardyne International Ltd called Axiom. The system integrates Veripos' GNSS positioning technology with the Sonardyne IMO-approved Lodestar Attitude and Heading Reference System (AHRS) and Inertial Navigation System (INS). As such, the Axiom is an inertially-aided positioning solution, which helps to bridge GNSS disruptions such as those cause by ionospheric irregularities or physical obstructions.
Managing director Walter Steedman goes on to describe how Veripos is also pursuing developments into other markets: "We have launched a new service to address the requirements of land based users under the name TerraStar, which is a significant venture for us. It's a diversification into a very different market but it uses much of the same core infrastructure and technology that we have within our marine market. The way that we operate in this sector is very different in that we rely on hardware manufacturers and their network of dealers and distributors more than selling direct to the end user. Instead of selling hardware products ourselves we license the technology to be able to receive our correction signals to the manufacturers, which they then build into their systems."
With early figures suggesting that Veripos' move to become an independent entity in the market has been a shrewd one, the company's future is now concerned with how to build upon this. "In much the same way as we worked with Sonardyne on the Axiom development, we are also looking at other complimentary products and services in conjunction with partners that will enable us to broaden our offering. We want to continue to grow the business and to take advantage of all the opportunities that satellite navigation presents," concludes Walter
Veripos
Services: Precise satellite positioning