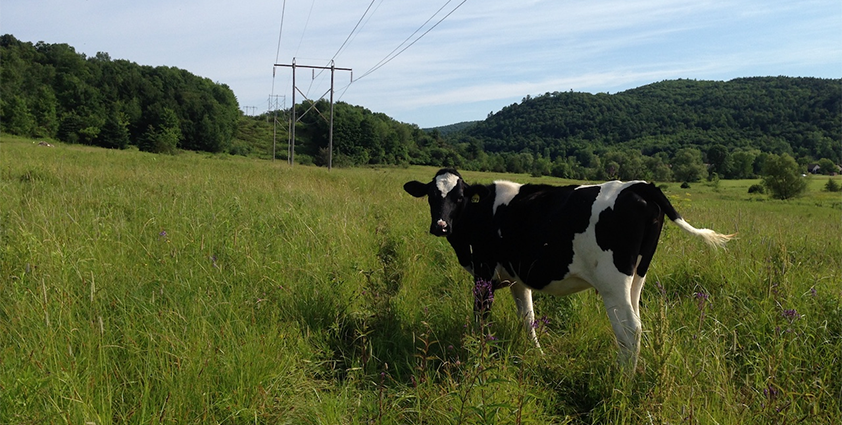 Vermont Electric Power Company
VELCO invests in analytics to make the electrical grid more reliable as it transitions to renewables.
The American energy grid is getting greener. In 2017, renewables represented 18 percent of total U.S. power generation, double their contribution compared to a decade earlier, according to a study from Bloomberg Finance and The Business Council for Sustainable Energy. The pace of the transition away from fossil fuels only seems to be increasing. U.S. clean energy investment was $57 billion last year and rising sales of electric vehicles and plug-in hybrids will only create more demand for renewables.
There is, however, an important but eminently solvable challenge driven by this shift toward greener energy sources. Solar systems and wind turbines, due to the inherent intermittency of these resources, are less predictable than traditional power plants (e.g., nuclear, fossil fueled). Cloudy days and calm breezes won't generate enough electricity to power homes. There's far less consistency in how much power is being produced at any given time, so transmission companies must strike a balance between renewables and baseload power from sources like large hydroelectric, nuclear and fossil fuels to meet the instantaneous balancing of supply and demand required to run a transmission system.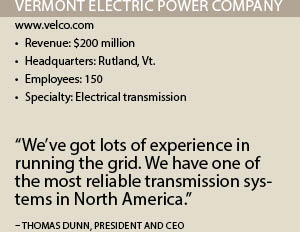 The challenge is especially present in Vermont, where the sun already supplies 30 percent of the state's energy on a clear day and elected leaders have called for 90 percent of all energy supply – electric, heating and cooling and transportation – to come from renewables by 2050. "That's more aggressive than many other places and it presents an interesting challenge," says Thomas Dunn, president and CEO of Vermont Electric Power Company (VELCO), a company that manages Vermont's 738 miles of electrical transmission lines, 1,500-mile fiber network, and 55 substations.
Transmission Only
VELCO was formed in 1956 when Vermont's local utilities banded together to establish the country's first statewide, transmission-only company in response to the availability of abundant electric power from New York, which was building several electrical projects along the St. Lawrence River. At the time, the amount of power available represented about half of Vermont's total load; however, the state lacked the transmission system it needed to take advantage of that neighboring energy production. Smaller utilities needed a way to move the power from New York into customers' homes in Vermont.
Forming VELCO gave the state's utilities an organization with the resources to build out those transmission lines. Today, the company transmits power to the state's 17 municipal, cooperatives and investor-owned utilities. "It's a very interesting dynamic and one that's worked well for Vermont," Dunn says.
The key to VELCO's success in managing Vermont's electricity flow is that it is a transmission-only company. "It allows us to focus on a discrete area," Dunn says. "We've got lots of experience in running the grid. We have one of the most reliable transmission systems in North America."
Enhancing Reliability
Velco's mission is to continue to be a reliable partner to Vermont utilities and customers as the state shifts its power sources even more to renewable energy supply. Because natural weather patterns can have a significant influence on wind and solar energy products, Velco began looking at how to use weather forecasts to predict energy generation from renewable sources and expected demand. With that information, the company can help grid operators know when they can count on production from renewable resources and thereby avoid acquiring excess fossil-fueled resources.
"You have a really good idea of what the future looks like and you have resources to deliver the lowest possible cost while meeting customer expectations," Dunn notes.
To better understand and use that kind of forecasting data, VELCO created the Vermont Weather Analytics Center, in partnership with IBM and now forms the core workforce at Utopus Insights. VWAC uses state-of-the-science energy analytics tools, including weather prediction precision down to a 1 square kilometer area, allowing VELCO to make more reliable predictions on solar and wind generation outputs. The center couples multiple predictive weather technologies with leading-edge load forecast models and renewable generation forecast models to help unlock additional renewable energy value and bring additional benefits to Vermont, such as improving grid resilience and storm response.
Utopus Insights was founded in 2017 when IBM, for the first time in its storied history, spun off its energy analytics team, in partnership with VELCO and Boston Consulting Group. Based in New York, Utopus Insights was quickly acquired by Vestas, the Danish-based company that leads the world in wind turbine manufacturing. Utopus is building a full-featured energy analytics platform designed to enable renewable forecasting, grid asset health, network risk analysis and distributed energy resource management.
Through its partnership with VELCO, Utopus Insights will combine industry experience with deep analytics to convert data into actionable insights. The goal is to create dependable, industry-tested software that will be indispensable to transmission and distribution utilities as they work to meet current and growing customer demand for reliable, clean and cost-effective energy.
But first and foremost, these tools will deliver value to VELCO and its distribution utility owners. These tools are providing immediate benefits and, with further refinement and product hardening, will further improve VELCO's grid operational and planning services to its distribution facilities customers. "My expectation is the analytics associated with the data will allow the reliability of this new, more renewable and distributed energy mix to be the same or better," Dunn says. "We will validate the capabilities of the analytics we're getting from Utopus Insights and that will play a key role in running the grid and meeting our customers' needs."