Room for growth
Based in Aberdeen, Vertec Engineering is a UK company, delivering specialist manufacturing services to the oil and gas, petrochemical, transport and utility industries.
With an enviable reputation for innovative design with high standards of quality and reliability, Vertec offers customised enclosures, pressurised rooms and industrial shelters, manufactured and delivered to worldclass standards. It also provides hazardous area fire-protected (A60 to H60) modules, local equipment rooms, and control cabins for the offshore oil industry.
Speaking to European Oil & Gas from his office in Aberdeen, managing director, David Soper states: "Having been in existence for over 20 years as a privately owned company, we were acquired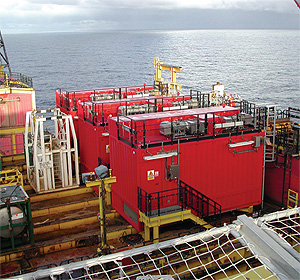 by the Sovereign Oilfield Group Plc, the Aberdeen-based diversified oilfield services group, a year ago. We became part of the Group's fabrication division, which consists of eight operating subsidiaries, though we continue to operate as a separate company.
"We operate from two sites in Pitmedden Industrial Estate, Dyce, with our head office based in Kirkton Avenue," says David. "From here we provide design, engineering and project management as well as the completion and outfitting of cabins to the requirements set by our clients. The other site is our fabrication facility where we carry out all our fabrication works as well as providing servicing, refurbishment and hire services. To achieve all of this, we currently employ approximately 20 office staff and 60 trade staff providing electrical, outfitting, fabrication and general services.
"Our primary business is the manufacture of ROV control and workshop cabins, local equipment rooms, switchgear rooms, logging units and large split module applications such as Variable Speed Drive (VSD) halls," he continues. "We are able to manufacture anything from a simple workshop with a minimal fit-out, up to and beyond 250-tonne power modules for offshore projects including FPSOs (Floating, Production, Storage & Offloading) and our impressive client list includes some major names in the industry such as Schilling Robotics, Saipem, Perry Slingsby Systems, National Oilwell Varco, Baker Hughes Centrilift, and our most recent customer, FMC Technologies Inc."
Vertec has recently been awarded contracts totalling £2.85 million, which include a repeat contract with Saipem America Inc for the manufacture of A60 workshop/control vans at a value of £650K, and, significantly, a £1.2 million contract with FMC Technologies for the manufacture of a VSD module. "It's a 160-tonne module and will be built in three sub-modules on a skid base,"
explains David. "Vertec will carry out the design, from structural to general arrangement and electrical, and in collaboration with Group HVAC company, Cooltime Engineering Services Ltd, the HVAC design. These modules will be manufactured here in Dyce, and the sub-modules will be assembled at the harbour in Aberdeen, which will also give us easy access to the quayside for a single lift offshore in December. This is a particularly interesting project for us, especially as FMC is a new client."
Having only recently joined the company in October 2007, David has major strategies and plans for the business: "The company was previously in private ownership, and following the acquisition by Sovereign Oilfield Group, the previous managing director decided to take the opportunity to retire in November. Despite the buyout, his retirement and my joining the team were the only personnel changes the company has experienced, which speaks volumes for the quality, commitment and stability of the team here at Vertec
"Our business plan for next year is to consolidate the company within the Sovereign Oilfield Fabrication Group, as the business philosophy of being an independent company to now being part of a group is a completely new culture," he comments. "Our main strategy is to integrate Vertec into Sovereign and consolidate its existing markets, as well as extending into new markets such as renewable energy and wind farm developments. Having recently been successful in being awarded various contracts for the transport industry for Network Rail we are also extremely keen to increase our share in a market we see as a huge growth area for Vertec." Looking ahead to the future, David comments: "The opportunities for the business are fantastic, particularly now that it is a part of the Sovereign Oilfield Group. There are a number of large projects we are looking at with the group that we wouldn't normally be able to cope with, where we can now provide specialisation to large turnkey projects.
"The offshore module market is well established and is already at a particular size, so additional growth potential is likely to be from the new markets, but we're also seeing considerable growth in larger modules for brownfield developments where further opportunities lie for Vertec. The Group's position will also give us the ability to look at new premises that will allow us to grow beyond the current physical capacity of the company, and we're looking to achieve this in the next two years."
Vertec Engineering
Products Customised enclosures & hazardous area fire protected cabins