Bigger and better
When London-based private equity investment firm Bregal Freshstream announced in September 2016 that it had acquired a majority stake in Verwater Group (Verwater), it marked the next phase in the long and distinguished history of this global industrial and petrochemical contractor.
Founded in 1922, Verwater's specialities rest on tank maintenance and construction, with the company boasting a lengthy track record in providing services such as jacking, civil works, piping and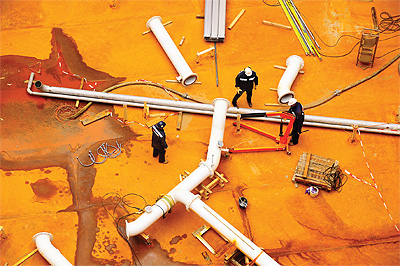 mechanical, turnarounds, protective coating, E&I, E&A, panel building and engineering. As an experienced project management organisation, Verwater is able to execute multidisciplinary projects, while its services extend to total maintenance trajectories.
Primarily operating in the Amsterdam- Rotterdam-Antwerp region, Verwater is the market leader in tank related services in North- West Europe, home to the continent's largest refining and petrochemical hub, and the second largest petrochemical cluster in the world. In addition, the group also possesses strong global capabilities, supported by two international sales offices located in Houston and Singapore. From these sites the group has been able to forge strong working relationships with a host of blue chip clients.
For most of the major oil and gas companies, Verwater acts as a main contractor, with a team of skilled workers permanently on site, responsible for delivering ongoing maintenance contracts for general civil works, and mechanical and civil tanks works. On many occasions Verwater's work on these sites was recognised formally with several Safety and Contractor awards.
Delivering services to projects of considerable size and scale appears to come naturally to Verwater, a fact that has seen it become a valued partner in a number of major global undertakings. In recent years Verwater has evolved into a servicing company that integrates with its customer's processes to improve planning and scoping of maintenance works at storage facilities.
Many years of experience in tanks storage maintenance, a thorough knowledge of regulations, and multiple in-house disciplines are the strong combination that allows Verwater to be involved in the scoping and planning process of several of its customers. Through long-term contracts this optimised format of collaboration has led to efficiency improvements and significant savings in the downtime of customers' facilities.
Health, safety, environment and quality (HSEQ) make up the cornerstones of Verwater's operations as it aims to be recognised as being best-in-class. Its ultimate goal is an incident-free workplace and the highest level of performance, in accordance with applicable legislation and standards. The group's management, and HSE and QA/QC co-ordinators ensure frequent on-site presence,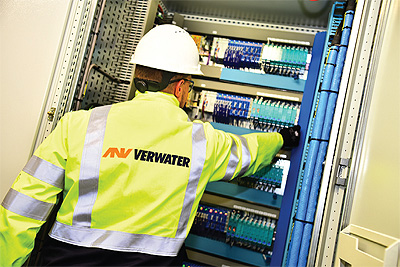 coaching its people and identifying potential risks. Further to this, Verwater has rolled out a 'Safety and Leadership' programme across its sites, and performed a 'Safety Culture Survey'. Such initiatives have helped create an open business culture based on transparent communication within the group.
From an internal perspective, the group revealed in November 2017 that, as a direct result of the commitment of its employees, its Industrial Services division had received ISO 14001:2015 certification. Achieving this accreditation was one of the goals set out within the group's ambitious CSR policy. Together with ISO 9001, Verwater now has a quality management system in place that it believes will help it grow in a structured and responsible manner.
Returning back to the strategy and plans of Verwater's majority stakeholder, the Netherlands is just one of the key strategic areas of focus for Bregal Freshstream and it looks poised to utilise the presence, experience and talent of Verwater to further its aims. Speaking upon the announcement of Bregal Freshstream's investment, it was stated: "Verwater's focus on health and safety, and its understanding of the regulatory backdrop means it is seen as a highly-prized partner by a host of blue-chip companies for whom safety is the number one priority. We see great potential for the business to expand internationally and increase the range of products and services it offers, and we are very excited about working with Verwater's management team."
In response, Filip De Wilde, Chief Executive Officer of Verwater added: "In recent years we have delivered a strong operational and financial turnaround by realigning our strategy and investing to strengthen our business, and sharpen our operational activities. Consequently, we now have a solid platform on which to build thanks to our market leading position, strong recurring sales and proven international roll-out strategy. Bregal Freshstream's investment will help us to service our existing customers even better while growing into adjacent markets and geographies. We are excited to be working with them on this new stage of our development."
Verwater Group
Services: Tank maintenance and construction