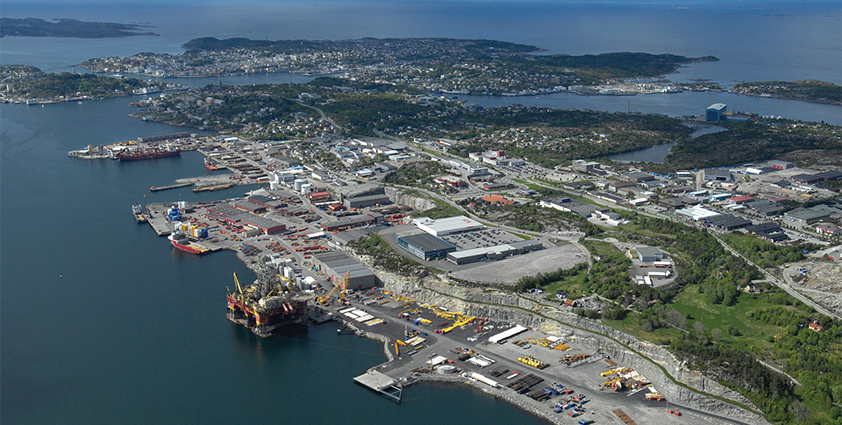 Growing ambition
Part of the Norsea Group, Vestbase AS provides logistics services to the offshore oil and gas industry, from its location on the coast of the city of Kristiansund in Norway.
Operating as a private harbour, Vestbase supports around 60 oil and gas companies within its premises, spread over an area of 410 acres. Following its mission of becoming the logistical partner of choice for offshore-related activity in Mid-Norway, Vestbase takes full advantage of its unique location and proximity to offshore installations, and important infrastructure such as the city airport and helicopter terminals. The harbour incorporates modern facilities, with a strong focus on safety to provide a large volume capacity, as well as safe and efficient materials management.
Employing 180 people, Vestbase offers service companies the facilities they require to operate in the region. Its traditional business relates to harbour activities, such as loading and offloading vessels and lorries, and it can also provide tubular handling, casing, and drill part services. Equally, Vestbase has around 40 people working inside at its terminal department, which concentrates on warehouse activity.
Vestbase operates as part of an industrial cluster of companies, made up of more than 60 businesses. Comprising a combination of service suppliers and companies with specialised expertise within drilling, construction, maintenance, inspection, sub-sea and materials, Vestbase is a complete service centre for all offshore activity.
The main areas of the business are the running of warehouses on behalf of oil companies, managing spares and consumables, as well as the packing and storage of outsourced items. This key area of support is also applied to rig companies, as well as a number of drilling operators. As it can be expensive for a client to establish itself in a new region, the process usually involves working with a locally based partner with knowledge of the area that can promote, handle, and take care of the products. Therefore, when parts are sold, Vestbase delivers them to the end customer. The company effectively provides the same indoor and outdoor services as an oil and gas operator.
The harbour site was expanded by 25 per cent in 2007, as the company keeps up with the growth in the offshore industry. Ture Haugen, marketing manager for Vestbase, describes the company's main focus: "We concentrate on managing the harbour, including 50,000 square metres of warehouses and offices that are rented out to various suppliers, such as Halliburton, Baker, FMC Technologies, StatoilHydro, and Shell, which are mainly the biggest players in the industry. We run the harbour so that they can concentrate on supporting their supply service.
"Providing high quality and efficient services to our clients is our priority. Our services are based on our broad range of facilities, with relevant personnel categories, quays and array of equipment (forklifts, flatbeds, cranes). This provides a significant contribution to the running of major service companies, including Acergy, Subsea 7, and Technip, and it is a convenience for them to use a site like Vestbase that has everything in one place, as opposed to other sites. We deal with six fixed platform production units operated by Shell and Statoil Hydro. In addition to these platforms, we also help maintain their drilling rigs. Vestbase also supports a whole host of ad-hoc drilling campaigns, which are carried out by other drilling companies that work periodically in the area."
He goes on to outline the company's recent development: "In January 2009, Vestbase started a 50,000 square metre expansion of the industrial cluster, which will be ready for use in the forthcoming winter. After this expansion the total area of the harbour will be close to 500,000 square metres. We are also beginning the construction of several new warehouses, both for existing established companies, new establishments and to give us an overall increase in capacity. In general, the activity level on the shelf outside Mid-Norway has increased, and we are seeing more drilling campaigns and more field development projects."
The company has also recently opened a new deepwater quay. Launched in 2008, the quay has increased the harbour's capacity and enabled it to facilitate larger projects, such as the production of spools, involving shuttletankers, drillships and semisubmersibles. Companies such as Technip, Subsea7 and Acergy and others with fleets of larger vessels, enjoy the benefit of the length of the quay. The site's general machinery, such as forklifts, flatbeds and cranes are continuously updated and replaced when needed to ensure that the harbour always offers modern solutions.
Referring to the offshore sector, Ture outlines how oil companies are coping with the financial crisis: "The industry in general is now placing a much higher focus on reducing overheads, both in terms of direct unit prices and general operational costs. One key factor is to establish and sustain an open dialogue with the customer to facilitate the implementation of smarter solutions. We believe this focus will help the industry progress. While we remain vigilant in the current challenging circumstances, our business has not been impacted negatively by the crisis.
"In fact, activity in our region is increasing, and the general oil service industry here in Kristiansund will continue to grow in the coming years. A lot of the estimated remaining oil and gas reserves on the Norwegian shelf are right on our doorstep. We foresee more developments, exploration activities and a general increase in the maintenance and repair market in the future."
Finally, Ture summarises the future development plans for Vestbase: "We will continue to support the oil and gas industry with logistical services, while representing external companies in a safe and cost efficient manner. Furthermore we will develop the strong cluster that Vestbase represents, by improving our service offering."
Vestbase
Services Logistics services