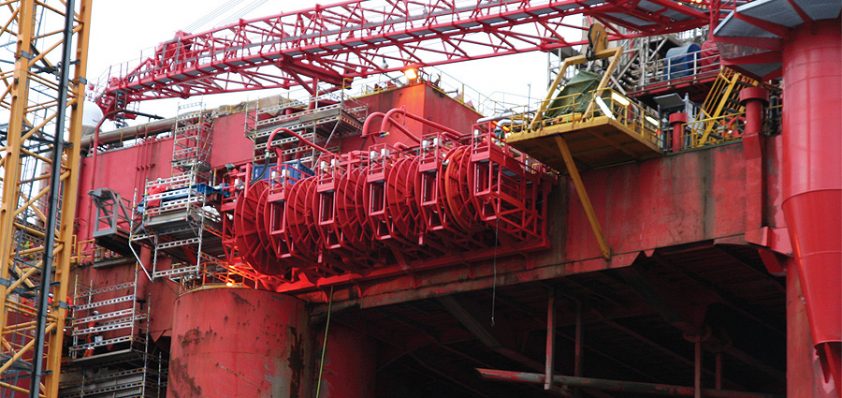 Tailor-made products
Vestnorsk Engineering AS (VNE) is a special engineering company located in Os on the west coast of Norway.
When the company was founded in 1989, it started by delivering yard equipment like production and cutting lines, different kinds of transportation systems and consultancy services. Throughout the years VNE has developed into a company capable of delivering complex products to many different markets.
Looking at the multitude of projects that VNE has delivered through the years, one will discover a wide variety of products and services. It delivers equipment for the offshore industry, ship equipment, deck machinery through the company NDM, equipment for shipyards and industry equipment. In addition, VNE also delivers advanced simulators for fire training at airports and damage repair simulators for training of personnel onboard naval vessels.
The unique composition of knowledge makes VNE one of Norway's most versatile product and engineering companies capable of taking care of the whole process from idea through to installation.
While most suppliers deliver standardised products, "we tailor make every delivery to our customer and can deliver almost anything on request," says general manager Arnt Eivind Soevre. "Our know-how covers many disciplines and all of this in combination with a well developed network of sub suppliers makes us very flexible. This flexibility is our strength and competitive advantage. A request from a customer often comes as a result of a problem they need solved, or they are in need of a product that doesn't yet exist. It can also be equipment for rationalisation/automatisation of a process. In some cases we are asked to develop or customise already existing solutions."
Normally VNE works closely with the customer throughout the entire process, from the first idea and through design, production, installation and commissioning. Complete turnkey solutions including commissioning and training are offered, but in some cases the customer does part of the work themselves.
Most of VNE's orders are heavy steel structures combined with electric, hydraulic or pneumatic equipment. It is far too expensive to have the manufacturing carried out in Norway, but all sales, design and project management is completed from the its office in Norway. Meanwhile, manufacturing is carried out by sub-suppliers in Norway, Poland, Ukraine, Romania and China. "Our orders vary in size and complexity and that is what makes this job interesting," Arnt explains.
For the oil and gas and offshore industries, VNE has developed several different products. The most important examples are the bulk loading stations for oil rigs and plants for the upgrading of used drill pipes. "We especially see an increased amount of international inquiries for our hose handling solutions," says Arnt.
The bulk loading stations are for transfer of liquids and dry material between supply vessels and oil rigs/FPSO's and VNE has solutions both for new buildings and upgrading. Compared to traditional hose handling with cranes, the bulk loading stations offered by VNE save costs, are more environmentally friendly and make hose handling much safer for the people involved. "We are developing new solutions at the moment that will make this product even better when it comes to use, service and maintenance," Arnt comments. "Our deck machinery, through the company NDM, has grown steadily for the last couple of years. NDM has focused mostly on offshore vessels, but has recently signed a lot of contracts for merchant vessels and special vessels."
Another product VNE has been focusing on is simulators. In recent years the company has delivered a large amount of fire training simulators for Norwegian Airports. The simulator gives airport fire brigades experience in handling fire emergency at airports in controlled environments.
This market is rapidly growing as rules and regulations make simulators a requirement on almost every airport all over the world. Arnt elaborates: "We are developing new product innovations for this part of our company and do believe that it will be an important part of our overall business in the future."
To add to its accolades, VNE has designed and built an advanced damage and repair simulator for the Royal Norwegian Navy. The simulator is built to replicate the inner design of a ship and simulates the damages typical to a battle ship when running aground or being hit by torpedoes, grenades or bullets. It features 23 different training objects and gives the seafarers experience in handling damages as close to reality as possible. Representing the motion of the sea, the simulator rolls whilst cold water floods in from numerous damage points. It is equipped with sound, smoke and gas systems in addition to typical hull damages.
Over 20 years providing of special engineering services and solving complex problems for its customers, VNE has successfully built an unrivalled reputation for its products and services. The company is backed by a highly qualified team, using state-of-the-art computer programmes for design and calculation. The organisation's structure with low overhead costs makes VNE very competitive on price as well as delivery time. As it focuses on the future, VNE is confident that it will retain its reputation and position in the marketplace for another 20 years to come.
Vestnorsk Engineering AS
Services: Engineering