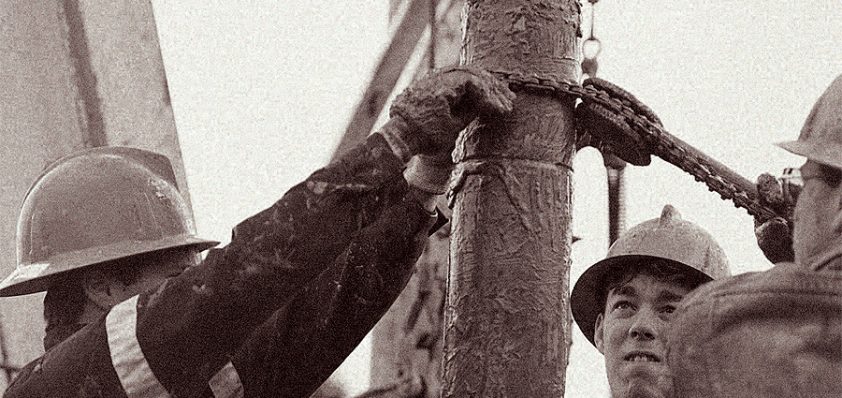 Well drilled
With a century of experience in the oil and gas industry, Vetco Gray is a leading supplier of products, systems and services for onshore and offshore drilling and production.
Through a single interface, Vetco Gray can uniquely offer customised or standardised solutions to meet the needs of any drilling and production project from concept to full production.
Today, Vetco Gray employs approximately 5200 people at more than 60 locations in over 30 countries. Along with Vetco Aibel, it is a subsidiary of the world renowned Vetco International Limited, although it has recently been announced that GE Oil & Gas is set to complete the acquisition of the Vetco Gray business in next few months.
Vetco International Ltd. is a newly incorporated holding company owned and controlled by a private equity investors' consortium of Candover, 3i, JPMorgan Partners and senior management. An employer of more than 10,000 personnel, the holding company's aim is to offer cost-effective products, systems and services to the oil and gas markets, enabling its customers to profitably manipulate oil and gas resources while keeping focus on safety and the environment.
Over the last 101 years Vetco Gray has built a reputation of performance, quality, innovation, as well as customer service, which is unequalled in its industry. This commitment continues today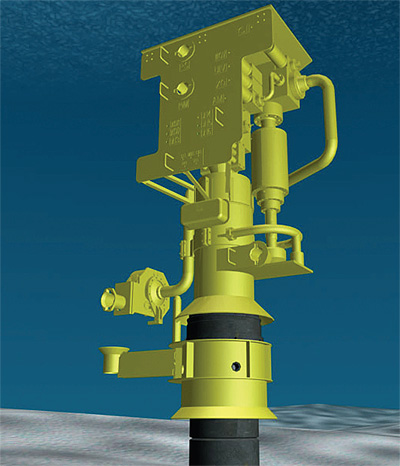 with experienced customer support personnel in locations around the world. With its head office at Houston, USA, Vetco Gray has major production facilities in the United States, Brazil, Scotland and Singapore, while major research and development centres are located in Houston and Aberdeen, and supporting manufacturing and aftermarket facilities are located in places such as Australia, China, England and the US.
A supplier with worldwide capability, Vetco Gray offers drilling and production equipment and services for an ample range of customer requests. Indeed, the Vetco Gray product portfolio covers the entire spectrum from single well onshore drilling projects to multiple well deepwater facilities and subsea production systems. The company also provides 'life of reservoir' support for customers and products. Field life management, asset management, maintenance services, spare parts and special needs services are available 24 hours a day, 365 days a year.
A provider of highly engineered products, systems and services to the worldwide oil and gas industry, Vetco Gray recognises that responsible environmental management of its activities, products and services is equal in importance to productivity and product quality. Vetco Gray therefore strives to develop and produce world-class products that minimise environmental impact.
The company recognises the importance of a commitment to continual improvement of environmental performance, complies with relevant environmental legislative, regulatory, permit and corporate requirements and also acknowledges that the prevention of pollution is fundamental to its activities. In addition, Vetco Gray ensures all acquisitions of commodities and services conform to this policy and that environmentally sound manufacturing technologies and applications are considered carefully in the developmental phase.
Ultimately, however, it is the responsibility of every Vetco Gray employee to ensure the implementation of this policy and protect the environment. In order to achieve this objective, the company strives to publicise this policy to its shareholders and employees. The policy is also made available to the public, upon request – highlighting that Vetco Gray will leave no stone unturned in its quest to acknowledge the importance of improved environmental performance.
Another ongoing process at Vetco Gray is the development of innovative technology to meet its customers' applications for oil field valve products. In addition, many of today's standard practices in the drilling and production industry were originally developed at Vetco Gray over the last 100 years. This included such pioneering steps forward as development of a rotary swivel, metal-to-metal seals, marine riser systems for subsea drilling and early subsea completion systems.
Formal Research & Development was established nearly 50 years ago to handle solutions to client challenges and consolidate the company's technology for greater leverage. As the oil and gas industry moved into deeper, and hotter, gas environments, Vetco Gray responded with the valve technology to control well pressures up to 30,000 psi and 450 degrees F. Deepwater drilling systems for 20,000 psi and water depths greater than 10,000 feet have also been successfully installed. Vetco Gray recently applied its control systems skills to establish a new record in long distance subsea production. It is through such enthusiasm that Vetco Gray has maintained a leading position in the market and by designing, manufacturing and installing products and systems that both meet and exceed customer and industry standards.
Vetco Gray also offers a full portfolio of running & retrieving tools required for drilling and completing a well. As a result, Vetco Gray knows that customer service means 24 hour support for running tools, field service support, spare parts, and anything else needed to get the job done, and its worldwide network offers the customer unrivalled sales and service support.
A pioneer in fast, simple and economical conductor and casing joint makeup for all drilling applications in both threaded and mechanical connectors, Vetco Gray is able to produce a broad range of specialty connectors and pipes. All Vetco Gray conductors and casing connectors are designed and verified by extensive testing and analysis for compatibility with strength and capacities of the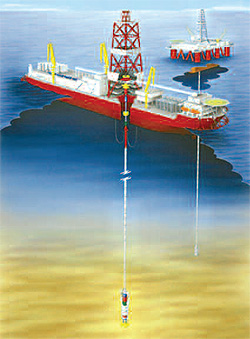 pipe. The variety of sizes and field-proven styles available in the product line allow selection of the most suitable and economical connector for any type of applications.
Vetco Gray offers capital drilling equipment for drilling, production and work-over applications, as well as a full range of accessory equipment, including:
Subsea wellhead connectors
Marine riser systems
Diverter systems
Telescopic Joints
The H-4 family of subsea wellhead connectors is designed with advanced technology to provide reliable, simple operating characteristics, excellent bending and tensile capabilities and a long, economical service life. Marine drilling riser systems, on the other hand, include complete joints with multiple, integral choke, kill, hydraulic and booster lines with reliable, pressure-sealing connections that reduce running time. What's more, Vetco Gray's technologically advanced composite marine drilling risers have significant advantages over metallic or semimetallic risers and its diverter systems provide reliable protection from shallow gas with minimum handling of equipment.
Vetco Gray believes that using an integrated systems approach to bring a field into production is the most efficient, cost-effective manner of achieving enhanced quality, reliability and safety. As a result, each subsea production system is designed to be compatible with the production requirements of the reservoir, installation requirements of the equipment and interface requirements of storage/processing systems.
As the industry progresses further into deeper waters, Vetco Gray is also responding to customers' needs by adopting systematic approaches to both internal processes and product development programs. Moreover, as exploration and production move into deeper water, the need for technological advances in platform design, riser systems, mooring systems and drilling and completion techniques becomes exponentially greater. The developments of the 1990s included lighter weight, more compact topsides and hull designs; improved mooring connection systems; lightweight riser systems; and surface production equipment designed for the most exacting field requirements.
The company, with an extensive aftersales market, services all of its original equipment manufactured since 1906. As successor in interest to many discontinued product lines, Vetco Gray also offers repair, refurbishment and replacement services as well as field support services for the following OEM products:
All Hughes Offshore products sold before 1984
All Regan or Regan Forge products
All Vetco Gray products sold after 1984
All Gray Tool Company Products
All Vetco Offshore Products
All Rector Wellhead Products
All FIP Wellhead and Valves
All Walker Steel Products
All DANCO Products
A leading supplier of top-class products, systems and services for onshore and offshore drilling and production, Vetco Gray is a renowned industry leader. With over a century of experience, the company has the necessary expertise to overcome any challenge. What's more, with an ambitious growth strategy underway, which will include the expansion of the Aberdeen R&D facility, Vetco Gray is looking to the future with increased optimism and will no doubt continue to revolutionise the onshore and offshore drilling and production industries for many years to come.
Vetco Gray
www.vetcogray.com