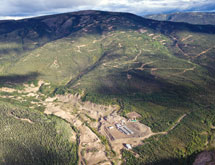 The business of building and operating a gold mine can be complex, filled with potential dangers and setbacks. But with a team like Victoria Gold Corp. has, "It's a very simple operation," President and CEO John McConnell explains. "We have a very experienced management team of mine builders and mine operators."
Based in Toronto, the gold exploration and development company is focused on bringing its Eagle Gold Project located on its 100 percent Dublin Gulch property in Canada's Yukon Territory into production. The Eagle Gold Project is the most advanced project in the region and is on track to be the largest gold mine in Yukon history. In addition, the firm continues to explore other projects in the Yukon to build upon its mineral inventory.
Victoria Gold was once part of Bema Gold Corp. However, when Kinross Gold Corp. purchased Bema Gold in 2007, it repopulated its board of directors with members that included McConnell himself.
"At that time, [Victoria Gold] had three properties in Nevada," McConnell continues. He adds that the company also traded approximately 10,000 shares a day.
Victoria Gold saw the global economic crisis in 2008 as an opportunity to grow and purchased two other exploration firms: Gateway Gold and StrataGold Corporation. The latter of the two companies, McConnell explains, owned the Dublin Gulch property (which contains the Eagle Gold deposit) inside of its portfolio.
One of the most attractive features of Eagle Gold is its similar geology to Kinross's Fort Knox mine in Alaska. "It has a large resource in a safe pro-mining jurisdiction," he says, noting that Eagle Gold is estimated to have 6.3 million ounces of gold resources.
Gearing Up
McConnell says that Victoria Gold plans to begin construction of the Eagle Gold mine in the spring of next year. "Having completed the feasibility study earlier this year, we are presently coordinating the team that will manage the construction and begin operations in late 2014," he says.
When full production begins in 2015, "It will be an in-valley leach operation with a gold recovery plant," he says, noting that the company expects to produce 200,000 ounces of gold per year in the first five years. "In 2015, we'll [have] a cash flow of $200 million a year."
The construction cost is $430 million and the project will employ 350 to 400 people. It will be a significant economic development for the Yukon. The project has an excellent infrastructure which includes year-round road access, an existing 100-person camp, commercial grid power 25 kilometers from the site and an airstrip that is 80 kilometers south of the project.
The challenge for Victoria Gold is financing this project. "We're a junior company with a market cap of $100 million," he admits. "We need to $430 million to build Eagle."
The company's efforts to secure financing for this project include the recent sale of assets in Nevada. Additionally, the company is also currently negotiating debt financing and other alternatives so that it can raise the additional funds. "We are quite confident that we can raise the $430 million," McConnell asserts.
Local Support
When it comes to dealing with the local government, Victoria aims to do it right. A permit cannot be secured to build a mine in Canada today without submitting an environmental assessment, which explains in detail how Victoria will mitigate impacts on the environment.
"Our project is tracking extremely well through the Yukon Environmental and Socio Economic Assessment Board (YESAB) process," McConnell says. "We are not in control of the permitting process, but we expect permits in hand to allow start of construction at the end of the year. The construction period is two years putting full production in 2015."
Additionally, the company has signed a comprehensive Impact Benefit Agreement with the local First Nation of Nacho Nyak Dun (FNNND) making them a partner that supports the advancement of the project. "We appreciate and respect that we are working in their backyard, so it's important to go about our business in a manner acceptable to them," he says.
In fact, when John McConnell meets with the government and the environmental review board, McConnell is joined by the chief of the FNNND, Chief Mervyn. "He's our partner now," McConnell states.
FULL SPEED AHEAD
A longtime veteran of the mining industry, McConnell says he was even born in a mining town, Salmo, British Columbia. After becoming an engineer, "I spent the first half of my career operating mines mostly in Nunavut, including 12 years running the Nanisivik lead-zinc mine on Baffin Island," he recalls.
He then moved into exploration and development, which included being responsible for the development and permitting of DeBeers Canada's Snap Lake Mine, which is northeast of Yellowknife, Canada.
He adds that he is very passionate about the industry. "It's the greatest industry there is, for the variety and opportunities it offers," he says. "I [live] an urban lifestyle, but love the fact that mining allows me to get into the rural areas, as well."
Looking forward, McConnell says that Victoria Gold plans to go "full speed ahead" in the company's development of Eagle. In addition, Victoria Gold will be announcing very soon the firms that will lead both the engineering detailed design and the construction management.
McConnell also admits that the status of the company could always change. "Our plan is to take the project to production ourselves. However, as a public company, there is the risk of a buyout. Although [that is] not exactly what we want, we've got to be realistic about these things," he says.
"I've learned that shareholders own the company," he says. "If someone comes along and they offer more money for the company, it could be sold." Additionally, a major firm may purchase Eagle Gold.
"We own a robust project in a safe and pro-mining jurisdiction with good infrastructure, including year-round access and access to power. There are not many deposits comparable to Eagle in safe jurisdictions around the world." EMI