A clean sweep
Born out of the aftermath of the notorious Torrey Canyon oil spill disaster off the south-west coast of England, Vikoma International Ltd was founded in 1967 by BP.
Since this time, the company has become a world leader in the design and manufacture of oil and chemical pollution control systems with a reputation in the global oil spill industry for developing innovative, high performance products to deal with all sorts of response scenarios. Today, Vikoma operates as part of the Aberdeen-based Energy Environmental Group.
This position is supported by a highly knowledgeable and experienced engineering design team, as well as an in-house manufacturing capability and extensive worldwide sales network. Vikoma prides itself on supplying efficient, effective and reliable equipment for the containment and recovery of spilled oil and protection of the environment, which meets the ever increasing demands of its customers around the world. In fact the company supplies into over 140 countries, and has recently been successful in a number of large contracts for the Far East and Russia. Vikoma has also seen growth in Libya, offering its support following the recent changes and helping the country protect its unique environmental assets.
"Vikoma is a distinctive company as we design and manufacture here in the UK, which allows us to ensure quality and reliability is maintained throughout all our products and services," explains Richard Hill, regional sales manager. "Vikoma is also the only manufacturer of oil spill response equipment to hold ISO 9001:2008 for the whole process of sales, design, development, manufacture, installation and commissioning of oil pollution control systems for containment, recovery and dispersal."
Those systems include a range of oil spill containment booms in high quality neoprene or polyurethene materials, high efficiency oil skimmers for both marine and industrial applications, a range of workboats and vessels, and a full complement of auxiliary equipment, such as storage tanks, pumps, hydraulic powerpacks, and even training and commissioning services. Most recently Vikoma has seen an upturn in demand in the market for a containment boom that is both fast and safe to deploy, into which its Hi-Sprint product sits perfectly.
The Hi-Sprint boom is a high integrity, rapid deployment boom with unequalled wave following characteristics. It is designed for use in a full range of environments from terminals to the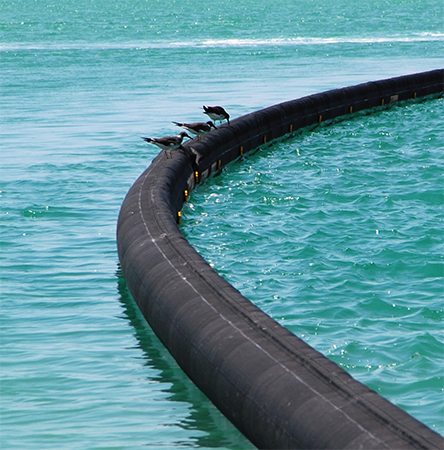 open elements of offshore and the ocean. "We have also just released the Super Hi-Sprint, which is a brand new containment boom system that was officially launched at Interspill 2012 in London at the beginning of the year. Traditionally containment booms have to be filled using air chamber by chamber, which can be a slow task, but with the new Vikoma Super Hi-Sprint the boom is inflated from the reel automatically.
"This means there is no need for an inflator to be placed on the towing vessel, as all ancillary items are housed within the reel frame. Additionally, fewer people are required to deploy the boom system, meaning the boom will be in the water limiting the spread of oil quicker than conventional booms by up to 50 per cent," highlights Richard.
Vikoma has also recently launched another new system – the Vikoma Weir Boom, which is a combination containment and recovery device. The Weir Boom itself will contain and limit oil spreading in the water, whilst at the same time the internal weir system and pumps will recover the oil through the boom's internals and deliver it back to the deployment vessel at speeds of up to 210 cubic metres per hour. The Weir Boom is constructed from vulcanised neoprene and has a wide oil collection mouth, which can span up to 200 metres making it ideal for large spills. As a totally self-contained system, the boom and integral weir skimmers are deployed directly from the reel removing the need for a deck crane.
Like the majority of other companies, the most obvious challenge that Vikoma is currently facing is the ongoing economic situation, but as Richard explains the company has found a way of turning this to its advantage: "In this respect we are focusing on industrial activities such as refineries, petrochemical plants, and tank farms. Vikoma manufactures a specific skimming system for use in these harsh conditions known as 'T Disc' skimmers. These incorporate cutting-edge technology and are designed to be run in areas of plants such as APi separators, rainwater sumps and run-off areas.
"Historically these areas would be drained and settling oil would require expensive treatment, typically offsite. Vikoma skimmers on the other hand are designed to run 24 hours a day, 365 days a year and automatically separate the oil and water mix with up to 98 per cent efficiency. Once the oil has been removed, it can be reintroduced into the refining process therefore covering the initial purchasing costs over time and reducing plant costs significantly," he elaborates.
In order to ensure its continued success, Vikoma is currently undergoing a massive expansion of its sales department, including the appointment of a new general manger, and significant changes to its sales approach, which will come into force shortly. As Richard concludes though, the company's strategy really goes right back to its roots in innovating new technologies for a cleaner environment: "We have also opened a new research and development department that is currently looking into new products, with the Super Hi-Sprint being one of their newest creations. Other interesting products are on the drawing board, which we see as no doubt re-writing the entire 'oil spill response equipment portfolio' we operate today."
Vikoma
Products: Oil and chemical pollution control systems