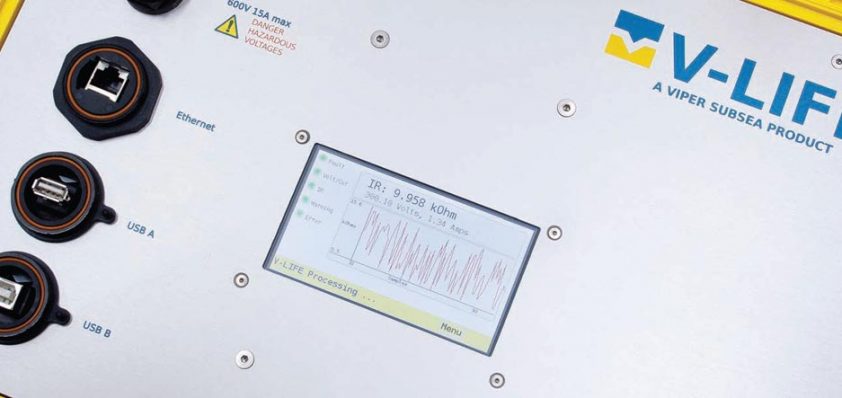 Products for life
Viper Subsea was founded in 2007, offering consultancy services to the subsea controls and umbilical market.
With 24 years of experience in the industry, managing director Neil Douglas was one of three founding members. Outside of the consultancy services, the focus of the business was on the design and supply of subsea equipment for the distribution of electrical power and hydraulic fluids. "All profit was re-invested into the business and has been ever since. Our focus is on technology and product development, and as a business we are recognised as being innovative in the subsea domain with a total of 14 individual patents filed. As the business developed we moved from operating as a consultancy and hardware supplier to providing integrity management services of subsea control
systems. We provide engineering support for a number of subsea control systems in the North Sea, and to strengthen this service, some of our most recent product development has been in the integrity management of subsea hardware," explains Neil.
The business launched its first product, the V-LOCK hydraulic stab plate, into the market in 2010. Commercialisation of the V-LOCK and a variety of other products has driven an impressive 40 per cent year on year growth. The outlook is even greater, as Neil says: "We are expecting to improve on that growth rate as we realise the early investment in product development. By defining challenges faced by the industry we have been able to generate solutions to those problems. Rather than coming up with an idea and then trying to find an application, we focus on real problems and develop the technology to resolve them. A high percentage of our personnel are engineers recruited for their innovative ability. We are also working closely with universities. This year we will open our own electrical, hydraulic and mechanical workshop, having already secured the facilities. This workshop will be focused purely on research and development activities."
Whilst Viper Subsea is a relatively young company, the individuals within have a lot of industry knowledge. Its team have experience and close relationships with tier one vendors and operators, subsea production system providers and EPC contractors, as Neil explains: "We regularly get exposed first hand to problems and we aim to generate a resolution. Of course, we accept that there is not a solution to every problem but this approach has put us in good stead for our products." One of the biggest challenges the subsea industry faces is water ingress into electrical components and cables, initiating the failure of equipment. The commercial consequences can be extensive with time spent in subsea interventions and possibly loss of production or early field abandonment. Historically, once equipment such as a subsea umbilical has suffered water damage, there has been no option other than to replace at high cost and loss of production.
"We decided to work on the basis that water will eventually, despite precautions, ingress into the electrical components, and assessed what we can do to mitigate the effects. Having generated a number of ideas, we concluded the best solution was V-LIFE. It is a scientific breakthrough in terms of the technology used," Neil highlights. Acting as a preventative measure and an active healer to low insulation resistance, it deploys an electro-kinetic and electrochemical process that minimises the effect of water ingress. "We have had a 100 per cent success rate on all our installations and it has saved our clients from installing new umbilicals, and bringing production back on line. In over 20 years of subsea technology development this is probably the most exciting technology that I have ever been involved in in terms of its impact to the industry," he adds.
In a press release in March 2014 Viper Subsea announced the signing of a Joint Industry Project (JIP) agreement with energy giants BP and Total to further develop its Subsea Line Insulation Monitoring (V-SLIM) Technology for identifying and locating cable and connector faults in remote subsea electrical distribution systems. "This has been facilitated by the Industry Technology Facilitator (ITF) and the Regional Growth Fund. Development of the next generation of subsea integrity monitoring equipment is underway and field trials targeted for 2015," reveals Neil.
The business applies in the region of 30 per cent of its engineering effort into R&D, equating to 12 per cent of its revenue. Neil explains that reinvestment is the underlying reason for success: "It is a significant investment and because we are a small company it enables us to be dynamic, flexible and deliver new solutions far quicker than our larger competitors. We continue to supply services and products to an array of clients, and through delivering these on time we have built up a positive reputation."
With much of its hardware targeted at new green-field products, its focus now is on asset integrity. Supporting and maintaining the equipment already installed, pursues an active revenue stream and its broad product and service range mitigates the 'peaky' revenue challenges faced by other companies. "We are looking at another year of significant growth in sales and project delivery, which will intensify our financial position and personnel numbers. The growth we are seeing now is from the products we have taken to the market a couple of years ago. It is essential to keep the pipeline of products developing to continue growth," Neil concludes.
Viper Subsea
Services: Innovative engineering products for subsea