Partners in progress
The challenges associated with the overall global demand for energy don't just stop with the identification and retrieval of these resources, but also include logistical considerations in getting these reserves to their destined markets and end customers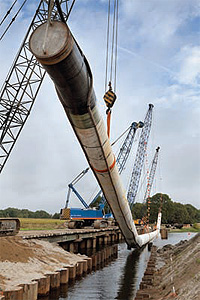 There are a number of different methods utilised in the transportation of oil, gas, energy and water, but the use of distribution pipelines and cabling is one such common practice.
Visser & Smit took its first steps into this market shortly after its foundation in 1900, focussing on the construction and management of water supply and distribution pipelines. Over the years Visser & Smit underwent various mergers, which widened this scope into other energy concerns, coming under the Visser & Smit Hanab name in 1979. The company is also part of the largely privately owned VolkerWessels group, which is one of the largest building consortiums in Holland, as well as an internationally renowned presence with more than 120 subsidiaries in Europe and the US.
Active today in the markets of oil and gas, energy and water, Visser & Smit Hanab has divided its services between five main departments. The first is concerned with business development and the realisation of new clients, and in-house transport initiatives for networks. The second division is responsible for putting in place the networks required to deliver resources to consumers, whilst a third industrial, power and project department undertakes all above ground installation works. Part of Visser & Smit Hanab's transport and drilling solutions sector, the pipeline division, focuses on the main connection networks and provides solutions for crossing pipelines over physical obstacles such as water, roads, and railways. The final department of the business is responsible for marine works and offshore cable solutions. It operates under the name of Visser & Smit Marine Contracting, VSMC.
As such, Visser & Smit Hanab is able to bring together all of the fields related to pipeline and cable infrastructure to take on any technical challenge. Backed by the financial security of VolkerWessels, the company also has access to various partners inside this group such as road construction and de-watering specialists, that can provide project support as required. "What makes us a valuable partner to our customers is our focus on working together with them to realise the project as they wish," highlights Peter Veermeer, manager of the pipeline department.
"We are also committed to good quality and safety values on every project we undertake. We have invested in a lot of new equipment, such as automatic welding activities, as we see that clients have increasingly high expectations for the quality of welds. We look to maintain more of a partnership type relationship, as opposed to purely contractor and client, which means we are continually discussing better ways of doing things – not only in terms of project efficiency, but also impact upon the local environment and safety."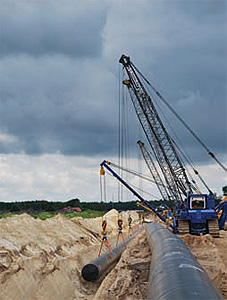 Indeed, each pipeline project calls for an individual approach as the requirements in terms of location, environmental conditions, technical variables, and the type of product to be transferred all have a major impact upon the design parameters. Above or underground, Visser & Smit Hanab is able to design, build, modify, manage and service transport pipelines of all conceivable sizes and types. With many years of experience behind it, the company is able to offer advice on dimensions, diameters, and materials that are best suited to the specific requirements, and how to overcome logistical problems.
At the beginning of the year Visser & Smit Hanab signed a new €30 million contract with Energinet.dk for the construction of a 94 kilometre natural gas pipeline between Ellund, Germany and Egtved, Denmark. Elaborating upon some of the specifics of this project, Peter says: "We are responsible for all of the activities related to the laying of this pipeline, in connection with various subcontractors such as our VolkerWessels sister company which will carry out the de-watering. All of the welding, horizontal direction drilling (HDD) and tunnelling works will be carried out by our own department though, and we will also be able to undertake crossings of existing obstacles independently. We have planned to complete around 1000 metres of pipeline a day in order to meet the customer's target, with the project expected to be completed by the end of 2012."
Although Visser & Smit Hanab is bucking the trend with three projects on the European market at present, overall 2012 is not an easy year for this sector. "It's a projects market where clients are bringing investment plans and ideas to the forefront," confirms Peter. "We are following the investment of our clients in the European region, and it is mainly a case of finding out how and when they want to construct these projects, what they're trying to achieve, and what kind of relationship they are looking for with the contractors. Just focusing on the north European sector it is very difficult to determine exactly what quantity of projects for the next year or so there will be in the market, which makes it tough to plan and look forward as a business."
Overall the fluctuations in the global energy markets is having an impact upon investment planning, but Visser & Smit Hanab has continued to grow steadily over the last five years despite this instability. Much of this has been down to strong levels in the company's pipelines and offshore cabling activities. "In terms of pipelines we hope to be a very important player, first on the European market, but then in the next few years also looking into opportunities outside. Our HDD and drilling department are already very active all over the world, and we are keen to challenge the international marketplace with regards to pipelines as well. What is important though is that we will continue to work on realising a project together with the client to achieve the best possible results," reveals Peter
Visser & Smit Hanab
Services: Energy transport solutions