Making the connection
For more than a century Visser & Smit Hanab has been thinking in connections.
Primarily these are the networks of pipelines and cables between producers of resources such as water and energy, and their final destinations. As such the company has clients from across the energy sector including district heating, natural gas, oil, and electricity.
The complexity of such projects is also increasing, with more and more of the aspects involved in the realisation of infrastructural works now being left to external parties. With its long experience, and ability to bring together all the fields related to pipeline and cable infrastructure, Visser & Smit Hanab acts more as a partner than a single contractor to its customers in helping them solve their specific technical challenges.
The company is also a subsidiary of the VolkerWessels group, which is an enterprising company focused on the realisation of construction projects throughout the world. This gives Visser & Smit Hanab access to various partners within their group to provide total solutions. "We've always been very good at understanding what the client is asking for," explains Wilko Koop, director at Visser & Smith Hanab. "Together with the added value of our experience and know-how, this means that we can find the best possible solution, which is technically acceptable and implementable. We also take onboard the interests of all stakeholders in the area, and help the client to execute the project with the least possible amount of disturbance."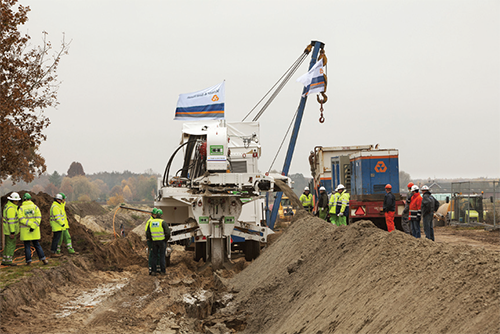 The latest project to which Visser & Smit Hanab is applying its skills is the construction of a new gas pipeline, DN1200, for Dutch national gas infrastructure company, Gasunie. The pipeline has a total length of 91-kilometres between Beverwijk and Wijngaarden and is divided into three segments, with Visser & Smit Hanab contracted for the final third – a 31-kilometre stretch between Benthuizen and Wijngaarden. "Over the last few years Gasunie has invested in a lot of high-pressure pipelines in order to facilitate the demand of the European gas market. As part of this philosophy the company is building this new pipeline between Beverwijk and Wijngaarden in the Netherlands," begins Wilko.
The complexity lies in the dense soil conditions and high groundwater levels, combined with an eight meter layer of peat at the 26 kilometre jobsite. We conducted a technical study of how best to deliver a pipeline connection in this area accepting all these challenges, and we found that for a 20-kilometre stretch the trenchless technique of horizontal directional drilling (HDD) was the only realistic and possible method," he continues.
Using such a technique, the pipeline can be laid without the need for open excavation work, which makes it an ideal solution to fight against the challenges of the peat and high groundwater. As such Visser & Smit Hanab will complete a series of 19 HDDs under the upper peat layer, and then connect these together to fix the pipeline. "We are ready to mobilise and expect to begin construction activities in April 2013, but already since October 2012 we have been carrying out engineering works for this complex project. In fact it is likely to be the case that the preparation of the work will almost have taken longer than the actual execution. This is because it is vital that the solution we engineer has a lasting quality as this connection will be utilised for the next 50 years," describes Wilko.
Whilst Visser & Smit Hanab's commitment to developing its HDD techniques has clearly been of benefit to the project, another key investment has been the company's automatic welding system. "We saw that the developments in non destructive testing (NDT) offered a much better insight into the quality of welds, and therefore we felt that in step with this we needed to ensure that our welding capability was as good as possible," notes Wilko.
"So we decided to develop an automated welding system which can carry out each phase of the welding process, from the root pass to the cap weld, without copper backing inside the pipe. We are very proud as we are one of the only companies able to deliver this type of automation with a double torch system. We combined this technique with a hydraulic inline clamp that we developed together with Lastechniek Europa BV in order to deliver the complete spectrum. Whilst welding by hand has a failure rate of around four to five per cent, we have been able to achieve a quality standard of less than one per cent failure throughout the automatic system. This gives additional comfort to the client that their pipes are welded under the best quality conditions you can get."
For Visser & Smit Hanab innovation is an ongoing focus particularly within the trenchless drilling segment. The company has already developed services such as pipe express, which is a semi-trenchless technique for laying pipes a few metres below the surface. Other processes are pipe rescue for pulling out pipes that become stuck during HDD activities, and the pipe pusher, which can connect to a drilling rig and boost its capacity by extending the pull force.
"Our focus is to act as a partner to our clients and to accelerate in our specialities of automatic welding and trenchless construction techniques. In this way we are looking to consolidate our position in our home market, and to also partner businesses globally by helping them overcome their project challenges through these capabilities," concludes Wilko.
Visser & Smit Hanab
Services: Energy transport solutions