A key trader
Headquartered in Geneva, Switzerland, Vitol is originally a Dutch company that began in 1966 trading along the Rhine and Amsterdam-Rotterdam-Antwerp (ARA) barge market before expanding internationally.
During the 46 years since it was founded, the company first extended in northwest Europe before moving into the international shipping of products and then, in 1985, into crude oil trading. It has established offices in Geneva, Houston, Singapore, Moscow, Dubai and London, along with many smaller offices. It has gained access to storage facilities, terminals, and even refineries following its recent purchase of the Cressier refinery in Switzerland.
Mark Ware, director of corporate affairs, discusses why the company has become so successful: "Vitol's core business is the physical trading of energy products. It uses future markets and derivatives to manage rather than ncrease its risk. Our performance is due to a combination of factors: relationships on the ground; good access to funding through banking partners and experienced traders that know their markets in great detail; this gives them information that they access through constantly being in the market.
"The company is private. About 360 of the 1000 employees have equity in the firm and this is important because a partnership ethic helps maintain the experience and allows the company to focus on the business rather than all the many requirements that come with being a public company. Employees see it as their own firm rather than someone else's, and we believe that this has benefits in everything from overhead management to attitudes to risk, as well as attracting and retaining talented staff."
One of Vitol's successes has been its expansion into terminals, assets that perfectly supplement its core business. The cyclical nature of the oil trading markets means that at times the market can be in contango, when the current price of a commodity is valued at a discount to the future, thereby providing traders with an incentive to store products knowing that the future market price, as seen on futures markets, is higher. Vitol established its own storage and terminal subsidiary, VTTI, in 2006 and invested heavily to create a major international network of terminals at key trading hubs. In May 2010, Vitol sold half of VTTI to MISC Berhad, of Malaysia.
VTTI has 13 terminals on five continents with around 8.5 million cubic metres of capacity. A recent advance made by VTTI was the 2011 acquisition of German oil storage company Petrotank. With this acquisition, the company gained access to a major oil storage operation consisting of 23 sites and a capacity of approximately one million cubic metres. This will enable VTTI – and at times Vitol – to move further down the supply chain toward wholesalers and retailers.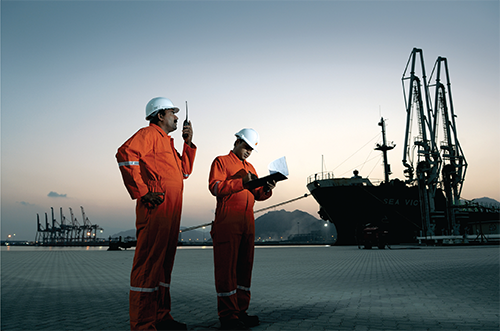 Downstream activity is something Vitol has recently been pursuing in Africa. "In December 2011 we completed the acquisition of much of Shell's marketing business on the African continent, marking our first exposure to direct retailing and wholesaling of fuels and lubricants," Mark states. "As BP, Shell, Exxon and other majors have gradually exited both the refining and marketing business, many opportunities have been thrown up for companies such as us. We now own 40 per cent of Shell's former African marketing business and have a franchise arrangement with Shell to use their brand for fuels and lubricants. The corporate entity is called Vivo Energy and today operates in 13 countries including Morocco, Tunisia, Kenya, Senegal, the Ivory Coast, Mauritius and Madagascar, and in the future Uganda and Ghana. This really is about gaining access to different parts of the supply chain and thereby strengthening our business as a whole, under the world class Shell brand. The African market is growing fast, driven by GDP growth, with mining a key market segment and strong demographic growth. We are optimistic for the future growth opportunities across the continent."
Africa is just one of the company's exciting new markets however. With the shifting demand for energy to the Middle East, Asia and Latin America, Vitol has expanded into all these areas.
In addition to the core activity of physical energy trading, Vitol has an exploration and production business, which includes interests in Ghana, Cameroon, Kazakhstan, Russia and Azerbaijan.
"In 2011 our total trading volumes were around 450 million metres tonnes – more than double our volumes in 2006," says Mark, in summary. "Our activity in shipping operations have increase significantly and our turnover reached almost 300 billion dollars in 2011, of which 35 per cent was made up by crude oil trading, the largest component of our trading. We will continue to look at all interesting opportunities across the value chain, including other energy related assets as well as expanding trading in areas such as coal and biofuels. Furthermore, our experience with Vivo Energy has given us the confidence to look selectively at opportunities in the global downstream markets.
"We are often asked if Vitol will go public through an IPO or remain private: the answer is that we have no plans at all to change. We like being a private firm, it best suits our business model and we strongly believe that the employee-owned, partnership model sustains the entrepreneurial spirit that underpins everything that we do at Vitol," Mark concludes.
Vitol
Services: Energy trading, terminal ownership