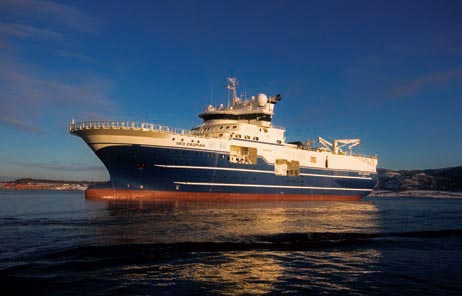 Bright future
Volstad Maritime AS is a privately owned Norwegian company, which both owns and operates vessels in seismic exploration and offshore IRM and construction. It also controls a subsidiary called Volstad Management AS, which offers marine and technical management.
The company built its first vessel back in 1952, and over the course of the following six decades it has evolved into an international operator. Located in the maritime capital of the Norwegian Northwest, Aalesund, Volstad Maritime has experienced continuous growth and development ever since it was established.
The most recent development from Volstad is news that Bergen Group Fosen, a yard that Volstad has used in the past several times for vessel construction, has sold its shipbuilding contracts for NB 90 and 91 to Kleven Maritime.
The outfitting will be performed at Kleven Myklebust and Volstad Maritime was part of the negotiations and is very satisfied with the outcome. There will only be minor changes to the shipbuilding contracts, and as Kleven is a highly competent yard the company is confident that the vessels will be delivered at the highest quality.
These may be the newest vessels that Volstad has on order, but its fleet's history actually began in 1952, and has seen many new additions along the way. In 1982 Volstad entered into seismic exploration with the Geco Tau, which was built together with Geco AS, and in 1999 Volstad took delivery of the Geco Bluefin, a DP-II Q-seabed seismic exploration vessel on long-term time-charter with Western Geco.
The company also undertakes activities within oceangoing fishing vessels and built-to-purpose offshore vessels, including ROV/DSV. The company took delivery of its ROV/DSV new build vessel, the Bibby Sapphire, in 2005. This vessel operated on long-term charter with Bibby Offshore Ltd. up to April 2010, when it was then sold to Bibby Offshore.
Volstad Maritime also charters the Bibby Topaz to Bibby Offshore. Bibby Topaz was delivered from the Fosen Shipyard to Volstad in 2007. The ship is 107 metres long, and is equipped with two diving bells. This gives it the ability to operate with 18 divers, in depths of up to 300 metres.
Volstad is always looking to expand its operations, and accordingly, at the beginning of 2008 the company took delivery of the Volantis from Fosen Shipyard. Volantis is a multi-role subsea support vessel, which is operating under a long-term time-charter with CTC, a subsidiary of Deep Ocean ASA and supports CTC's latest trenching developments.
Volstad's fleet also includes the Oceanic Endeavour, which was added in 2008, and has performed exceptionally since that time, with her capacity to carry 70 crewmembers in very high quality accommodation standards earning her an excellent reputation within the Volstad Fleet. She is on a long time-charter with CGG and was previously named Geowave Endeavour.
In 2009 the Deep Cygnus, a 122 x 22 metre multi-role subsea support vessel, was delivered from Fosen Shipyard to Volstad. This vessel is chartered by Canyon Offshore and performs operations such as cable laying from carousel, trenching, ROV operations from hangar and so forth.
The Geo Caspian, a 108 x 24/28 metre seismic streamer vessel, equipped to tow up to 16 streamers, and eight gun strings was obtained in 2010. The vessel can take a crew of 70 persons in single high standard cabins. She was on a long time-charter with Fugro Geoteam – in 2013 Fugro Geoteam was taken over by CGG.
Finally, in 2012 the Grand Canyon, a 128 x 25 metre OCV was delivered from Fosen Shipyard to Volstad, and this is the sister vessel of the two new ships now being constructed by Kleven that were discussed previously. Grand Canyon was purpose built, and is designed for operation in severe weather conditions, with high manoeuvrability and station keeping capabilities.
Thanks to the versatility and diversity of this fleet, Volstad is able to work in a broad range of fields, with its vessels operating in a number of different regions, and subsequently environmental conditions. Bearing this in mind, the company firmly states that the health and safety of its employees, both on and offshore, is its first priority regardless of the type of operation or project in question. As would be expected, the company complies with all of the latest national and international regulations, as well as all relevant industry standards and guidelines.
In fact, Volstad has implemented the International Safety Management Code (ISM), as well as the International Ship and Port Facility Code (ISPS) and both ISO 9001:2000 and ISO 14001:2004. While it strictly monitors all its own safety aspects, Volstad Maritime's management systems are approved according to the requirements of the International Maritime Organization (IMO) and the latest Norwegian requirements relating to in-house quality, health, safety and environmental management.
As we advance into 2014, Volstad has more grand plans for development and expansion. With all of the company's vessels working on long-term charters for the foreseeable future, and further business due to arrive along with the delivery of its latest vessels, the future at Volstad looks to be as full of opportunity as the past 60 years.
Volstad Maritime
Services: Owner and operator of seismic exploration and offshore vessels