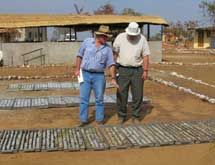 Although the nations that comprise the region of West Africa are more than friendly to the mining industry, this gold-rich region offers a unique set of challenges. But Volta Resources Inc., with its experienced management team with decades of tenure guiding a knowledgeable local work force, has a leg up on its peers. "It is important to understand West Africa has its own unique opportunities and issues," CFO Alan Rootenberg says. "Something that fortunately we've been able to do is find very qualified people in the region.
"Almost all our geologists are local, so we have very little need for expats to go out on a permanent basis," Rootenberg adds. "There tend to be very well-qualified people we work with, and we've been particularly fortunate to be able to source locally."
Volta Resources is the result of the merger between Goldcrest Resources and Birim Goldfields. These two explorers joined forces in March 2008 with a single focus on West Africa.
The company holds properties in Burkina Faso, Ghana and Mali. It is currently focused on its Kiaka Gold project in Burkina Faso. Volta Resources acquired the property from Randgold Resources toward the end of 2009. Randgold had not produced any compliant resource estimates before the acquisition, but Volta Resources has produced a NI43-101-compliant resource estimate on Kiaka, with 1.384 million ounces of gold in the indicated category, and 480,000 ounces in the inferred category.
The project is located approximately 120 kilometers southeast of Ouagadougou, the capital of Burkina Faso. It lies at the intersection of the northeast-striking Tenkodogo greenstone belt and the north-striking Markoye Fault, near where some of the larger gold resources discovered in Burkina Faso are located. Within this area are IAMGOLD's Essakane deposit with 5.1 million ounces, High River Gold's Taparko deposit with 1.7 million ounces, Orezone's Bombore deposit with 2.1 million ounces and Endeavors's Youga deposit with 1.5 million ounces, the company says.
Additionally, Volta Resources has produced a NI43-101-compliant resource estimate on its Gaoua Copper-Gold project. Rootenberg explains this report indicates 1.073 million ounces of gold in the inferred category, in addition to 724 million pounds of copper in the inferred category.
This project covers 691.5 square kilometers within the Boromo greenstone belt. It includes the contiguous Malba, Souhouera and Danyooro permits, all of which hold numerous copper-gold and gold prospects already identified. These permits cover about 35 kilometers in strike length of the prospective structural corridor that hosts most known copper-gold and gold occurrences, the company reports.
A new discovery for Volta Resources is the Nassara Gold project, which is located within southern Burkina Faso. Rootenberg says this consists of a 10-kilometer-long gold-in-soil anomaly.
This project is located within southern Burkina Faso, close to the borders of Ghana to the east and Cote d'lvoire to the south. Volta Resources notes that the southern Boromo Belt is delivering "stellar" exploration success to its neighbors in the Gauoa Project. Thus far, a combination of mapping, airborne geophysics, stream/soil geochemistry and limited drilling has identified a number of gold anomalies to north and northwest-trending structures of the Gaoua project, the company adds.
Working in West Africa
The executives at Volta Resources are well-versed in the idiosyncrasies that arise when working in this region of the world. Rootenberg says once IAMGOLD Corp. opened its development in the region, it was sign that the governments in this part of Africa were open to the mining industry, especially in Burkina Faso.
"The success that IAMGOLD had when it recently opened up its Essakane mine in Burkina Faso really intensified the focus on gold development projects in the region," Rootenberg says. "There are some really excellent projects in the region, and the reason for that is it's a stable country with a multiparty democracy in support of mining codes, informed regulatory regimes and a mining infrastructure."
Fresh Faces
The gold rush descending on West Africa, however, is stretching resources to the brink. Since the price of gold continues to rise, the number of companies settling in the region will grow with it, as well.
Rootenberg hesitates to call the influx of explorers "competition," though. Instead, he uses the term "co-opetition," meaning more exploration firms in the region will enhance every company's operations through increased training and development of personnel.
"The competition out there is for talent," Rootenberg says. "But at the same time, what we're finding is there is more and more talent being developed as more mining companies come on stream. It is good for the country, and it is good for us."
To retain its own talented work force, Rootenberg says Volta Resources takes care of its employees. The company's top-ranking officials have worked and lived in West Africa, which gives them detailed knowledge about local customs and what the local people seek from their employers.
"We were able to adapt our policies to the local market, and that has enabled us to keep the talent that we have," Rootenberg says. "This is necessary to find the talent that we need."
If all goes as planned, the boom in this area will keep companies like Volta Resources searching for capable employees for years to come. Rootenberg says the demand for gold around the world coupled with Volta Resources' vast experience in this region will prove invaluable.
"I think we're just scratching the surface, and we're going to see significant increases in the price of gold," he adds. "The area that we're in as a company, combined with the experience we have in mining and the region itself, gives us the opportunity to capitalize on this boom that we're facing."
Gold in Ghana
Ghana has a long history of gold deposits, and Volta Resources is in place to take advantage of this geology. Volta Resources says its Chert Ridge Prospect is located in a narrow extension of the northern boundary of the Cluster property, 40 kilometers north of Wenchi and just west of the west of the main Wenchi-Bole road to northern Ghana.
According to Volta, mineralization appears to be fully contained within intensely carbonate-altered felsic intrusive lithogies and can extend into the "chert"-like units on the contact margins of the intrusives. The company's current exploration strategy involves an open-ended and continuous gold-mineralized structure exceeding 2,200 meters in strike and has been defined by drilling to date. Two potentially economic, shallow-plunging, high-grade zones with a cumulative strike of 720 meters have been defined within this overall strike, the company adds.
The Tinga Prospecting License located near Tinga, Ghana, is undergoing infrastructural upgrades. Volta acquired this property from Semafo Inc. in 2005, and the 43.8-square-kilometer concession holds the Far East gold deposit, which contained an estimated 1.3 million tonnes of indicated resource.