A powerful future
Volvo Penta is a world-leading supplier of engines and complete power systems for marine and industrial applications.
All the company's efforts strive to give its customers the right product, with the right qualities. Volvo Penta is a part of the Volvo Group, a world-leading developer and manufacturer of heavy duty diesel engines. This gives the financial and technical resources needed to constantly pioneer new developments and adapt to market and governmental demands.
Jack Foote, key account business developer for the company comments: "Volvo Penta has been operating in the offshore market for the past nine years. We now deal with most of the major players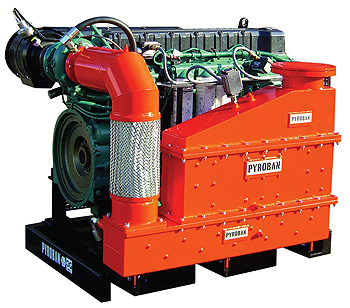 in the oil and gas industry. What differentiates us from our competitors is the fact that we still offer mechanical engines in addition to our range of electronic engines. With the introduction of stricter regulations, many companies are now just producing electronic ranges but we have continued to develop mechanical engines, as they are more attractive to our clients.
"One of our most successful mechanical series' is the D7 engine, which has up to 265 horsepower. These engines are very popular with one of our main clients, Calder Pressure Systems, for use on their high pressure pumping systems. In addition, we are committed to our core values – quality, safety and the environment, and as a result all of our engines are ATEX approved," Jack adds.
Volvo Penta's core values drive the development of new product offerings, but also the way in which the company serves its customers and the community. The quality commitment of Volvo Penta extends beyond industrial craftsmanship and engineering skill to also embrace caring for the clients' needs throughout the lifespan of the product.
Furthermore, environmental care in all operations is an integral part of Volvo Penta's commitment to its customers and end users, employees and the community. Therefore, all functions are certified to ISO 14001. As a supplier of diesel and gasoline engines for marine and industrial use, the business has a responsibility to do its best to reduce the environmental impact from products both while produced and during their useful life. Volvo Penta does this by developing proactive environmental programmes, which cover the whole company, including product development and production, as well as sales and service departments. These programmes give special attention to energy efficiency, emissions, material efficiency, noise and environmental management.
Safety is also extremely important when developing any Volvo product, process or service. This ensures that the company's offering fulfills the highest possible functional and operational standards in whatever context the business operates. For most Volvo Penta engine applications the concept of safety is very much related to reliability. This means engines should not have failures when
cruising at sea and ensures that a standby genset engine starts in an emergency situation. Design considerations to protect the operator is of course another important safety feature.
Jack comments: "It is absolutely vital that our products comply with the latest safety regulations. For example, one piece of legislation we have to adhere to is that the surface temperature on the engines cannot exceed 200 degrees celsius. Through the use of thermal imaging we found that our D12 engine had some hot spots, which exceeded this temperature. To overcome this problem, these engines are now covered with a special protective coating, which prevents the surface temperature from exceeding 200 degrees celsius.
"In addition to this, we are constantly developing our product range to meet new market requirements. With this in mind, we are looking at improving our D12 series to meet and exceed our customers' demands. We also have a new D13 and D16 engine under consideration at the moment," he adds.
With the offshore market growing at a steady rate, new opportunities are arising on a regular basis. Recognising this trend, Volvo Penta is currently developing a specialised division, which will cater for the offshore sector. Jack explains: "In order to get our offshore department up and running, we are currently creating a division in Sweden, which will undertake all the offshore operations. Over the past nine months we have been working with a consultant to assess the offshore market and to identify how we can improve our offering in this area. By the end of 2008 we hope to have completed this development, which will help us to increase our presence in the market."
He concludes: "We believe there will be many opportunities for Volvo Penta in the offshore industry, and this is why we are currently creating this new division. In addition, specifically within the oil and gas sector, we also think there will be continual demand for our type of machinery. Furthermore, we will be looking to increase our presence in a number of areas, including the Middle East, India and Asia. Whilst trying to achieve this, we will continue to remain committed to our core values of quality, safety and the environment."
Volvo Penta Europe
Products Engines and complete power systems for marine and industrial applications