A look into Vroon
Vroon Offshore Services (VOS) forms part of Vroon Group – a Dutch-based shipping company, which has been operating for more than a century. Vroon has been active in the offshore sector since 1964. VOS is an international operator, with a strong geographical presence in Northern Europe, the Mediterranean, North Africa, the Indian Ocean and Asian regions. The company has offices in Aberdeen, Den Helder, Genoa and Singapore. VOS also operates in Mozambique, Malaysia and Thailand, with business activities co-ordinated from the Den Helder and Singapore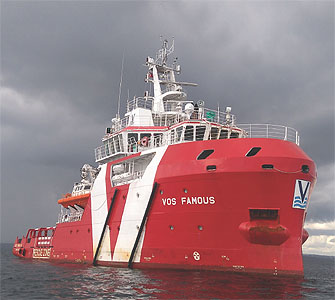 offices.
Energy, Oil & Gas contacted the Aberdeen Managing Director, Craig Harvie, to learn more about the company and its most recent undertakings. "Vroon operates and manages a diverse fleet of approximately 200 vessels worldwide. Half of these operate in the traditional deepsea shipping market, including livestock carriers, bulk carriers, container vessels, car carriers and tankers. The other half of the fleet is employed in the offshore sector, typically in the OSV (offshore-support vessel) market, and consists of platform-supply vessels, anchor handlers, and emergency response and rescue vessels (ERRV). Here in Aberdeen, we principally operate a fleet of 40 ERRVs, supporting the North Sea oil and gas business," Craig explains.
Craig then touches on the need for this type of craft across the industry: "Our vessels are essential for oil companies drilling or producing from platforms. The ERRVs stand by platforms or drilling units while operations are undertaken. They meet the legislatory requirements for oil companies working on the UK Continental Shelf, with the sector having become more mature since the Piper Alpha explosion in 1988. This disaster prompted the introduction of more robust emergency vessels in the oil and gas business."
Added services
The Aberdeen fleet has grown in number over the last ten years, mainly through the introduction of high-spec newbuilding vessels. Craig is not shy of investigating new avenues where these well-equipped vessels can be applied. He elaborates: "We now occupy around a third of the market in the UK. Around 20 of our ERRVs are multifunctional, providing significant added value to our customers. For example, some are cargo-capable, which means they can be involved in certain cargo operations between platforms.
"The investments made, as part of our recently completed newbuild vessel programme, have seen our fleet reinforced with two new purpose-built walk-to-work (W2W) vessels (VOS Start and VOS Stone), a number of PX-121 design platformsupply vessels (PSV), as well as four subsea-support vessels (SSV). We have also invested substantially in equipment and the upgrading of existing vessels, providing our customers with an added-value service offering," Craig expands.
Being proactive in providing more varied services has proven wise business thinking amidst the contraction the oil and gas industry has experienced since the end of 2014. "2017 was a difficult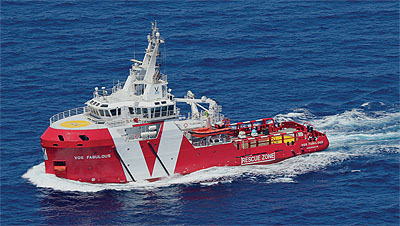 year, as the markets were depressed and rates declined further." Craig, however, refuses to lament these difficulties and expresses his contentment with the way Vroon Offshore Services is handling the harsh business environment: "I think we have navigated these conditions reasonably well and we remain well positioned for the future. There is cautious optimism that an upturn in the market is on the horizon. We have seen an increase in tendering activities since the turn of the year. Our hope is that oil and gas operators will recommence investment in drill campaigns, construction of new facilities and development of offshore assets," Craig observes.
Positive signals
He notes another factor that may ensure the industry's stability in the long term. "I am satisfied that there is investor confidence in the ERRV sector. A competitor was recentlysold to private equity; another competitor is already under private-equity ownership. In total, private equity controls about a third of the sector, which must be a good sign for the future of the business."
Craig believes that the prospects ahead are bright for Vroon Offshore Services, mainly due to the quality of services offered: "Our performance and operations have to be excellent to attract new, and retain existing, clients. We deliver first-class services, with state-of-the-art vessels operated by professional and dedicated crews, supported by highly skilled and reliable teams in our offices." His statement is backed up by the fact that Vroon Offshore Services has secured long-term contracts with some of its most prominent customers. "This clearly reflects our customers' confidence in us and acknowledges our excellent safety and operational performance. It is a crucial part of our strategic vision. Our goal is to remain in the sector in the long run, and securing repeat business from our core clients is helping us to achieve that."
With Brexit due to occur early next year, we sought Craig's opinion on the changes the 'divorce' between Britain and the EU might impose on the industry. "Brexit is a big uncertainty and we are obviously monitoring it closely. One aspect that concerns us is the possibility of restrictions on free movement of people. This would have consequences not just for us, but for the whole UK shipping market," he replies. "Access to capital is another issue, albeit of lesser significance. Our business in Aberdeen operates more or less exclusively in the UK, with no export or import activities. However, I sincerely believe the UK will remain an attractive place for investment.
"The demand for ERRVs remains high. They are vital lifesavers. We are continually looking to optimise our vessels further, so that they can deliver an even wider range of services. We need to make sure we reach out to our customers with this news and this is one of our focus points for 2018. Our goal is to build on our market share and remain the preferred supplier of ERRV services in the North Sea and Irish Sea," Craig concludes, when asked to share the company's plans for the year.
Vroon Offshore Services
Services: Platform supply, emergency response and rescue, anchor handling tug supply, walk to work and subsea support