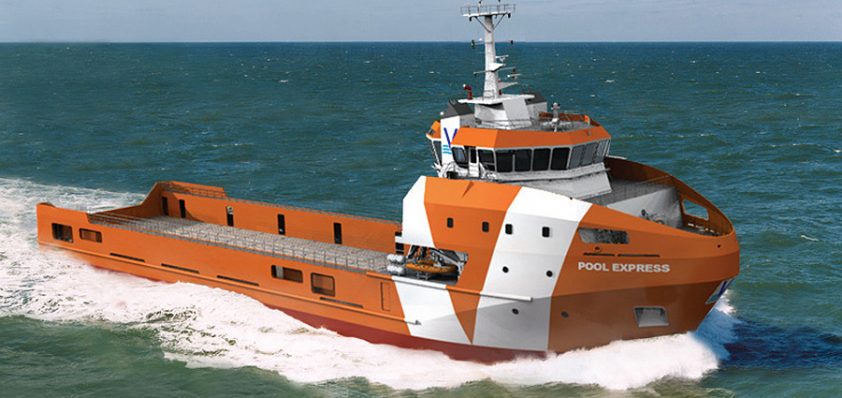 Fleets ahead
Vroon Offshore Services (VOS) B.V. is the leading maritime offshore services supplier on the Dutch continental shelf. The company's focus is primarily on North Sea operations in three main areas: platform supply, safety standby and diving support services.
In addition, the business is specialised in offshore windmill installation projects through its subsidiary Marine Projects International in the UK. A wide range of other offshore services are also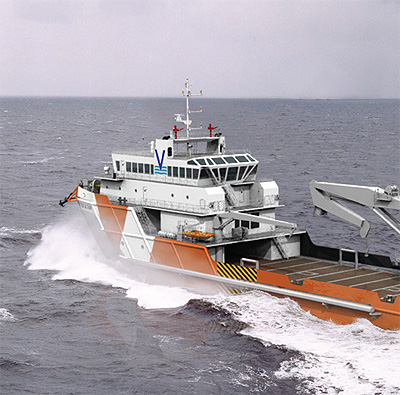 offered on a worldwide basis, including seismic/survey support, cable guard, cable repair/laying, maintenance, scientific support, and rescue and recovery. VOS is based in Den Helder, The Netherlands, where it employs a workforce of 30 with a further 450 offshore employees.
The company has experienced significant growth over the past two and a half years, as Marja Doedens, managing director at VOS explains: "We started out with a fleet of 13 vessels in 2005 in Den Helder and today we have VOS Ltd (former Viking) in Aberdeen and we have also recently developed a new facility in Italy, which has helped to increase our worldwide presence. Currently, we have 58 offshore vessels in operation, and 19 new builds on order."
Marja continues: "This growth has been a result of our focus on quality. We always aim for extremely high standards in everything we do. This includes our services, vessels and our people. We educate our employees to a higher level than is required, as we understand how important our workforce is. We have steady crews, who are dedicated to their work and have extremely high levels of expertise and knowledge. Furthermore, we have excellent levels of communication between employees and clients. As a result of this communication, we have a very respectful, open culture, which helps us to gain the trust of our customers."
One of the main challenges the offshore industry is currently experiencing is its lack of qualified personnel. Marja explains: "This issue is obviously affecting VOS but the whole world is facing this problem so we are not alone. We understand that we have to put extra effort into attracting the right people with the right skills in order to remain successful. In the end, Vroon is a peoples business – they make or brake the company, therefore we are extremely dedicated to keeping and maintaining the workforce we have and in addition trying our best to attract new employees."
She continues: "Quality is another challenge we are currently facing. We have to ensure that we keep a high level of quality across the whole company. Every aspect of the business is like a link in a chain – the strength of the chain depends on how the links are performing. When one link is broken the whole chain breaks down. This is the same as how the business works – everybody and every process has to work to the same high level."
VOS is part of the Vroon Shipping Group. The Vroon family founded the company over a century ago in the Port of Breskens, the Netherlands, and initially it traded in coal, fertilisers and agricultural products. In 1952 the first dry cargo ship was built. From then the company rapidly developed its shipping activities in many different markets.
Today the Vroon Group is a dynamic and ambitious international shipping company, active in a number of specialised and commodity type shipping segments. Vroon operates and manages a diverse fleet of about 80 vessels. The main office is still based in Breskens, but Vroon works with affiliates and partners around the world. The Vroon Group operates vessels that service customers in seven different shippin  markets – reefer vessels, livestock carriers, offshore support vessels, dry cargo ships, container carriers, tankers and car carriers.
The Vroon Group has recently acquired leading emergency response and rescue vessel operator Viking Offshore Services. The acquisition will see Aberdeen-based Viking Offshore renamed Vroon Offshore Services Ltd (VOSL) and become the UK base for VOS. This acquisition will create one of the largest offshore support fleets in Europe. Viking Offshore currently operates a fleet of 31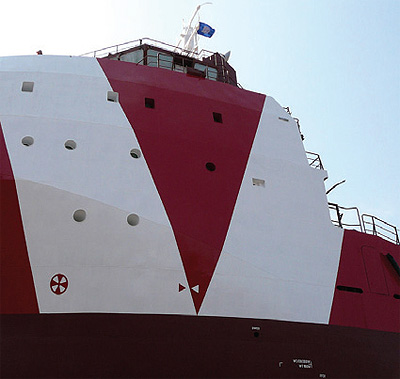 emergency response and rescue vessels in support of the offshore oil and gas industry.
Marja comments: "Viking Offshore has established an excellent reputation for quality service delivery and it represents an ideal fit in terms of our future growth strategy. We have common objectives in terms of safety and customer satisfaction and share a vision of maintaining a pre-eminent role in our sector. We look forward to working together to share best practice and develop new commercial opportunities."
As a result of the acquisition, VOSL has embarked on an ambitious new-build programme, which will see nine new vessels join its fleet. All the new vessels, of similar design, are being constructed at the Astilleros Zamakona shipyard in Spain and are to be delivered in a rolling programme until early 2009. The newbuild programme is also a testimony to VOS's confidence in its long-term growth strategy in the European offshore energy market.
The VOS group as a whole looks to update its fleet on a regular basis. The most recent addition to the company's fleet is the VOS Tracker. This vessel is an emergency rescue and response vessel and is the first in a series of four vessels being built by Damen Shipyards for the Dutch continental shelf, (also qualifies for UK, Danish and Norwegian regulations) which will be operated by VOS.
All four vessels are due to be delivered by the first half of next year. The innovative design of the vessels has been focused on simplicity, functionality and crew comfort. The result is a completely new concept for a 47 metre long and 11 metre wide safety standby vessel. The VOS Tracker will be followed by the VOS Trader in December 2007, and the VOS Trapper and VOS Traveller respectively in February and May 2008. Further to this, another 6 PSV's and 2 DSV's are due to be delivered 2007-2010.
Looking to the future, Marja concludes: "Our main vision is to increase our presence in our home market, the North Sea, and grow further into the Mediterranean, as well venturing into new areas such as the Middle East and the US. We need to be prepared for the future so we can optimise any opportunities, which we may come across. In addition, the increasing importance of wind energy will be a major focus for us over the next few years."
Vroon Offshore Services
Products / Services: Platform supply, safety standby and diving support vessels