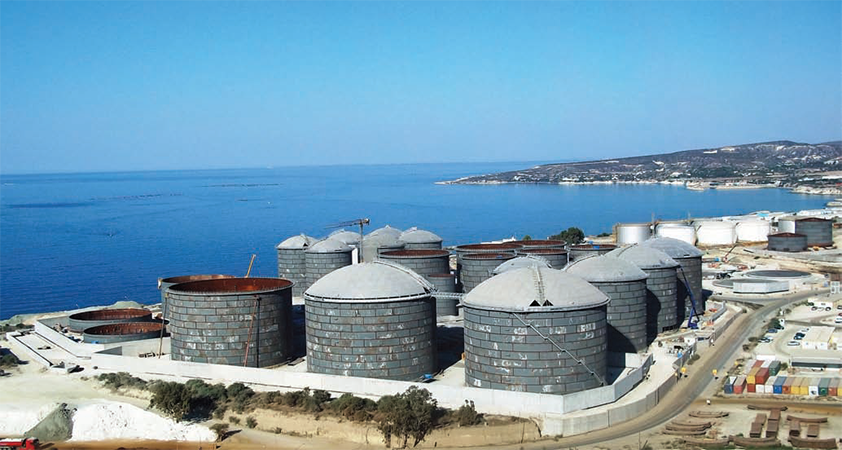 Bold investments
One of the fastest-growing global energy storage businesses, VTTI was founded in 2006 as part of a joint venture between Vitol, one of the largest independent energy traders in the world, and MISC, one of the leading maritime providers of global energy transportation with Petronas being the majority shareholder.
Since its inception the company has been actively pursuing its strategic aim of becoming one of the top world storage companies. With assets strategically located at key storage hubs across the globe, from its 1,100,000 metre cubed ETT in the Port of Rotterdam to its new terminal in Tanjung Bin, Malaysia, the company has ongoing projects as part of its bold investment programme to increase its current 8.5 million metre cubed total capacity with a further 5,438,000 metre cubed total planned capacity.
Operating in eight different time zones, VTTI loads and discharges more than 7500 vessels with approximately 35 million dwt of shipping berthing at its jetties each year. A widespread organisation, it has interests in 14 countries, five continents and has active expansion projects that will increase its capacity by another 50 per cent over the next few years. One way VTTI plans to further expand its global services is through the development of a 300 million Euro terminal project in Cyprus; the island was strategically chosen due to its connection to the vibrant trading areas of Asia, North Africa and South East Europe. Located in the area of Vasilikos, VTT Vasiliko Ltd (VTTV) is a private investment on private land that equals to 1.7 per cent of Cyprus GDP; the terminal will serve as a hub in the Eastern Mediterranean to capture the flows of fuel oil from the Black Sea to the East, middle distillates from the East to the West and gasoline from Europe to the East Mediterranean and the Red Sea.
"Vasilikos is located between Larnaca and Limassol in the South of Cyprus, which is within the zone for heavy industry in Cyprus; it is also located next to the energy centre where the government intends to build an LNG plant in the future," explains George Papanastasiou, managing director at VTTV. "Our parent company VTTI chose Cyprus due to its geographical strength and the number of product flows, for example the fuel oil that is transported from the Black Sea to the East comes in small shipments that need to accumulate somewhere before being taken in bigger shipments to the Asian markets. There is also over production of gasoline and gasoline by-products in North Europe towards the Mediterranean and then there is middle distillates, jet fuel and diesel that are in demand in Northern Europe. Cyprus' inland market is a niche sector but very profitable."
Following a long preparation period, meetings and negotiations, VTTV's contractor J&P Group began the first earthworks project at the terminal's construction site at Vasiliko, Cyprus on 26 March 2012. This advance in progress heralded the start of Phase One of the project, which is due for completion in July 2014 and will deliver 28 tanks and a 1.2 kilometre offshore jetty to serve them. Offering a storage capacity of 543,000 metres cubed, this amount will rise to 858,000 metres cubed on completion of Phase Two in the first Quarter of 2015, with the addition of 12 tanks. "The terminal will be constructed in two phases, with Phase One having access to the deep sea water jetty and storing gasoline, diesel, gasoil, jet fuel and MTBE. Phase Two, meanwhile, will store fuel oil and potentially crude oil on the island, which will mainly be used for accommodating trading activity from the Black Sea to Asia and accumulating stock that comes in via the Suez Canal. Due to the geography of Cyprus and its closeness to the Suez Canal, it makes a lot of sense for companies to pick their product up from our terminal," says George.
"Furthermore, we have access and have been given the license to create a special ship berth at the privately owned small port of Vasilikos that will be used for small ships (below 10,000 dwt) and barges for bunkering purposes. We are building this as part of Phase One of the project," he adds.
The construction of a marine terminal will dramatically increase the 250 trans-shipments per year that take place in the open sea around Cyprus as it will offer a safer and more modern alternative to companies operating in the Eastern Mediterranean. In 2011, 17,800 ships transited the Suez Canal from both directions, 20 per cent of which were carrying petroleum products. Until 2010, the Suezmax, at a maximum of 200,000 dwt, was the largest ship capable of navigating through the Suez Canal before depth was increased to 66 feet. Today over 60 per cent of all tankers can now use the Canal, including vessels at 220,000 dwt in size.
Once in operation, the terminal will offer a wide range of benefits to Cyprus; it can serve as an option for local market requirements and will be an attractive option for the storage of Cyprus' compulsory stocks, as George elaborates: "Local oil companies in the town of Larnaca are required to relocate due to safety reasons, so the government aims to move these companies to where we are building the terminal. Another reason for building the terminal in Cyprus is the island's 90 days' compulsory stocks, some of which are currently held in Cyprus, while other strategic stocks are stored in Greece and Malta. We have plans to extend the terminal further in order to accommodate these stocks and will also look into other opportunities. Why not? We have the expertise." The ability to store its own stocks would save Cyprus more than 17 million Euros per year. Also, if requested, VTTV would allow the nearby energy centre use of its oil terminal's infrastructure, which would save up to 50 million Euros per year for the Republic of Cyprus.
Reaching a safety milestone of 500,000 man-hours without lost-time injury in May 2013, VTTV celebrated this in June and is now close to 700,000 man-hours without lost-time injury. Dedicated to health and safety, the company has invested in impermeable membranes that are in place under the tanks and yard to ensure any oil leaks don't reach the ground or ground water. Recently employed staff will be trained abroad to ensure personnel have a complete understanding of the importance of health, safety and the environment.
Following the completion of Phase One, VTTV will be focusing on meeting and exceeding its customers' expectations while also planning for further expansion, as George concludes: "With the energy centre planning to build an LNG plant, we can shift to building and operating a terminal that can store LNG, why not?" he added. "Ultimately, this terminal will mark Cyprus out as an import and export energy hub, will help it trade in the European market and will boost confidence where confidence was previously lost."
VTT Vasiliko Ltd
Services: Oil storage facility