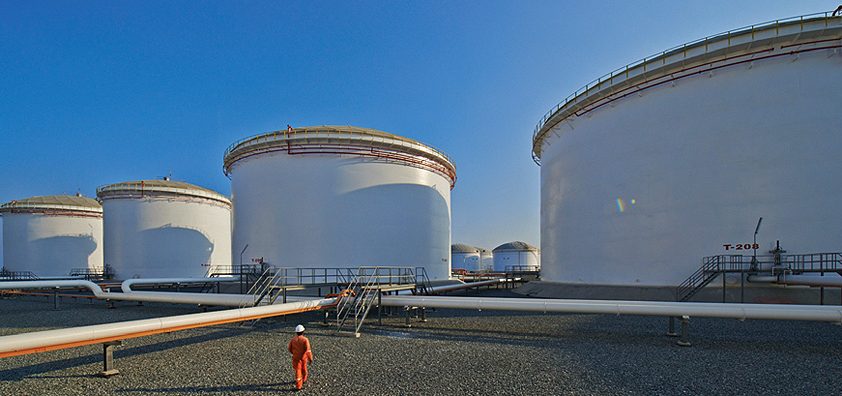 Superior approach
Founded in 2006 by energy and commodities organisation, the Vitol Group, VTTI currently offers eight million cubic metres of combined storage space across five continents, an impressive number that is anticipated to rise to more than ten million as more projects come into play. Today VTTI operates in 11 countries, with terminals in strategic locations such as the Netherlands, Russia, the US, and the UAE, the latter of which being the home of the VTTI Fujairah Terminals Limited.
Located outside the Straits of Hormuz and sitting in the heart of the bunkering market, VTTI Fujairah Terminal is a major Gulf Terminal that already boasts more than 1.6 million cubic metres of storage. Serving as part of VTTI's wider network of terminals, it has grown year-on-year since its formation through significant expansions, the latest of which included a recently
commissioned bespoke crude oil tank farm. This new development took place in response to a contract VTTI won with an international multi-billion euros, energy company in February 2015. The critical expansion project not only involved the construction of a new 430,000 m3 tank farm of heated, black oil class I tanks, but also included the allocation of additional storage from the existing capacity, taking the total contract up to 475,000 m3. Additionally VTTI is to provide operational and logistical resources for on-site processing units and all required connections between the units and the terminal's tankage.
Today the terminal operates a total 52 tanks with sizes ranging from 3800 m3 to 95,000 m3 and is connected to nine jetties with a water depth of 18 metres; this access to highly flexible jetties and deepwater means the asset can accommodate a large range of vessels. The terminal is also connected to the Fujairah Refining Limited (FRL) refinery and serving the refinery, which processes up to 80,000 barrels per day of a different feedstock including heavy crude oil and condensate.
Talking to Energy, Oil & Gas magazine back in July 2015, Siavash Alishahpour, Managing Director of VTTI Fujairah, commented: "The major on-site construction project is proceeding with the same urgency that drove its planning. It is a bespoke project, initiated on behalf of a customer, which was designed and agreed in just five months. Now, construction is moving forward around the clock, safely and efficiently, with the target of commissioning in April 2016."
Speaking with the magazine once again in September 2016, Siavash provides some information on the company's developments since then: "Over the last year, VTTI Fujairah was focused on successfully completing the construction and commissioning of the new expansion project and ensuring a smooth delivery to our client. VTTI is very proud of this bespoke major project, which was not only completed on time, but most importantly safely and efficiently. This project has improved our facility in several ways. For example, we have increased our total storage capacity to more than 1.6 million m3, which has resulted in VTTI Fujairah becoming one of the largest terminals in the region and the biggest terminal in the VTTI Group.
"Furthermore, through this development we have significantly increased the processing capacity at the terminal, improved features and capabilities within the terminal as well as additional lines and connections to the port jetties. We have also diversified our customer base and, with our proven track record of safe, fast and efficient project execution and commissioning, made this project the fastest construction project to date of this magnitude. With this project now completed, and because VTTI Fujairah has such a strategically prime oceanfront adjacent to the Port and directly connected to the port facilities, we are currently in the process of assessing several new projects that would best utilise our unique position and capabilities."
While the demand for storage tanks in Fujairah remains steadily strong both for spot and long-term business thanks to the current oil market conditions, Fujairah looks set to become a fast-growing hub for oil traders. Despite this positive outlook, Siavash believes continuous investment will be key to the terminal remaining competitive over the coming years: "The challenge is being able to constantly adapt to the changing and growing needs of oil traders. We have been successful in investing and upgrading our facility over the year to cater for this demand and are constantly looking for ways to add more value for our customers. In terms of future opportunities, there are new commercial and trading prospects in the region, and the newly built refineries and the refinery projects under execution in our region will help the storage tank terminal business in general and Fujairah in particular."
Within the next 12 months the company will focus on integrating and managing its newly completed project in a smooth and efficient manner while ensuring a high quality service to its customers. VTTI Fujairah maintains the vision of the VTTI Group: to continue to grow and be one of the top terminal operators worldwide while always aiming to be the first in terms of flexibility and customer services. To make this vision a reality, the company is looking at new potential projects as it seeks to capitalise on its unique position and capabilities in Fujairah. VTTI Fujairah's team of extremely experienced and reliable staff will support these plans. "Our main asset is our people," concluded Siavash. "We have a robust facility managed by highly skilled professionals with over 20-25 years experience in the oil and gas industries."
VTTI Fujairah
Services: Bunkering, terminal operations and refining