Increasing capacity
VTTI was founded in 2006 as a result of the need for a dedicated business that could focus purely on owning, operating and managing the various storage assets of the growing Vitol group.
Since its formation the business has grown rapidly, both through greenfield developments and acquisitions, which witnessed its combined capacity expand to six million cubic metres in 2010. After that target was reached the company increased its vision, aiming to expand that capacity again to 8.5 million cubic metres by the end of 2012.
"During 2012 we witnessed a lot of additional capacity come online, and have easily achieved the target of 8.5 million cubic metres," explains Aernout Boot, commercial manager at VTTI. "We commissioned some 900,000 cubic metres of capacity at our ATB terminal in Malaysia, 560,000 cubic metres at ETT in Europort Rotterdam, and finalised construction and took into operation our Mombasa facility in Kenya, Africa, for which we received first oil in February 2013. These have been three major capacity developments for us, and have been a considerable boost in terms of our overall worldwide capacity."
Buoyed by its continued success VTTI is also working on a new project to build a major new crude terminal (Tank Terminal Europoort West, TEW) in the Port of Rotterdam. The project represents a major long-term agreement between the Port of Rotterdam and Shtandart TT BV. "The project is a joint venture between Summa Group (75 per cent) and VTTI (25 per cent) consisting of a separate, independent company with its own dedicated management team," says Aernout. "It operates from offices in Rotterdam and has various project teams that are responsible for all of the permitting, engineering and design issues that arise during the project."
It represents an important link between Rotterdam and Russia, which has enormous oil and gas reserves. It will consist of approximately three million cubic metres of storage facilities for Urals crude oil and oil products that come direct from Russia by ice-class shuttle tankers. Reinforcing the importance of the Port of Rotterdam as a major logistics centre in the international oil trade, it is hoped that the terminal will ultimately act as a hub for Russian oil, with regional and local refineries being able to purchase the Urals crude oil from the terminal.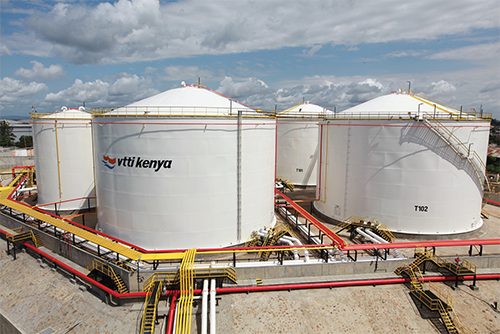 "Russia is a key producer of natural reserves and it will be increasingly important to European supply as indigenous production in the North Sea decreases, so it is a logical step to build this terminal in order to secure future supply," Aernout explains. "At the same time, this goes beyond just the idea of supplying oil into Europe, because the existing infrastructure could, and already can, handle that need. The idea with this particular development is to create an open access hub in which buyers and sellers can trade with one another openly to develop a new benchmark for crude pricing in euros. The idea of a future crude marketplace is the key driver for this project and the infrastructure that we are building will be a facilitator to achieving that."
Aernout's consideration of the potential market in the future gives an indication of how VTTI has continued to be successful. The business continuously keeps an eye on the market in order to predict certain trends or to preempt demand for terminals or storage. "It is partly about predicting flows and partly about looking at existing supply lines and anticipating bottlenecks or where we can add tanks or infrastructure to avoid any issues. This becomes more important depending on the region. For example, in the Mediterranean its very important for us to consider because we are not really predicting any new flows there, but rather looking at ways in which we can enable the existing flows to be handled in a more efficient way.
"At the same time we try to keep a very close eye on the developments within the global refining industry, where we are seeing a trend at present for moving away from lots of niche, small refineries to a smaller number of large, ultra-efficient refineries that are clustered in certain areas of the world. This of course has a bearing on where the oil is being shipped to and from, which means that terminals are set to play an increasingly important role in the future of the supply chain as a result of that."
Looking to the coming years, Aernout considers the changing supply patterns to be an important market concern, but overall he believes that the market looks favorable for VTTI. "Its fair to say that 2012 was a very good year for VTTI and we remain in the fortunate position of having a number of strong long-term contracts in place, which means that we are not exposed to the short-term changes in the market. While we have been fortunate to have our expansion covered by long-term contracts I don't think we should be hiding from the fact that there is a general lowering of activity across the global market in general, which can certainly effect the way that operators consider using terminal space, but we just have to overcome this by staying focused on our performance and efficiency.
"Looking ahead, I think that the change in supply patterns due to the refinery closures will be something we need to be aware of, as well as the trend for using bigger vessels and transporting bigger cargoes in single journeys, which will be a key consideration for us when looking at new locations or developing our existing infrastructure. We're also aware of the increasing demand for fast turnaround times, so the ability to handle oil in a quick and efficient manner through lots of berths, large pumping capacity and efficient processes.
"It's a trend that is growing, and that we at VTTI want to be at the forefront of into the future. If you look at the way we design our terminals, whether it is our larger facilities or our smaller ones in places like Africa, it is always geared towards quick turnaround times for vessels and the ability to flexibly blend the grades coming into the facility so the client can switch from one grade to another easily and effectively. We're driven by providing the best service to our clients and it is important that we never lose sight of that, otherwise as a terminal you are not moving in the right direction," he concludes.
VTTI
Services: Oil terminal operator