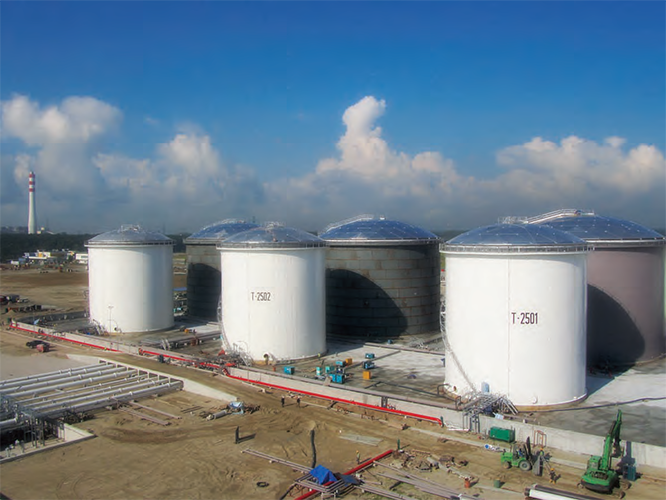 Capacity to serve
Founded in 2006, VTTI has grown to become one of the world's leading independent oil storage companies with a current storage capacity of 8.7 million cubic metres across 11 countries in five continents. The company was established by Vitol Group, one of the world's largest energy and commodity companies with $270 billion in revenues and entered into a co-ownership with leading maritime conglomerate MISC Berhad from Malaysia in 2010. Having grown through a combination of organically building stateof- the-art terminals on greenfield sites, and acquiring existing businesses to complement the company's services, VTTI remains committed to continuing this rapid expansion. With the goal to achieving a total capacity of ten million cubic metres by 2016, the company is currently undergoing a worldwide expansion.
Part of this expansion is the ongoing works to two of the company's largest Netherlands based terminals: ETA in Amsterdam and ETT in Rotterdam. With both continually expanding to increase capacity ETT currently provides 1.1 million cubic metres of capacity across 28 tanks and 14 jetties. ETA adds a further 1.3 million cubic metres of capacity across 211 tanks and 11 jetties. As part of the company's presence in the Netherlands, VTTI is also considering to build the Rotan pipeline between Europe's two largest ports in Rotterdam and Antwerp. At 120 km long and demonstrating state-of-the-art safety features and technically advanced engineering, the pipeline will be of major economic benefit, not only for VTTI, but also for the region in general.
A second major expansion project is currently underway in the company's ATB Malaysia terminal located next to Asia's largest energy hub in Singapore. Initially opening in 2012, the terminal provides 893,000 cubic metres of capacity across five jetties and is able to take all sizes of vessels from small barges to partly laden VLCC ships of 320,000 DWT. Amongst others the terminal handles gasoline, jet fuel, gasoil, and fuel oil. The terminal is currently coming towards the end of its phase two expansion project, an $87 million programme to add a further 260,000 cubic metres and one extra jetty to the commercially important site. As of May 2015 the project had demanded over a million man-hours of work and looks set for completion by the beginning of August 2015. The company's newest site in Cyprus, which opened in November 2014, is currently evaluating a similar phase two programme to extend its capacity from 544,000 cubic metres to 849,000 cubic metres.
Becoming one of the leaders in the independent oil storage industry is not achieved solely through building and acquiring large quantities of storage capacity, and VTTI remains keenly aware of this as it keeps to a set of values that ensure quality service is delivered. In an industry that requires fast turnaround times to keep up with changing demands and opportunities throughout the world, the company has to ensure reliable jetty access, fast flow rates, polished turnarounds, reliable infrastructure and excellent hinterland connections. Part of the company's expansion strategy therefore is also to ensure every terminal is upgraded to respond to such a demanding supply chain. Despite covering nine time zones as a collective company, each terminal also offers a 24/7/365 service. Accompanying this level of service is a commitment to providing solutions. Not only is VTTI focused on geographical and capacity expansion but also of its product services. For instance, as world demand for LPG is rising, so too is VTTI's ability to store it. It also sees an opportunity within the aromatic industry to offer services for the three key 'BTX' chemicals of benzene, toluene and xylene.
Complementing this commitment to service and response to customer demands is an exemplary approach to health and safety. 'HSE Excellence: the single most important aim we have,' reads VTTI's statement. With a number of policies in place, which includes constantly measuring safety performance, investing into infrastructure to reduce potential risks and continuous training and support, the company aims to prevent all accidents across its sites. In fact, the company's 218,000 cubic metre capacity Vitco terminal in Argentina recently reported zero accidents over the past four years, serving to illustrate the effectiveness of its robust health and safety management.
One particular example of the company's focus on even the small but effective safety issues is the holding of Glove Day for the VTTI team at its Virgin Islands project, IPSOS. Standard gloves were found to be ineffectual and offering ineffective protection to the kinds of work exposed to them, so a new glove was developed and delivered to the team. The new gloves not only provide high impact protection on the backs, but are also stitched with Kevlar in the palms to provide resilience against punctures and cuts.
With two world-leading companies behind it, VTTI is well placed to continue its expansionand maintain its position as a world leading oil storage company. However, this effective expansion strategy across the world is supported by a strong, ethical commitment to both its people and the customers it serves. Not only does the wellbeing of its own people feature heavily in the company's strategy, but also the ability to effectively serve an ever changing and highly demanding global industry is key to VTTI responding well to customers' needs and to securing a successful future.
VTTI
Services: Oil storage
Issue 122 July 2015