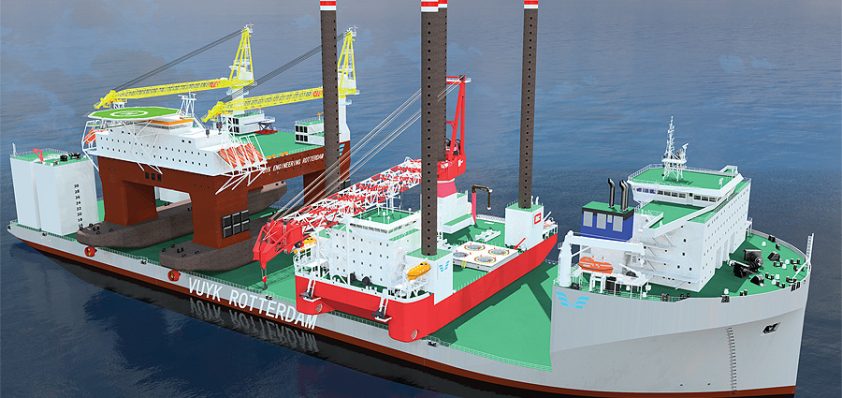 Vuyk Engineering Rotterdam B.V.
Design to function
Vuyk Engineering Rotterdam B.V. has a rich heritage dating back to the construction of the Adrianus Vuyk yard along the Hollandsche IJssel River during 1872. Throughout its 143- year history, Vuyk experienced significant change. Starting out as a 30-man boat-building workshop focusing on the building of small wooden inland transporters, it soon expanded to a true yard for the manufacture of steel vessels and later seagoing ships. Following a turbulent period throughout the entire shipbuilding sector, in 1979, the decision was taken to cease all shipbuilding activities after building almost 900 vessels.
Embodying a spirit of tenacity and know-how combined with experience in cost calculation in the Vuyk Shipyards, a few ambitious former employees founded a new company called Vuyk Engineering and Trading. Vuyk soon established a reputation as an expert market player, capable of delivering a wide range of services within the fields of ship design and marine engineering in particular to the dredging industry.


Over the years the company has continued to grow through several stages of development. During 1995 Vuyk Engineering joined the Central Industry Group (CIG) and was renamed Vuyk Engineering Centre (VEC). By 1996 the company relocated from the former office of the yard to its current headquarters in Capelle a/d IJssel and changed its name to Vuyk Engineering Rotterdam B.V. in response to ongoing globalisation of the engineering activities of CIG. In 2002, Vuyk broadened its activities by adding marine operations engineering to its portfolio. In 2008 CIG sold the shares of Vuyk to its present owners, Royal IHC.
Today Vuyk Engineering Rotterdam continues to operate as a leading international engineering company serving the maritime industry. It provides consultancy and engineering services in the fields of ship and equipment design and marine operations. The company is highly specialised in work vessels for the dredging and offshore industries, as well as heavy transport and lift vessels. Aside from the design of new vessels or modifications and conversions, Vuyk also has broad experience in marine operations through delivering engineering solutions for installation and abandonment operations, transports, loadouts and heavy lift up to salvage assistance.
Vuyk Engineering Rotterdam is committed to creativity and the ability to understand and translate its client's wishes into a solid, functional design. It is able to support dredging and offshore contractors, ship owners and shipyards in the development of innovative newbuilds, conversions or specialised equipment. While incorporating all of the customer's requirements, the company is also keen on designing vessels that meet all of the relevant international maritime regulations. The functionality of the finished vessel is maintained throughout the design process, from the general arrangement plan through to the basic design drawings for class approval.
Indeed, from the concept development stage through to basic design and engineering, the company is able to provide a solution that is designed to meet its client's needs. Its motivated and skilled team of 55 professional designers, engineers and draughtsmen have an average of 15 years of industry experience and delivers high quality work through the implementation of ISO 9001:2015 certified procedures and work instructions.
"We are all passionate technical people," exclaims Commercial Manager, Kuno van den Berg. "For example, while I am currently employed as the company's Commercial Manager I cannot hide my background and passion as being a naval architect, specialised in hydrodynamics and marine operations. As a company we like to work with puzzles if you will, we do not simply deliver an off-the shelf product. As a business we live to find innovative solutions to problems and create new designs and we are also keen to put these designs into practice. Therefore we often work in close co-operation with our clients to create something unique to their specific needs."
By combining its in-depth industry knowledge, engineering know-how and long history of experience, Vuyk Engineering Rotterdam has delivered bespoke engineering designs across a spectrum of industry sectors. By working in close co-operation with both COSCO Heavy Transport and Guangzhou Shipyard International (GSI) for example, Vuyk introduced the concept and basic design for one of the world's highest capacity submersible heavy transport vessels. The construction of this vessel started in 2015 at GSI and once complete will have a 90,000 tonnes carrying capacity. The finished vessel will be owned by COSCO.
Also currently under construction is the Rambiz 4000 crane vessel for Scaldis Salvage and Marine contractors. In close co-operation with the customer, Vuyk made the concept and basic design for both the vessel and cranes based on direct analysis of the dynamic loads on the cranes. The vessel can be used for any type of offshore heavy lifting operation, such as the installation or removal of oil and gas platforms, installation of renewable foundations and topsides, or for bridge construction. After tendering, the owner contracted the building of this vessel to Royal IHC.
For oil and gas platform assistance, Vuyk created a concept of a semi-submersible accommodation vessel. The DP3 platform has an accommodation for 400 persons on board and two cranes of 300 tonnes capacity. To check the safety of the design in terms of stability and safety requirements, the concept has already been reviewed by Class and was found to be fully compliant with the latest regulations. With this concept, Vuyk has developed a versatile platform support vessel to be utilised at any location in the world.
During 2008, Vuyk developed a concept of a DP2, modular offshore installation vessel suitable for both the oil and gas and renewables markets. The original concept is fitted with two 1500 tonne cranes at the stern and the vessel can be further fitted with a wide range of equipment. For multipurpose use, the vessel is able to submerge to reduce cost, as mobilisation can be combined with heavy transport projects. The standard accommodation is suitable for 50 persons, including ship's crew. In most cases this is not sufficient for working with oil and gas modular equipment, so to expand the accommodation capacity, the vessel can be fitted with a modular accommodation unit for 100 persons. This unit is self-floating so it can be floated on the submerged vessel. Positioned directly aft of the forecastle, a large deck remains for fitting equipment and storage of pipes/product.
In recent years, Vuyk investigated the possibility to utilise this vessel for offshore wind turbine installation showing that the vessel could also serve for installation of both offshore wind turbine jackets as well as turbines. Since 2002 Vuyk has been highly active in the offshore renewable sector. The works started with marine operations engineering in the form of preparation of installation projects for offshore wind turbines. Vuyk is capable of performing the complete project engineering package from deck layouts and lifting arrangements to motion analyses, mooring analyses and supports and seafastening design.
From this operational experience, Vuyk has developed a patented blade installation tool. Through coupling of the tool to the crane boom, the blade installation of offshore wind turbines becomes highly controlled and therefore allows installation in higher wind speeds. Through the combination of its experience in naval architecture, mechanical engineering and marine operations, Vuyk, together with its colleagues of its mother company Royal IHC, created a custom-designed heavy lift jackup. The design was made in close co-operation with stakeholders in the growing Asian offshore wind market including project developers, naval architects, ship builders and class society. Vuyk assisted in the conversion of the HAM602 from stone dumping vessel to cable layer. Vuyk designed the complete reel lay equipment, which was successfully deployed by the owner and contractor Van Oord. Vuyk also performed cable lay analysis to support their projects.
"We are already highly active within the renewable sector, but the renewable market will keep growing, in especially offshore wind," Kuno says. "Inside Europe the sector is well established and further regions are starting up in Asia, the US, Japan for example. We certainly see this is a growing market in which our focus will be on cutting costs and continuing to innovate. As a company Vuyk is less involved in oil and gas production but more in offshore construction through the design of installation vessels and the like, so I expect our contribution will progress in that field."
As Vuyk Engineering looks to the New Year for 2016 and beyond, it will continue to rely on its technical excellence and innovative designs to serve demanding clients old and new, across a spectrum of applications. "One of our main strengths is that we design ships, equipment and perform marine operations engineering in-house. There are more companies that can provide one or two of these services, but not all three. This means that we are able to create integrated designs when developing a new vessel," Kuno concludes. "Our slogan is 'design to function', which in three words demonstrates how we combine design with operational engineering. Currently, oil and gas as well as renewables companies are looking for new vessels and equipment focusing on reducing costs and high flexibility. With our combination of expertises and focus on close co-operation with our clients to create a design suitable to their specific needs, I think Vuyk can be an ideal partner."
Vuyk Engineering Rotterdam B.V.
Services: Maritime consultancy and design