In demand
MPP Systems were first installed by Dutch firm AkzoNobel in 1994. Macro Porous Polymers (MPP) were originally developed as a highly promising, innovative product for medical applications in the 1970's.
However, when the company couldn't find a use for macro porous polymer, the product was shelved until 20 years later when AkzoNobel's research department filed an application for utilising MPP to remove hydrocarbons from water in the Macro Porous Polymer Extraction (MPPE) process. This MPPE process is based on liquid-liquid extraction (E). Following a pilot test and enhancements of the materials, the improved product came out onto the market; after a decade of further system developments, AkzoNobel evaluated its portfolio in 2005 and made the strategic decision to sell this part of the business to Veolia Water Solutions & Technologies (VWS) in December 2006.
Following the acquisition by Veolia, the largest water treatment firm in the world, the company has witnessed ongoing growth and increased demand in a diverse range of markets, as managing director of VWS MPP Systems B.V. Erik Middelhoek highlights: "I think we are a perfect fit with this company, an opinion that has been proven since 2006 with our increased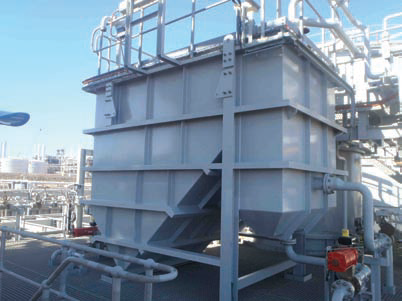 market share and increased amount of business activity. We are still operating the same way, selling MPPE systems to remove hydrocarbons that have dissolved and dispersed from water to lots of markets, but oil and gas is certainly one of the most important industries for us. In addition to MPPE we also sell TIPSS (Tilted Plate Separation Systems), which use plate sets to increase the separation surface of contaminants. This is an interesting market that we have expanded over the last few years."
Previously featured in European Oil & Gas magazine in January 2014, the globally operating subsidiary has continued to witness demand for its MPP technology for extraction (MPPE) purposes. A highly effective, wholly automated, remote controlled method for the removal of dissolved and dispersed hydrocarbons from water, MPPE technology's extremely high efficiency rate guarantees customer satisfaction, as Erik discussed: "It doesn't matter where that water comes from, whether it is ground water, wastewater or produced water from oil and gas; we can reduce hydrocarbon levels down by 99.9999 per cent if required, which is beneficial to oil and gas companies who have to meet stringent legislation. They are looking for proven technologies that can remove dispersed but also dissolved hydrocarbons at these separation levels. MPPE is the clear solution for these challenges. It is robust, low in maintenance and is one of the best available options suitable for this market."
Listed by OSPAR as Best Available Technology and selected as the best option among 55 technologies in a Government and Oil & Gas industry study, MPPE systems have been gaining the attention of oil and gas companies and governments looking to remove toxic hydrocarbons and meet legislation focusing on Zero Harmful Discharge (ZHD). Not only does MPPE reduce the Environmental Impact Factor (EIF) of offshore produced water by up to 95-99 per cent, it can remove dissolved and dispersed toxic hydrocarbons such as aliphatics, aromatic hydrocarbons, polyaromatic hydrocarbons and NPD virtually pure for reuse.
Aware that today's market operators require equipment to be not only be adaptable to changing projects, but also last between 25 to 40 years, VWS MPP Systems has worked hard to successfully meet these demands in the most critical areas in the North East Atlantic such as the Norwegian and Dutch shelves. More recently, it has focused attention on Australia, as a large amount of gas fields are in the process of being discovered and developed, as Erik highlights: "With ten years of experience supplying to the oil & gas industry, we are able to meet the different requirements and specifications of the major players in this industry around the world. We can handle this level of demand for quality and flexibility because we don't just offer a standard system to the client."
Having provided Shell with a MPPE unit for the first floating LNG plant in the world, VWS MPP Systems B.V. is currently working on the manufacture of an MPPE unit for Japanese company Inpex's Ichthys LNG project; as the largest discovery of hydrocarbon liquids in Australia in 40 years, Inpex Ichthys will cement Australia's place as the world's first or second LNG exporting country by 2020, while MPPE will help ensure it achieves the most stringent environmental conditions ever set. "This is an incredible project, by both size and difficulty, and is also the first major oil & gas construction project for Inpex," explains Erik. "We are supplying MPPE on the company's FPSO and also supplying a TIPSS installation for its onshore application in Australia. This is the second time we have been able to provide both systems to one client; the first time being the Woodside Pluto project in Australia."
Looking ahead, the company will continue to enhance its products to meet the needs of new and evolving markets, as Erik concludes: "We are of course looking into potentially interesting markets additional to oil and gas like lower flow wastewater streams (pharma etc.) that can be entered by our new micro MPPE unit concept. Next to the removal of hydrocarbons, we see possibilities to get involved in the removal of heavy metals from water or even using our MPP based materials in the cleaning and purification of hydrocarbons in gas streams. There will be quite a few interesting projects coming up over the next two to five years, I think there is a good place in the market for MPP based products and TIPSS."
VWS MPP Systems B.V.
Services: Waste water treatment, specialising in Macro Porous Polymer Extraction (MPPE)