Sole supplier
Operating predominantly within the oil and gas industry, MPP Systems is renowned around the world for its specialist treatment systems designed to remove dissolved and dispersed hydrocarbons from water. The company was first founded in the 1990s under the Dutch AkzoNobel chemicals group, and was later bought by global water treatment specialist Veolia in 2006.
"It was one of the best moves we could have made as a company," says Erik Middelhoek, the Managing Director. "AkzoNobel had become a chemicals company, not so focused on neither water
treatment systems nor the oil and gas industry. Veolia on the other hand is the world's largest water business, present in almost all countries and working with most oil and gas companies. This made it a perfect fit for MPP. It means we are able to work closely with the rest of the group as we develop and can offer a complete and wide range of technologies when solving our clients' problems."
Product-wise MPP Systems splits into two channels: MPPE (Macro Porous Polymer Extraction) technology and TiPSS (Tilted Plate Separation Systems) technology. MPPE is one of the proven technologies in the world capable of removing dissolved and dispersed hydrocarbons, used to treat gas-produced water and clean up harmful discharges. TiPSS technology is used widely in numerous industries such as oil and gas, food, textile, automotive, steel and groundwater remediation to separate contaminants based on particle size and density differences.
Energy, Oil & Gas last spoke with Erik back in March 2015 and a year on he is happy to report another busy year. "We have been primarily focused on developing the Inpex Ichthys project, which is the most complex and technically demanding challenge we've ever faced as a company," he says. "The level of specification is extremely high and the materials required are very difficult to purchase so with everyone on the project trying to buy them the market has become stressed. Therefore, it has been a struggle for our suppliers, and it has been a struggle for us understanding the exact specifications and ensuring we can deliver on them in time."
INPEX's Ichthys LNG project off the west coast of Australia is one of the largest hydrocarbon liquid discoveries in the region in 40 years, and its construction is currently ranked amongst the most significant oil and gas projects in the world. MPP Systems was awarded the contract by DSME shipbuilders to supply a MPPE unit to a brand new FPSO vessel, and with such high standards to meet the company has been able to demonstrate its leading operational expertise in developing and delivering such a complex system. "A number of changes were made throughout the project, many more than usual," Erik continues. "For instance, the total number of on/off valves and instruments in the module has doubled since the initial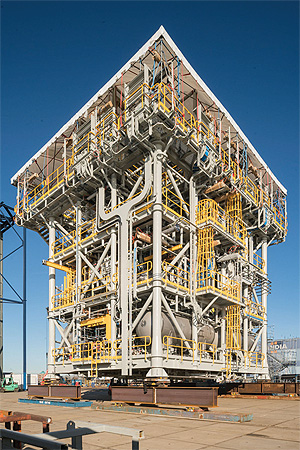 instruction, but this still had to be designed into the same footprint. We contracted the final construction of the module to Hollandia Offshore in the Netherlands who only had a 12-month window (March 2015 to March 2016) to complete it, so that was another challenge.
"The unit has now been built and is currently on its way to Korea to be installed but I don't think we would have managed it without the close co-operation between us, Veolia, INPEX, DSME and Hollandia. In total it has involved about 30,000 man hours from Veolia for the fabrication and an additional 200,000 from Hollandia to build the module."
Ichthys is a hugely important project for MPP Systems, especially amidst the internationally challenging oil and gas market. However, despite the pressures, Erik is confident that the gas industry will eventually pick itself back up and activity surrounding future projects in Mozambique and the Leviathan project in Israel is positive. Critical for MPP, is its unique position as one of the only solutions in the global market to meet the stringent zero discharge legislation that is being steadily applied to key markets around the world. Erik highlights that legislation is the company's biggest opportunity and is an area where it is looking to capitalise with future developments.
"In the background we are working on a similar technology to remove other components from hydrocarbons such as heavy metals," he explains. "Metals like mercury are almost always present in gas produced water and feature highly on environmental concerns for discharged water. However, there is currently no solution to remove these and we are trying to change this. Crucially, if we can develop a viable solution then legislation can follow and it will open up a big opportunity for us."
MPP Systems is a highly unique company demonstrating the opportunities that can result from offering a quality and proven technology that is unrivalled in performance and availability. Maintaining this position through continued development and market expansion therefore is a key part of its vision as it looks ahead. Erik talks positively about pushing its technology into new markets such as gas storage and tank cleaning, and even diversifying beyond oil and gas into groundwater remediation and other markets where water treatment is equally as important. Ultimately, as environmental legislation continues to put pressure on gas operators around the world, MPP Systems is perfectly positioned to provide the best solution.
VWS MPP Systems B.V.
Services: Specialist manufacturer of wastewater treatment systems for oil and gas applications