Making a splash
As a leading specialist in the water treatment sector, VWS Westgarth supports its customers with innovative technologies and sustainable development solutions
As a subsidiary of the Veolia group, VWS Westgarth (Westgarth) is known for its advanced and innovative design and build work across the water sector. Drawing on decades of industry experience, the company is able provide customers with cutting-edge drinking and wastewater treatment plants, as well as a range of smaller, more standardized water treatment products. Now, Westgarth has an established global presence, and plans for major expansion into the sustainable energy space.
Built on a long history of innovation, Westgarth has worked hard to become an industry leader. The company's history began in Glasgow, as an important part of the Weir engineering group. As David Lothian, Head of Upstream Services, details: "Building upon the Weir Group's depth of engineering ability, Westgarth started out by designing and building desalination plants. After a few years, it moved into offshore territories, providing the first commercial installation of sulphate reduction membrane technology on the then AGIP Tiffany platform. It has since gone on to become one of the world's largest suppliers and operators of sulphate reduction membrane systems.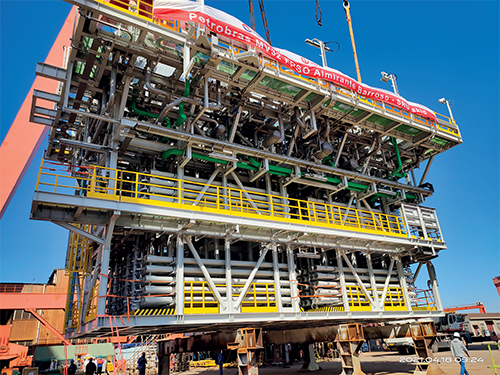 "The Westgarth division was purchased along with other business units by Veolia Water Technologies (Veolia) in July 2005. VWS Westgarth Ltd, as an integral part of Veolia Water Technologies, is able to utilize the specialist research, development and process abilities of the world's largest water treatment company."
Since becoming a part of Veolia, Westgarth has developed market-leading design and build capabilities. The company's advanced understanding of the water sector's most innovative technology has helped it continue to prosper, as David discusses: "The Design and Build (D&B) segment of our business is unparalleled by anyone in the industry. With over 40 percent of the overall market share, our product range covers both seawater and produced water treatment.
"We have a range of service solutions, which differentiate us from other companies in the water sector; our systems are bespoke, and our extensive, experience-based knowledge is fed back into the D&B designs and processes to ensure we are always offering customers the most cost effective and efficient service possible."
With the support of Veolia, Westgarth is able to offer research and development (R&D) services alongside its advanced design and build capabilities. "Veolia is a large corporation, and we are able to use our partnership with them to leverage internal expertise on a global scale. Through Veolia, we have access to a diverse portfolio of R&D initiatives. The company continually drives for innovation, especially in technology and service provisions.
"Whilst we operate in our own industrial segment, we have a lot of synergies with other divisions in Veolia, which reduces R&D costs, and provides us with valuable input on and to our business unit strategies. This support works to elevate both our technology and our service," asserts David.
Having such an impressive variety of capabilities means that Westgarth is able to offer a diverse range of support services to its clients. As David reveals: "We offer a vast range of service solutions for through-life support. Our services include onshore and remote data monitoring with technical support (Hubgrade), offshore field service representative support, water treatment chemicals through Hydrex, spare part and Veolia consumables for operational support, and engineering upgrades for brownfield applications.
"We also have a range of more advanced services, including bespoke training services, accessed through our eLearning platform on Hubgrade, offshore environmental services, such as hazardous waste removal, and general start-up support."
The company also works with a variety of advanced engineering applications, which means that it is continually designing and creating bespoke solutions for its clients. "Almost every project that we work on is made to order, due to the range of variables that we work with in our industry.
"Our work needs to account for vessel or platform designs, as well as the capacity of water treatment and footprint dimensions, which vary every time. Standardization, then, is quite difficult for us. We do, however, pride ourselves on the fact that these projects are ever-increasing in terms of capacity and output. Customers are driving high-availability designs, so the challenges posed by our work are becoming more demanding. The technology is ever-evolving, and as we make strides toward standardization, we have to maintain focus," David comments.
Staying focused on industry trends helps keep Westgarth nimble, flexible and efficient. The company is known for its ability to prevent issues through early detection, as David affirms: "The proactive approach pays dividends for our customers. Using our Hubgrade event detection program, we can capture potential membrane and operational issues early and ensure maximum efficiency on all of our systems. In addition to this, we categorize downtime causes, to capture any data pattern or problems that might come up, so that corrective action and preventative measures can be implemented."
The effectiveness of Westgarth's technology has helped it break into the global water market. Maintaining its influence means making strategic movements into new territories, as David explains: "The global market for sulphate removal technology has always been concentrated in certain offshore clusters. In the past, this has centered around Brazil and West Africa, due to the specific reservoir requirements of these regions. However, more recently we have seen success in Guyana, which has become a regional hotspot for sulphate removal technology. We expect to see major growth in this area in the coming years, and we are responding to this insight by accelerating our development plans, and establishing a strong local presence."
This forward-thinking strategy also applies to Westgarth's research and development efforts, which have recently been focused on the renewable energy market. "We already provide a full EPC service to our clients for offshore water process technology, and as hydrogen has a water requirement, it has become the natural space for us to grow into as part of the energy transition.
"However, our capabilities as an integrator of offshore technology does not limit us to water components alone. We are well-positioned to support a range of offshore power projects across the energy transition landscape. Our ambition is for the Westgarth name to one day be as synonymous with hydrogen as it is now with water.
"With our business being technology and services focused, this augmented approach will provide the new energy sector with a full turnkey solution, as our designs can provide remote operational services to a variety of autonomous sites," states David.
As it continues to be a forerunner of water solution technology, VWS Westgarth is making big plans for the future. As David concludes: "In 2022 we are looking at driving ecological transformation from a service sector standpoint, with the support of Veolia. We specifically define our transformation as a voluntary act, requiring determination and will. It is a promise of action and a commitment to change from Veolia and Westgarth.
"Our goal for the rest of this year is to make an impact in the energy sector by providing services and solutions that bring ecological value. This includes reducing plastic waste, driving operational efficiencies for lower carbon emissions, innovating new digital services in order to achieve reduced POB, and increased runtime of consumable parts.
"2022 will be a strong year for the business, especially in terms of D&B technology, sales and services. All of this is positive progress, however we also need to look at transforming the energy sector, per our Veolia purpose. This is something we are going to be very focused on, now and in the coming years."
VWS Westgarth
www.vwswestgarth.com
Services: Design and build services for water treatment plants