Ingrained in the membrane
A subsidiary of Veolia Water Technologies, VWS Westgarth is the world's leading supplier of sulfate reduction membrane systems. The company has an impressive understanding of offshore water treatment processes and specializes in the design, build, and operation of treatment plants for seawater injection, and produced water treatment and water injection.
By dividing its products into two key segments, VWS Westgarth encourages a clear focus on the 'Design & Build' and 'Service Solutions' elements of the business. Design and Build refers to VWS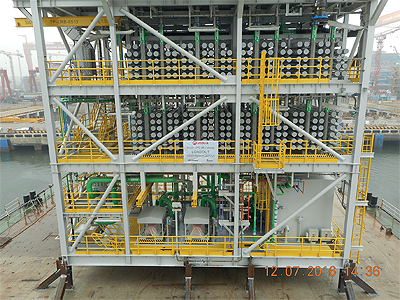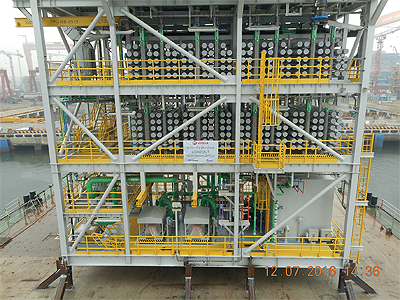 Westgarth's capabilities as a turnkey designer and builder of water treatment plants for the upstream oil and gas markets. Service Solutions, on the other hand, comprises the company's wide range of programs and applications developed to provide the technical, engineering, and practical assistance required by the client to maximize plant availability, efficiency, and longevity, while reducing operating costs. Solutions in this area include the provision of Offshore Field Service Representatives (FSR's) for operational support, the company's own Water Treatment Chemicals line (HydrexTM), bespoke training including access via eLearning on the company's AquavistaTM platform, which also provides real time onshore data monitoring.
In order to best serve the demands of an unpredictable industry, VWS Westgarth's Service Solution's approach relies on creating a partnership with clients, rather than operating in a more traditional contractors role. A central tenet of the company's support service philosophy is proactivity, a trait that the firm's Head of Upstream Services, David Lothian, believes has transformed the company into a leader in its field.
"VWS Westgarth has gone from supplying the first commercial application of the sulfate removal process on the Agip Tiffany project in 1992, to leading this specialist industry both in terms of product innovation and in project references. Our involvement continues after the supply of the process package, with the provision of tailor-made system support packages, or service solutions. The ability to support this type of water injection system specialism is, in the main, unique to VWS Westgarth and is recognized by our client list, where we operate with multiple IOC (International Oil Companies) and FPSO lease operators."
Digital technology
With ongoing operations in offshore regions across the world, VWS Westgarth is now a supplier to more than 40 per cent of its specialist market. As of August 2020, the company operates sites based in Gloucester, England; Rio de Janeiro, Brazil; Luanda, Angola; and a head office in East Kilbride, Scotland. The firm also benefits from four state-of-the-art business centers.
"Having offices based in such varied locations across the world allows us to cover all local content requirements," David says. "We also have membrane cleaning facilities in both Angola and Brazil, which also facilitates customer training and training of our own personnel. Our skill sets are transferable from region to region and the use of digital data monitoring and strict KPI led operations of these permits this transfer of these resources. In terms of regional operational differences, it's mainly the different commercial and statutory legal variances associated with these regions, that create the additional steps to be considered."
Over the last half decade, VWS Westgarth has directed the bulk of its efforts towards product innovation. Whilst the firm operates its own digital platform, AquavistaTM, which is linked to OSIsoft PI, VWS Westgarth is continually gaining knowledge through experience and wider Veolia Research and Development efforts that feed into greater technological evolution. One significant area of development at present is Predictive Analytics to help improve the operational performance of membranes used in the water treatment process. VWS Westgarth is also deploying augmented reality query support, which reduces the need for people on board (POB) offshore.
"Due to reduced numbers of POB, we had to digitize our service to provide operational support from our shore base," David states. "As this required a digital approach, we had to evaluate what we could do with rapidly developing digital technology to support our market segment, understand the appropriate digital data monitoring system for our needs, and subsequently build a system for our application and roll this out to our global teams.
"We've also been working on the optimization of chemicals," David adds. "As a corporate organization, Veolia has a chemical brand called HydrexTM, which provides treatment chemicals for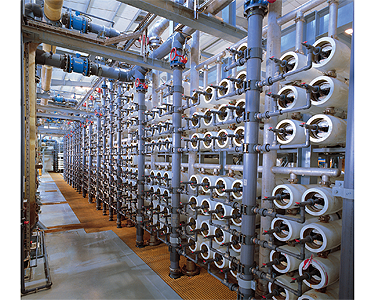 global industrial and municipal usage. We took the opportunity to develop a specific range for offshore applications in the water treatment systems. It was a big ask in terms of competing with the known corporations providing chemicals for oil field blocks, but our strategy was to develop a bespoke range of chemicals that differentiated our products as we are a technology provider that includes chemical solutions, as opposed to solely being a chemicals supply company. The new range offers alternatives to our competitors in terms of chemical strength and quality, which creates logistical benefits as well as providing enhanced performance of the water injection system."
Such dedication and attention to detail in pursuit of solutions for its clients has, unsurprisingly, won VWS Westgarth a great deal of loyal customers over the years. Working in line with the international Quality Management System standard ISO 9001:2015, the company aims to add value in everything it does. David describes one instance of this mission in action: "We deliver water injection asset integrity, which is a combination of digital data monitoring and technical expertise for the market," he remarks. "The delivery of this service provides customers with increased efficiency of water injection systems. One of our customers has a frame agreement for water injection asset integrity for 11 FPSOs and we have driven value for them over a three-year period. We took what was 50-60 per cent availability of their water injection assets and transformed it into more than 85 per cent availability consistently. This form of asset integrity pays dividends when you correlate this to oil production and ultimately the return on investment."
Though revolutionary technology and strong client relationships have been integral in transforming VWS Westgarth into a company turning over £50 million a year, the firm is acutely aware that it would be nothing without the 200 people that make up its workforce. Consequently, Health and Safety remains at the forefront of everything the company does.
"The safety and wellbeing of our employees when travelling to and or working on offshore sites, is essential to our business operations," David asserts. "The development of our High-Risk Management Standards, in addition to our Always Safe Rules and Life Saving Rules, has helped communicate the importance of working safely to all personnel employed by the company. A Health and Safety Week held every year promoting the company's commitment to a culture of occupational risk prevention helps reinforce to management and their teams that unified involvement is crucial."
A challenging year for businesses across the globe, 2020's Covid-19 pandemic set out to put VWS Westgarth's health and safety initiatives to the test. Flexible and positive in its response to the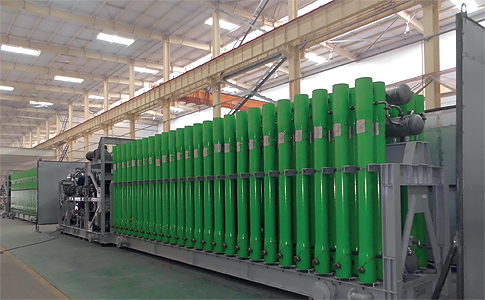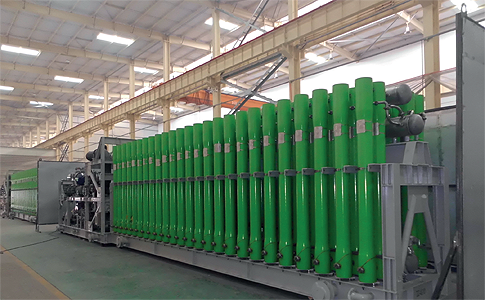 crisis, the company's performance this year has exceeded all expectations, thanks in part to the level of preparedness embedded within the firm's health and safety strategies.
"At the start of the pandemic, we had strict limitations on mobilization of offshore engineers," David reports. "The easing of these restrictions is becoming more widespread, albeit the logistics in organizing such support and their mobilization is very challenging. We still provide a lot of remote support to clients, which our team has adapted to very well and they continue to provide a high level of support whilst working from home also. Support in provision of spare parts and chemicals has not been without its challenges, again mainly around the logistical side of things, but we have adapted well and continue service provision through online support and the use of our developed technologies."
Optimal results
As far as the future is concerned, ensuring that the company has the lowest possible impact on the environment is close to the top of VWS Westgarth's list of priorities. The company's green strategies are focused towards minimizing waste and pollution by using processes and designs that promote the efficient use of energy and other consumables. A commitment to continual improvement in environmental performance ensures that any new products, developments and processes are designed or incorporated, so as to minimize their negative environmental influence.
Unabated ambition has helped VWS Westgarth to its continued success and David is confident that the company's quest for growth will continue long into the future. The company has sustained its market share in a difficult year and the second half of 2020 will see the launch of new services to help enable the firm to meet its strategic objectives.
"We know we deliver a fantastic service and provide customers with a good return on their investment, which helps production, however, given the dynamic nature of the market, and the current situation, it can be hard to get companies to spend in this sector," David reveals. "Those that do purchase a full package from us are benefiting with improved results. The return on investment with our AquavistaTM package comand our chemical range provides three key opportunities – improved performance, lower OPEX, and increased life of the membranes. I encourage any IOC or operator to engage with Veolia on the topic if they would like optimal results."
VWS Westgarth
www.vwswestgarth.com
Products: Design, Build, and Operation of water treatment systems