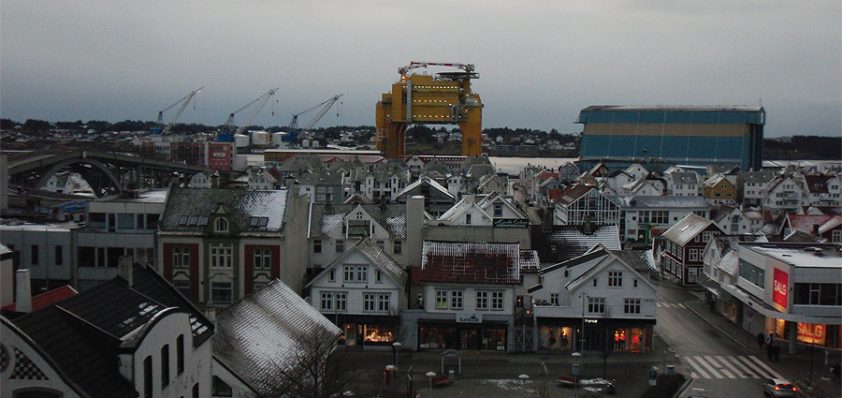 Connectivity, communication and technology solutions for the energy industry
Vysiion, with a heritage stretching back to the early 1970s, has a long and proven track record in the supply of managed technology solutions across a number of distinct markets, with the Energy sector being key amongst them.
Previously operating as RFL Communications PLC (RFL), the company has developed as a reliable turnkey systems integrator able to provide full design and installation services, in addition to a 24/7 service and support facility.


Over time RFL quickly established itself as an internationally recognised company, offering clients full service packages covering everything from network upgrades to new offshore wind installation. Its customer base included the supply of systems for UK national and overseas national electricity grids within Jordan, Qatar, Azerbaijan, St Lucia, Abu Dhabi and Kenya, with further recent experience in the UK's offshore wind farms.
Vysiion's expertise has been further developed following the integration of ITS, a provider of 'best in class' computing and IT solutions, and JAD, whose focus was on providing IT services to the commercial and public sector markets. 2015 was a year of change for all three businesses. Vysiion was created following RFL's acquisition of both JAD and ITS with support from the Business Growth Fund (BGF) in the form of a £4 million equity investment.
Vysiion has now become a full service integrator with a unique ability to support all aspects of systems integration, from hybrid, cloud and fixed hosting and enterprise solutions right through to full connectivity and communication options. The business today continues to provide turnkey integrated systems for the public and private sector as well as a full service of communication systems within the utilities market. With comprehensive accreditation and associated track record the reputation of Vysiion's fibre team, for instance, is second to none.
Bruce Brain, Vysiion's Executive Chairman sums up the past 12 months: "This investment helped us to bring together these three companies to create one of the leading tier two companies supplying cloud-based managed services for computing and communications systems. The BGF's funding was a key part of this. They have invested in other companies in our space, know our channel partners and trusted in the vision we have for the business."
The company has also further built on the previous experience of RFL in the renewables market and today works with substations for offshore wind farms, where it provides everything from fibre laying and splicing through to the implementation of transmission equipment, multiplexers and full communications links.
Within this market operationally Vysiion broadly divides its specialist services into two areas, comprised of utility campus projects and renewable operations. These areas each represent around 40 per cent of the company's overall business. "The main strengths of Vysiion have always been in its flexibility and agility. We are completely vendor-agnostic, which means that that we are able to source and supply the best solution for the job at hand. We also have partners that we work with so we are essentially able to work completely across the board to give the customer the best solution to match their requirements. We work to be responsive, very customer focused, cost effective and ensure on-time deliveries," elaborates Infrastructure Sales Manager, Michael Grimshaw.
Although the oil and gas markets are currently in the midst of a significant slowdown brought about by the depressed price of oil, the offshore wind market is presently experiencing a period of buoyancy. Vysiion is well placed to help support in this arena following significant 2015 activity to support Gwynt y Môr and the London Array, representing the world's second and first largest wind farms respectively.
The Vysiion team is currently working to deliver solutions to the Dudgeon project with Siemens and is also engaged on the Galloper wind farm with Alstom. The company also continues to work on the German Wikinger wind farm with Vodafone and anticipates that several other wind farm projects will be implemented in near future.
Within the field of wind farm operations, Vysiion is able to deliver a comprehensive package of telecommunications and security based solutions. "With the Dudgeon wind farm for example, our scope with Siemens is to design the network, to provide the supervisory control and data acquisition (SCADA) network and all of the routing and switching for the SCADA devices. We also supply and install all of the CCTV and telephony equipment on the offshore platforms and onshore substations," Michael reveals. "We provide communications to site offices, telephony services out on the platforms as well as the necessary telephone exchanges. Finally we are also working on some security and perimeter detection systems for them. On a typical wind farm project the main required elements are SCADA networks, CCTV and telephony installation."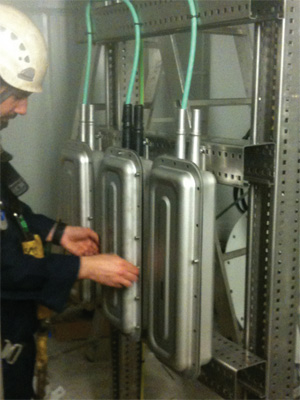 While Vysiion is a fully vendor-agnostic, it nevertheless nurtures long-lasting and close relationships with both its clients and its partners to ensure the on-time delivery of the best and most suitable communication systems. The company holds enhanced partner status with well-known brands such as Dell, Microsoft and VMWare, which allow it full access to the vendors' range of products. Other partners in the field include Keymile, Alcatel, Siemens, ShoreTel and Hernis.
During 2016 and beyond Vysiion will remain focused on supporting the delivery of services to the growing offshore wind sector as well as on maintenance works for fibre networks on the National Grid. Additionally the enhanced capabilities of the company's product-service offering provides customers with the opportunity to discuss and review other IT managed solution cost efficiencies.
Within the Energy sector Vysiion will seek to capitalise on the buoyancy of the offshore and utilities market, while leveraging its proven experience to secure further contracts with its existing and newly acquainted clients. As Michael acknowledges: "The delivery of wind farm projects will definitely be a great opportunity for the next three to five years because some of these projects are not due to commence until 2018 at the earliest. Certainly in the next three to five years there will be more offshore wind work, however many future projects will be at the whim of the Government because wind farm projects need to be subsidised and that element of the market will need to be fortified by Government investment."
Vysiion is definitely working in a number of interesting arenas and as Michael concludes. "With our substation, communications and utilities capability we maintain a lot of diversification in the business. Since we have become larger this has extended further because we have a business that looks after public and private sector ICT, co-location and data centre support, which adds additional support to our respective markets – so we can provide quite a complete package."
Vysiion
Services: Managed technology solutions