A place in the sun
Recently the crew of Wagenborg Nedlift and Wagenborg Foxdrill have completed a masterpiece. In less than three weeks a complete rig move was carried out, with the rig being handed over ready to operate to a German drilling contractor.
Such a high level logistical operation drew considerable attention in the industry, as Wagenborg Nedlift's project manager, Gert Kleis explains: "The onshore rig T46 had been stored for a while at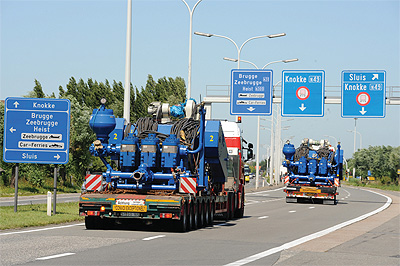 our premises in Schoonebeek. In early June this year we received an order from a client to move the rig to its new drilling spot in Brihuega, which is roughly 80 kilometres northeast of Madrid. The deadline to have the rig fully operational at its new base was around a month later in early July."
The move represented a considerable challenge for Wagenborg Nedlift, together with its sister companies, Wagenborg Foxdrill and Wagenborg Spain. The first task involved drawing up a project plan and arranging the necessary transport permits. In terms of the transportation, the rig consists of approximately 100 truck loads, with half of them being normal loads, and the other being more difficult, exceptional or heavy loads.
As Gert explains, to reach the site in Spain, Wagenborg Nedlift had to arrange the transport permits with the relevant local authorities in Belgium, France and Spain. "With our experience in heavy transport in those countries, we were able to arrange all the necessary paperwork very quickly," he says. "However, for the really heavy cargo, such as a mud pump that weighed 58 tonnes and was 8.35 meters long, road transportation was no option. Permit procedures would delay the project by two months so to avoid this, another mode of transport was chosen; the ferry from Zeebrugge to Bilbao. About 20 transport combinations loaded with the heaviest pieces were shipped using this method."
At the Brihuega site, the Wagenborg Foxdrill crew, led by Foxdrill's project manager Roger Vleeshouwers, had prepared everything needed to receive the trucks and commence the assembly of the rig. This was carried out in close co-operation with Wagenborg's branch office in Madrid, which took care of hiring all of the necessary local resources. "At this stage in the work it is very important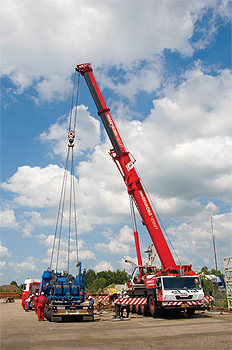 to have 100 per cent perfect communication between the different parts of the operation," says Gert. "It is vital that trailers carrying foundation pieces and substructure components arrive at the site first. This way the trucks can be offloaded quickly and rig pieces can be placed onto the foundations directly without intermediate storage. It is a significant benefit that all activities involved in this operation are in Wagenborg hands. The close co-operation on transport and assembly work leads to a smooth operation, avoiding having to wait hours for our trucks and personnel. Importantly our customer benefits from this the most – the rig move was even completed before the actual contract deadline. Ultimately, Wagenborg likes to cherish its customers. For example, Wagenborg Nedlift Spain arranged housing, cars and other related facilities for the project manager and crew of the German client involved in the operation."
T46
The T46 rig is an onshore oil and gas rig, able to drill approximately six kilometres. The rig will be operating in Spain for approximately three years on various drilling locations.
Wagenborg Nedlift
Wagenborg Nedlift is a specialist in the field of horizontal, vertical and special transport. In combination with skilled engineering and project management, the company provides a complete package of services for lifting work, heavy transport and assembly. The company has more than 400 employees who work for clients in the oil and gas industry, the petrochemical industry and the power generation industry.
Wagenborg Foxdrill
Wagenborg Foxdrill is a worldwide rigging company operating in the oil and gas industry. It has more than fifty enthusiastic and well-trained employees who work in accordance with the strictest requirements in the fields of quality, safety and environment. The business invests continuously in people and equipment to raise its operational standards.
Wagenborg Nedlift Spain
Wagenborg Nedlift Spain represents Wagenborg Nedlift in Spain and Portugal. It is located in Madrid and Tarragona and shares an office with Wave Shipping, Wagenborg's shipping agency organisation in south west Mediterranean area.
Wagenborg Nedlift
Services: Specialised transport and installation