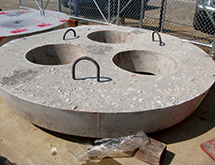 Wahl Refractory Solutions
Wahl Refractory Solutions is expanding on the positive reputation its products have earned throughout the company's 90-plus years in business. It is increasing its presence both in the North American oil and gas industries as well as in international markets.
The Fremont, Ohio-based company, founded in 1921, specializes in manufacturing refractory products used in the steel, non-ferrous metal and mineral processing markets.
"We're known for having the best precast refractory product in the business," President and CEO Steve Cherico says. "By precasting refractories, we are able to cast large high-quality shapes in a controlled environment, so when installed, our customers will greatly benefit from their performance."
Growth Opportunities
One of the company's most well-known products is its slurry-infiltrated fiber castable (SIFCA®), a precast product composed of a metal fiber material that is filled with a slurry of refractable materials. SIFCA® is often used in place of cast iron, steel or stainless steel parts in applications including ladle lip rings in steel mills or nose rings on cement kilns. "SIFCA® is a tough composite which can withstand a great deal of abuse," Cherico says.
Wahl Refractory is investing heavily in developing its next generation of SIFCA® as well as in other products including an aluminum-based shotcreting material applicable for steel furnaces and other large refractories. "Capital expenditures in the aluminum industry are harder for companies to come by now, so many are running their furnaces harder than they have in the past," Cherico adds.
Further applications for SIFCA® and the company's other products are within in the oil and gas processing market, where they can be used to provide wear resistance in pipelines used to transport gas and oil. "We believe that there are more applications for our products to be found in many industries including the oil, gas and energy markets," Cherico says. "Looking for new opportunities throughout the various markets supports our business growth while providing solutions to our customers' industrial needs."
Establishing a customer base outside of the United States is also a high priority for Cherico, who joined the company in October 2013. He has 25 years of experience in various capacities in the refractory industry.
'Scratching the Surface'
Wahl's products have one thing in common. "Our materials, custom engineering and the standards of our casting process make the quality of our products second to none," Cherico says.
The company attributes its high quality to the work of its employees. "Our experienced and dedicated employees have pioneered many techniques," Cherico says.
One challenge the company has more than overcome is that of keeping employees safe. It recently qualified for a safety award from The Refractory Institute recognizing its having zero lost-time accidents in 2013.
Cherico sees the company continuing to move forward. "Wahl is a technology-focused company that offers an extensive line of versatile products custom-engineered and manufactured with high standards," he says. "We're just scratching the surface in terms of what we can do."