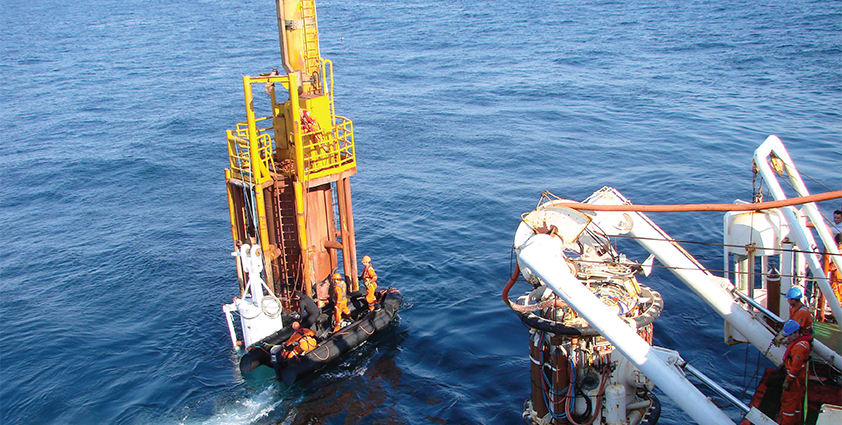 Quality engineering
Wale Marine's first foray into the oil and gas business came a year after its foundation, when it was commissioned to design three pipeline beach crossings for the Mossgas project in 1987.
Prior to this date the company had primarily worked in the design and fabrication of customised equipment for the marine civil engineering market. However after its success with Mossgas, Wale Marine's focus moved tooffshore oil and gas related installation projects and equipment, as well as developing methods and procedures. As a result the company has been privileged to work on challenging projects across the world, many of which have required an innovative touch.
Remaining close to its roots though, Wale Marine is still active on the general winching front and is even developing its own track tensioner system design for larger applications, as well as for back tensioning of winch and winder cables. "Also on the winch front we are developing our own gripper units for use in our linear winches, which previously used Amclyde grippers," comments company director Anton Wale.
"On a different note, we are preparing to redeploy our reinforced concrete dry-docking line next year for the 25,000 tonne derrick lay barge Polaris, which we initially designed and supplied to Stolt Offshore. The Polaris is now owned by Subsea7."
Winches, reelers and tensioners are just some of the products that Wale Marine provides to the oil and gas industry, alongside subsea equipment and engineering, hydraulic systems and SCUBA replacement boats. "We have even operated as pre-commissioning engineers, having performed such services on the flow lines, water injection lines, and gas export pipelines for Stolt Offshore on the Shell Bonga FPSO in Nigeria, which at that stage was one of the biggest FPSO's in the world. Our ability to take on such large and sophisticated projects is due to our small and efficient nature, and close relationships with larger companies, which act as our partners, sub-contractors and suppliers," adds Anton.
Currently Wale Marine is actively up-scaling its range of high-density polyethylene (HDPE) offshore workboats, particularly those with inboard diesels, and jet drive propulsion. These are marketed under the name Rhino Craft through Wale Marine's subsidiary company Rhino Marine. All design responsibility lies with Wale Marine and once the prototypes have been proven the vessels are fabricated and distributed into the market by Rhino Marine.
"Rhino Craft has been developed and sold over the last eight years, and is operating successfully in West Africa, South Africa, the Indian Ocean and the Mediterranean Sea. Reception has been extremely good, and I have personally been involved in an extremely challenging control buoy repair job where a Rhino Craft vessel has been utilised to great effect," describes Anton.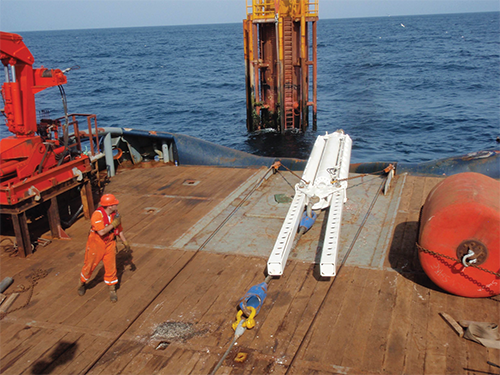 He continues with the advantages this type of vessel offers to the market: "Personally I am amazed at how many operators continue to use rigid inflatable boats (RIB). Whilst they may be cheaper, they are not fit for purpose for the majority of offshore work. In comparison HDPE is an amazing structural material, which is terribly resilient to almost all forms of abuse and is easy to repair. Based on practical offshore experience we have also developed a novel forepeak structure for interacting with bow-catcher boat landings. This is a separate structure welded atop the hull so that in the event of damage from extreme impact loading, the integrity of the hull itself will not be impaired – which is a significant safety feature."
One example of the type of works where Rhino Craft vessels can prove invaluable was an EM buoy project carried out by Wale Marine on behalf of PetroSA and its diving contractor Cape Diving in 2010. This semi-submersed control buoy is situated in extreme environmental conditions and is anchored by three vertical tethers to a caisson gravity base in 96 metres water depth. During an inspection survey it was discovered that due to fatigue loading the head of the shackle pin had sheared off and become jammed within the shackle.
"We had been intimately involved in the installation of the buoy ten years earlier whilst working in co-operation with Stolt Comex Seaway (SCS), and consequently were aware of the situation on the gravity base, having supplied much of the equipment for deploying it. In order to repair the damage, we developed a subsea hydraulic puller with a large five-metre stroke 200 Te pulling cylinder that could be incorporated inside a secondary temporary tether, and installed next to the main tether enabling the load to be released and the pin changed," begins Anton.
"To complicate matters further the anchor handling tug's (AHT) diving systems had limited accommodation, which made combination air diving and saturation diving problematic. For this reason we split the temporary tether into two sections, one below 35-metres depth and the other above, which required no saturation diving. The termination at the top of the lower tether was an in-line submersible flotation buoy. All equipment had to be deployed over the AHT stern roller with flotation buoys. The flotation buoys were then moved into position with the work-boat. Besides the tethers themselves other required equipment included a subsea slewing davit structure with hydraulic winch," he adds.
A project like this demonstrates the importance Wale Marine has placed upon supplying a good service to its customers and its ability to adapt its products to solve particular problems. This is a process of constant evolution and as such Anton reveals some of the other directions Wale Marine is moving in: "Besides a significant marketing drive, we are currently investing a lot of time into developing winch gripers, track tensioners, free fall sampling winches, and launch and recovery systems for use with Dynema ropes, which are weightless under water."
Wale Marine
Services: Engineering