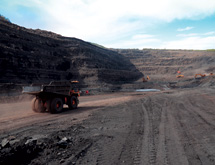 Walter Energy Canadian Operations
Walter Energy has become a leading producer and exporter of metallurgical coal for the global steel industry. Based in Alabama, the company also produces metallurgical coke, thermal coal, anthracite, and coal bed methane gas, and has access to high-growth steel markets in Asia, South America and Europe.
Walter Energy is primarily a pure-play metallurgical coal company. Overall, the company has 14 mines in three countries, and in 2012 produced approximately 11.7 million metric tons of metallurgical coal and generated revenue of $2.4 billion.
Strategic Positioning
One of the most important moves the company made in recent years came in 2011. That was when Walter Energy completed the acquisition of Western Coal Corp. in Northeast British Columbia for $3.7 billion. This allowed Walter Energy to acquire several Canadian surface mining operations located near the towns of Tumbler Ridge and Chetwynd.
These surface mining operations are the Brule, Willow Creek and Wolverine mines. As of December 31, 2012, collectively they are estimated to have roughly 135.8 million metric tons of recoverable coal reserves, including 72.1 million metric tons at potential future mine sites. Among the advantages of these Canadian operations are their proximity to existing infrastructure and ability to serve the Asian market.
"Our Alabama reserves represented the company well in the South America and European markets, but Western Coal's reserves gave us an advantage in Asia, particularly South Korea and Japan," says Dan Cartwright, president of Walter's Canadian operations.
The Wolverine mine is the most mature and active. It is located 15 miles south of Tumbler Ridge, B.C. An open pit metallurgical coal mine, Wolverine produces premium hard coking coal. It features a coal processing plant and a rail load-out facility capable of handling 3.5 million metric tons per year.
"We use hydraulic shovels to load mechanical drive haul trucks," Cartwright says. "Coal is washed on site, hauled by rail to the Ridley terminal and loaded onto vessels bound primarily to Korea or Japan."
Brule is an open pit metallurgical coal mine and produces a premium low-volatile pulverized coal injection product. Willow Creek is an open-pit metallurgical coal mine with a coal processing plant and a rail load-out facility. Both are 28 miles west of Chetwynd, although they are about 40 miles apart.
Walter Energy invested in the Falling Creek connector road project to connect the Brule mine to the Willow Creek mine. Brule's coal is processed and loaded at the rail load-out facility at Willow Creek. The new road allowed Walter Energy to increase its hauling capacity and reduced the hauling distance compared to the previous route.
"Wolverine is the most established, operating for about seven years," Cartwright says. "Brule has operated for about six years. Willow Creek had just come out of development in the first quarter of this year, but a drop in pricing caused us to curtail operations."
Most of the corporate functions for the Canadian operations have either been moved near the mines themselves or absorbed by the corporate office in Alabama.
Coming Together
One challenging aspect of integrating Western's assets was the fact that Western was still young and trying to establish its own identity and culture.
"We've also had to take systems like accounting, purchasing and basic business operations and adapt them to fit with Walter Energy," Cartwright says. "Also, these are surface mines, and most of Walter's other production comes from underground mines."
Fortunately, both Walter and Western had a strong reputation for coal production.
"We are known for high-quality coal," Cartwright says. "Our marketing group maintains relationships with those customers whose furnaces and operations are best suited for our coal."
Walter Energy's Canadian Operations should not require significant investment in capital equipment because each mine has a relatively new fleet. With strong fixed assets and mobile equipment, Walter Energy is poised to emerge as a leading Canadian coal mining company. The company is facing a low end of the pricing cycle but believes it can produce enough high-quality coal and achieve further cost reductions to stay financially viable.
"We will focus on real-time, continuous improvement," Cartwright says. "We have good teams in Canada and Alabama. When the market improves, we'll be in great shape."