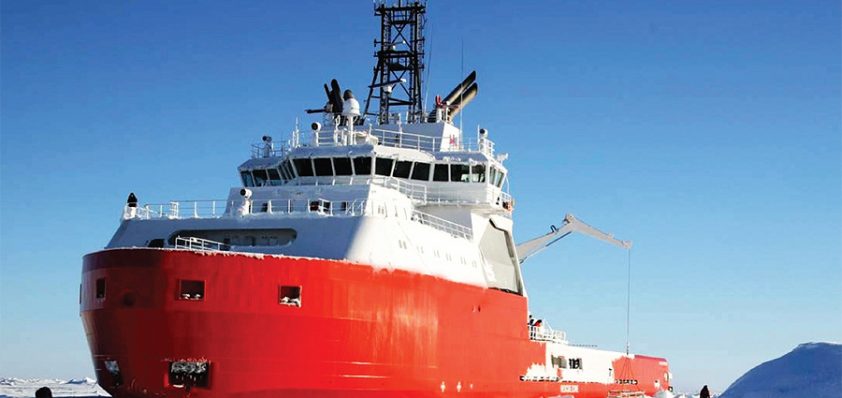 Hydraulics in extremely harsh conditions By Markus von Niederhäusern, Sales Manager, Wandfluh AG, Frutigen, Switzerland
The shipbuilding sector is looking back on many years of proven development and is relying on solid and considered building. At the same time, the sector has invested in a large number of important innovations and the latest technologies. As a result of the development of new shipping routes and environmental requirements, the challenges are increasing at a distinctive rate. Specifically, as a result of the development of the Arctic and its oilfields, ships are required for commercial shipping, which are suitable for Arctic conditions.
As a result of harsh climatic conditions in the Arctic on the one hand and the tropical climate at the equator on the other hand, the requirement profile for a versatile type of ship has been tightened
up. All components must either face the challenge presented by this large spectrum of requirements, or alternatively, they must be accordingly protected from the influences. Not only solutions have to be found for the cold Arctic temperatures, solutions have to be usable also in the subtropics and tropics.
Products for the Arctic as well as the tropics The Swiss company Wandfluh has recognised this subject and has decided to address it. For several years now, the hydraulic manufacturer has built up a wealth of experience with hydraulic components for explosion-protected zones 1 and 2 for low-temperature applications using certified products. Today, among other things, the products are successfully used on FPSO units (Floating Production, Storage and Offloading), oilrigs and in a variety of forms on the mainland. Thanks to the large environmental and operating temperature range with an upper limit of +70 °C and a lower limit of -60 °C, these hydraulic components can be successfully and safely used in both the Arctic and in the tropics. Alternatively, there is also a smaller temperature range of +70 °C to -40 °C for more moderate conditions.
Building on solid experience, a product solution has been developed which offers the same choices and options for explosionprotected zone 0. With this new product, which is based on the already existing MKZ45 solenoid, Wandfluh can make a contribution to the development of new trade routes.
As such, the realisation of VLCC (Very Large Crude Carriers), FLNG (Floating Liquefied Natural Gas) and FLPG freighters (Floating Liquefied Petroleum Gas) for Arctic and tropical environments is greatly simplified for the hydraulic valve control.
However, in developing the new valve solution for low-temperature use, the objective has been defined in a much more varied way. Worldwide, environmental requirements are increasing, including those in the shipping industry. Therefore, the Swiss company looked for solutions in order to maximise the efficiency of hydraulic components. At the same time, the company was also aware that no compromise could be made when it came to switching safety and failure safety. Finally, a very compact solution is available to the customer with improved hydraulic efficiency and reduced electrical power.
An efficient hydraulic solution
An emphasis was therefore placed on a high level of hydraulic efficiency, wherein failure safety remains at the high level of Wandfluh products. The main objective for the client to continue to save on expensive repairs was and still is the overriding criterion. For several years, Wandfluh has successfully offered the unconventional solution for container freighters. The 30 to 50 per cent improvement in efficiency leads to a power reduction of up to 8 GW/kJs per year.
However, the benefits of increased hydraulic efficiency only result in reduced energy consumption to a limited extent. Most of the benefit lies in saving other system components. For economic reasons, the development also flowed into a simplified electrical connection execution, which enabled connection expenses to be reduced. Besides this, increased installation efficiency brings the positive effect of a higher IP class, so that the customer can choose between IP65 and IP67.
Maximum corrosion protection requirements with AISI316L
A lot of attention has been paid to the topic of protection against corrosion in recent years, and customer requirements have risen steadily. Products for zone 1 and 2 (with zinc/ nickel surface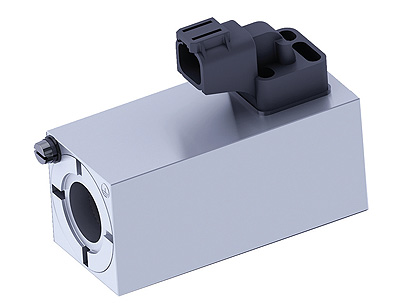 treatment) have long offered a higher standard of protection against corrosion. Through the extension of the requirement profile of the MKZ45 solenoid for zone 0, the corrosion protection for the standard solution was adjusted to zinc/nickel surface treatment. As such, the life span based on the salt spray test was improved by a factor of 8 (EN ISO 9227).
Standard versions are often not enough for offshore projects. Compatibility with seawater or a salty atmosphere is assumed. This is why acidresistant steel in accordance with AISI316L (K9) is often used for offshore applications. Recent experience confirms an increased demand for maximum protection against corrosion. Wandfluh, from inland Switzerland, has decade-long of expertise in the production of hydraulic valves made from stainless steel based on AISI316L. In order to meet the highest requirements, the entire valve according to the AISI316L standard has been available for some time. These products are identified under the designation K10 and are available for zones 0, 1, 2 and applications that are not protected against explosions.
Through a rich experience, it is possible to provide various solutions as well as the ideal product, and deep-rooted customer relations are built in the shipbuilding sector.
Markus von Niederhäusern has been working in international sales at the main office of Wandfluh AG, Hydraulik + Elektronik, in Frutigen, Switzerland since 2014. Wandfluh was founded in 1946 in Switzerland and originally manufactured production machines for the Swiss watch industry. The development and production of high-grade hydraulic valves was started in the early sixties. Also today, innovation, quality and precision are decisive keys for worldwide success. Own branches in Great Britain, USA, Germany, France and China, as well as representatives in all important industrial nations, assure worldwide support for Wandfluh products.
Apart from a complete range of hydraulic valves for mobile and industrial applications and a broad range of electronic controls for hydraulics, Wandfluh, together with the worldwide sales partners, provide broad support in the field of engineering and service.
Wandfluh