Challenge of a lifetime
Wärtsilä Moss is a Norway-based producer of tailor-made inert gas systems used in the transportation and storage of hydrocarbons.
It began life as Hamworthy Moss, a subsidiary of the UK-headquartered specialist services and product supplier Hamworthy plc, which was acquired by Finnish marine and energy solutions provider Wärtsilä in January 2012.
Inert gas generators are essential for the safe transportation of oil in ships. In order to prevent a build up of explosive gases that are emitted naturally by oil, a non-reactive gas (one containing very low oxygen content) must be injected into the tank to form a compressive layer between the oil and the tank top. Should a spark or flame be introduced to the tank, the chances of an explosion are thereby greatly reduced. As such, inert gas generators have become essential equipment on tankers as well as other vessel types including product carriers, FPSOs, and FSOs. Through high quality systems and excellent customer service, Wärtsilä Moss has positioned itself at the forefront of this market.
"We manufacture in accordance with customer needs," explains the company's general manager of Inert Gas Systems Offshore, Odd Ivar Lindløv. "That means we can meet a multitude of different size and material requirements. The unit itself is a burner that burns either diesel or fuel gas in order to create the appropriate inert gas product. Wärtsilä Moss carries out the full product cycle in-house – from development and manufacturing – to sales, project management, and aftersales maintenance and repair."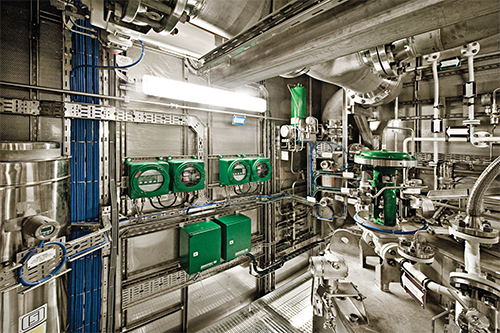 Wärtsilä Moss refocused its activities exclusively on bespoke systems several years ago and has targeted the offshore market with great success, the last two years in particular having seen a wealth of clients approaching the company for its expertise. Its systems have ended up on vessels worldwide including those operating in Africa, the Barents Sea, Australia, Shetland Isles, North Sea and Brazil. In April 2012, for example, it received a major contract to supply a Brazilian shipbuilder carrying out the construction of eight FPSOs with inert gas generators on each.
Tailor-made solutions mean every project is unique and presents its own challenges. In September 2012, Wärtsilä Moss was awarded a particularly distinctive contract with Korean shipbuilder DSME for Australian oil company INPEX. "At the Ichthys field, located in the Browse Basin 200 kilometres from the western shore of Australia, INPEX will operate an FPSO unit that requires two inert gas generators with an incredibly stringent 40-year design life stipulation," elaborates Mr Lindlov. "The standard lifecycle for these types of units is 25 years, so this is a very non-standard undertaking."
He goes on to detail how Wärtsilä Moss has tackled this tough requirement: "We have had to revisit all the material selections and upgrade them, to ensure effective corrosion protection and material durability. Everything for this project will be tailor-made – no standard equipment will be used. First and foremost that means we will be using duplex piping rather than 316L stainless steel, a much more sophisticated and expensive material that will meet the 40-year duration expectation. Special surface treatment solutions will also applied.
"Also taken into consideration is the human access factor. People will need to be able to access the equipment for replacements and maintenance so this aspect has been stressed much more than on our other builds. Its difficult to say everything will definitely last for 40 years so the design will accommodate changes toward what we believe will be bigger equipment in the future. At present we have just completed initial talks with the client and are beginning to work on the first designs."
Wärtsilä Moss' combination of quality and competitive pricing has seen it become increasingly involved in high end, complex system designs during the last two years. The DSME/INPEX contract is an exemplary case of this. Moving forward, the company expects this trend to continue and for more opportunities to open up in being part of the well-known Wärtsilä brand.
"We remain focused on our experience within the marine and offshore industry to deliver high quality inert gas generation equipment. Being part of Wärtsilä will provide a lot of prospects and for the future we are looking at developments in new equipment, but will remain focused above all on product quality and customer service."
Wärtsilä Moss
Products: Inert gas generators