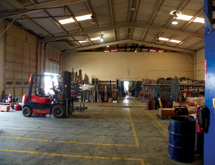 The oil and natural gas industries are cyclical, and staying flexible with the services and equipment it offers has kept Watson Packer prospering since its founding by Bill Watson in 1963. Through multiple changes in ownership and the addition of specialized services, Watson Packer has been able to go with the flow.
Packers are just one of a series of specialized services that Watson Packer offers its clients. The company distributes the equipment for these services and also provides employees who can operate the equipment, much of which is specialized.
Harold Clifton, who has been with Watson Packer since 1977, has seen many of the ups and downs of the industry first-hand. Most recently operations manager, Clifton plans to retire at the end of this year and currently is serving as a consultant while training a new manager in his responsibilities.
Watson Packer is celebrating its 50th anniversary this year, and Clifton attributes the company's longevity to its employees. "In 1963, there weren't very many what I call independent packer companies," Clifton recalls. "At that time, most of the packer companies also manufactured their own tools. Watson was one of the first small companies to start out with purchasing their tools from different manufacturers. They were able to just pick the ones that had the best tools for the job."
Although the ownership of the company has changed over the years and the services it offered have fluctuated based on market conditions, the company is once again owned by the Watson family. Founder Bill Watson passed away last December, but his son-in-law, James Harvey, is president of the company. "I've been with them ever since 1977 through several mergers and buyouts," Clifton says.
Additional Services
Watson Packer has expanded into the cementing and acidizing business in the last three or four years. It now has cement and acid-pumping equipment and a bulk cement mixing plant at its Monahans, Texas, facility. The company also has offices in Andrews, San Angelo and Odessa, Texas, and Hobbs, N.M. It services an area with a radius of approximately 200 miles in eastern New Mexico and west Texas.
Watson Packer is phasing out its water hauling business and concentrating on cementing and acidizing, which has grown to approximately 25 percent of the company's business. "We expect it to keep growing as we add more equipment and employees," Clifton says.
Acidizing uses acid to dissolve limestone and scale that can block the wellbore and keep oil and gas from entering it. "There's been a pretty big need for cementing companies because they're drilling so many wells," Clifton explains. "That's the reason we started doing this, because there was such a demand for it."
Selecting Packers
Watson Packer distributes equipment for a variety of manufacturing companies. It also helps customers choose which equipment to use.
"We help the company customer to select the right tool or packer for the job, and then we furnish the servicemen to install the equipment in the well and operate the packers," Clifton continues. "These packers are pretty complicated tools, and you really need someone that's trained to operate them correctly.
"We're one of the larger independent companies that do this," he points out. "There's so many wells that it takes a lot of different service companies.
"The completion of the well doesn't take very long, so we have developed tools that help in producing the well," Clifton notes. "After the well is drilled and put on production, the production phase of the well lasts a lot longer than the drilling and completion does. Some of these wells out here are 50 years old."
That is where Watson Packer gets a lot of its business. "After so long a time, we may need to go in and do an acid job to restore the production, or they may develop a leak in that casing," Clifton warns. "That happens quite often. When they develop a leak in the casing, you have to go in and repair it. We do the repairs by pumping cement into it."
Employees the Key
Clifton thinks good employees are the key to any service company's success. "We try to find the best people we can that have the knowledge to do these service jobs, repairs and maintenance on the wells," he says.
The relationships those employees have with repeat customers are key to the business. "It really is a people business," Clifton emphasizes. "Our customers generally have one of our service people that they like to use, just someone that knows what they're doing and they trust them. I'd say that's the main reason that we've been able to stay in business so long is keeping good people."