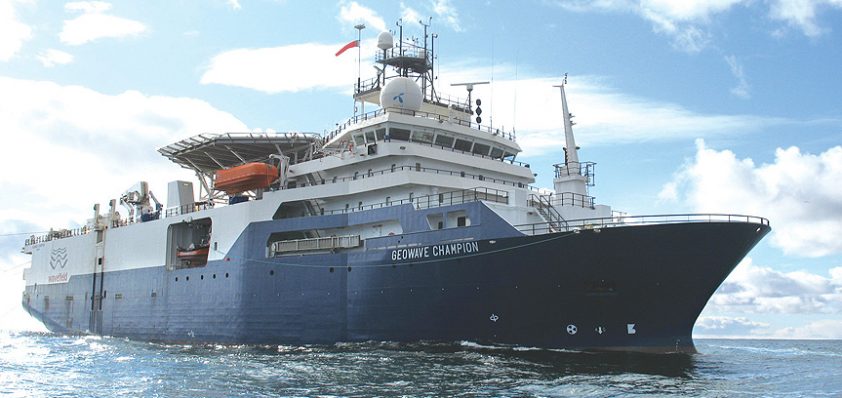 Seismic activity
Wavefield Inseis was formed in April 2006, when a company called Multiwave was bought out by CGG Veritas.
Multiwave's staff used their extensive combined experience to set up their own seismic company, Wavefield Geophysical. With Norwegian investment money, they were able to lease one vessel and
begin doing business. The aim was to provide a high quality range of services aimed at increasing the exploration success of the company's clients and to assist them in maximising production from their existing reservoirs. In August 2006, Wavefield merged with another Norwegian company called Inseis, and Wavefield Inseis was established. Today the business operates out of its main offices in Bergen and Oslo in Norway, and also has international office locations in London, Houston, Rio de Janeiro and Perth. This worldwide representation enables the company to operate on a global scale, with activities in the Americas, Europe, Africa, the Middle East and Asia.
Rick Donoghue, vice president of Wavefield Inseis, describes the company's main strengths: "We've built the business from scratch over the past two years and that's given us a unique opportunity to focus on the latest new technologies. Our next steps are to expand into the permanent seismic monitoring market and fully commercialize our unique electomgantic (EM) system. As a relatively small organisation we need to be fast on our feet, so we're able to draw on the combined experience of our staff and adapt our services and business models according to the requirements of the industry."
The organisation provides a range of proprietary and non-exclusive multi-client marine geophysical services, using highly specified vessels, and the latest seismic equipment. The business' main range of services includes long offset 2D, high capacity 3D, 4D, multi-azimuth and wide-azimuth data acquired with highly specified vessels, and the latest seismic equipment. Rick elaborates: "We're a full-service geophysical provider; we offer marine and seismic acquisition, and processing. Our advanced technologies include fibre optic permanent ocean bottom cables and combined electro-magnetic and seismic systems.
Summer 2008 saw the launch of the company's new purpose built 16-streamer vessel, the Geowave Endeavour. It is one of the most powerful high-capacity vessels in the world. At 106 metres long and 26.6 metres wide, the Endeavour is designed to accommodate the very latest advances in seismic technology. The vessel features eight gun strings and 16-streamer capacity, making it well equipped to meet the growing demand for high-density 4D seismic data, and the need for wide-azimuth, and multi-azimuth data acquisition. In October 2008 it broke the world production record previously held by PGS by acquiring 2,456 square kms of data in one month.
The Geowave Endeavour is carrying out the work on a new project that Wavefield Inseis has been awarded by BP. Rick describes the contract: "The survey will take place in Libya's offshore Sirt basin, and incorporates the industry's largest onboard processing project that includes SRME and full pre-stack time migration. We've already worked with BP in the North Sea and I believe our previous performance contributed to the award of this new project which will take us about twelve months to complete. It's BP's biggest ever marine acquisition project – indeed, it's one of the biggest 3D seismic acquisition and onboard processing contracts in the world – so it is quite a feather in our cap!"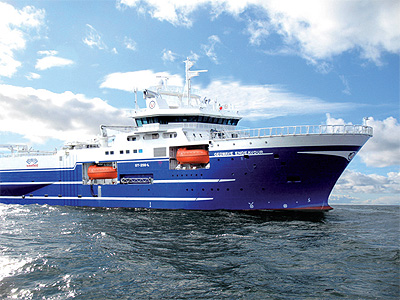 A further extremely important contract has also been awarded to Waveield Inseis as a result of its purchase of Optoplan, a former subsidiary of Weatherford. Rick explains: "From day one, we wanted to get back into installing seismic sensors for permanent reservoir monitoring, as we did at Multiwave. We looked at several alternatives until we discovered that Weatherford were developing a fibre-optic surface seismic system, so we bought the subsidiary company, Optoplan, which was designing the product. Optoplan is now a 100 per cent owned Wavefield Inseis subsidiary and will be carrying out a project at the Ekofisk field in the North Sea. The project involves the delivery of 200kms of our Optowave fibre-optic seismic cable which will then be buried under the seafloor, for the collection of data over the remaining life of the field."
These are just two of the many contracts the company has recently gained. Wavefield Inseis' backlog of orders means that Rick is confident about the future of the business: "We have a lot of orders on our books, many of which are with large companies, such as BP. We already have work planned for next year with StatoilHydro, TPAO and Exxon, and we've just won another huge contract with ONGC, which is for three seasons worth of work in India. As we're dealing with the big global players, we feel confident about the market for 2009 and beyond.
"Looking ahead we're going to expand the company into new technology areas and we're going to focus on the high-end towed streamer market. Most of our fleet are large-capacity 3D vessels with brand new equipment, so that is an advantage for us, because when the market does get tighter, it will be the newest vessels with the latest equipment that get the work. We're going to invest in the further development of our fibre-optic systems, by looking at bringing optical sensors into other new products. The seismic industry is moving into the optical era now and we're well prepared for that change."
He concludes: "Long-term we understand that the source of the benefits we bring to oil companies is our incorporated approach. We are focussing on integrating new technologies and we are confident that this strategy will take us into the future."
Wavefield Inseis
Services Marine and seismic processing